As many of you are probably aware, the LEGO Jurassic World theme sets were sold out the week they were released (and possibly even sooner). With these being officially licensed sets, they were already slightly overpriced from LEGO (as is the case with the Marvel sets). However, I can't say that I've ever seen prices this high on LEGO sets on the secondary market so soon after their release. Older themes like POTC go for crazy prices now, but that's because they are older and more valued. With the Jurassic World sets, it seems as though scalpers immediately knew they were a gold mine.
While it comes to me as no surprise that scalpers will charge ridiculous prices on these sets, what's more surprising is that people will actually pay these prices. While the Indominus Rex Breakout set generally goes for about $200 on the secondary market, the image below may surprise you. Not the price, but the amount that has been sold for that price...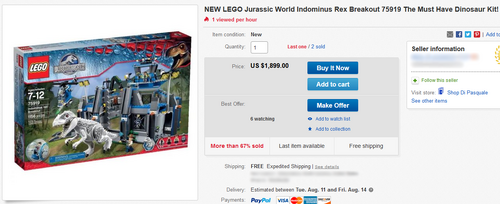 Now why pay the price of a house for this set when these people could just as easily buy one from hundreds of $200 buy-it-now listings? The sets themselves are by no means this rare, but finding them for a decent price IS. The image above has not been edited in any way other than blurring out the seller's ID and the location, but is truly unbelievable. BTW: the listing was up back in August, but I have not seen it on eBay since.