Miners in Canada were exploring a Mineshaft when one of them points out a strange green glow, the men go to investigate and are suprised at what they find.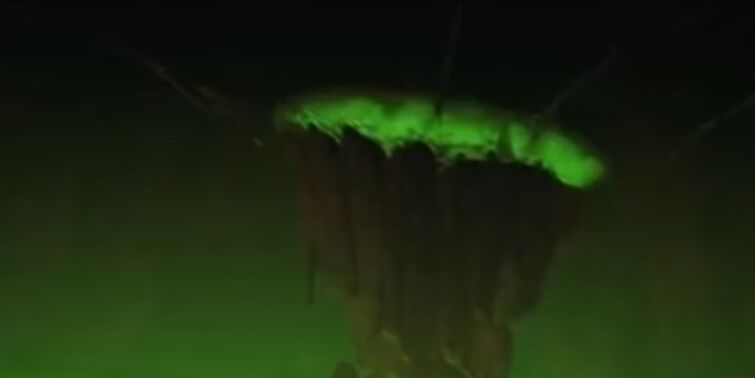 The Miners are suddenly attacked and killed by jumpers. After that, the jumpers exit the mineshaft to spread and grow, The non-leathal unseen radiation from the hive spreads throughout Canada, turning off the power in several cities for 5 days. The Invasion has begun...
In Ottawa, Canada, an American Man, Josh was preparing to head to work when the radiation spread there and shut off all the power in the entire city. Josh then hears explosions and people screaming and Goes outside to investigate just to see the neighborhood in ruins. A Man runs to him and tries to get him to go back inside before he is attacked and Eaten by a pack of Jumpers. Josh Closes the door quietly and locks it, wondering what is happening, Josh calls his boss, Sheriff Dunnigan and asks him what is happening.
"I have no idea rookie, just stay put, I'll get some officers to pick you up and bring you here, alright?"
Josh Agrees, but knows that the officers probably won't stand a chance against those things.
The Officers arrive and handle the Pack of Jumpers pretty Quickly, Josh hops on board and they begin to drive to the Police Station. Once they got a few feet away from the station they were overrun by a Leaper which then slammed into the vehicle, flipping it over. Josh Wakes up and sees one of the officers(Daniel) tell him to get up and run to the Police Station, Josh hesitates but agrees and Starts running to The Station. He gets to the gate and waits for Daniel to come but Daniel is Grabbed by the Leaper's Jaw and Slammed to the ground multiple times before his Corpse is eaten, Josh Closes the Gate and Enters the station to see a few Survivors and Officers, Sheriff Dunnigan Greets Josh and asks him where are the others.
"The-They're all dead."
Everything goes normal in the station after that, the peace is Interupted by Glass breaking and Loud Shreeking coming from the areas. The Officers Lock n' Load and head for the areas of the noises.
(Next Page Post Coming Shortly)