3065 Olivia's Tree House is a Friends set released in 2012. It includes a large tree house, Olivia, a basket, and a birdhouse.
Description
The set primarily features Olivia's treehouse, but also includes a birdhouse for Goldie and a cat-bed for Maxie.
Goldie's birdhouse is is build on a 4x4 green plate. The "house" part is mostly white, but with a red roof and accents and built on a tan baseplate. There is an arch as an opening and just enough room to fit Goldie. The house is supported by four brown 2x2 round pieces to raise it off the ground. On the plate around the first brown piece are lighter green pieces, a green slope, and a red ladybug.
Maxie's cat bed is built on a light green baseplate. There is a 2x2 light blue, single stud plate in the center. There are two pink plates in the front and three pink wall-plates to the other sides. In the two corners not covered by pink plates are 1x1 light blue, corner wall-plate pieces.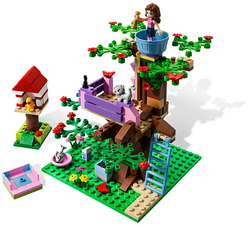 Olivia's tree house is built on a green baseplate. The tree itself is roughly in the center and has a few objects around it. There is a small, light blue box with jewels inside that is hidden by low-lying leaves from the tree. There is also a pink and purple bench, a pink plate with a fish, a blue and white milk carton, and flowers on the base. A tan path in the lower, right-hand corner leads to a blue ladder and up the tree. To the left of the ladder's end is the tree house's main structure. The main structure is built on a tan baseplate and has a pink and purple fence going around it, except for to the right where it is guarded by the tree and to the back where it is left open. At the corner of the structure is a black Skeleton leg holding a golden telescope. On the side of the structure which is guarded by the tree is a tan plate with pink footholds used to climb to the top of the tree. At the top of the tree is a light blue basket. At various parts, the brown tree is covered by green leaves and red flowers and bugs.
Background
According to her bio, this treehouse is one of Olivia's favourite places to hang out.
LEGO.com Description

This is a description taken from LEGO.com. Do not modify it. (visit this item's product page)
---
Explore nature with the LEGO® Friends in Olivia's Tree House!
Take the LEGO® Friends fun to the treetops with Olivia's Tree House! All of the friends love meeting in this treetop retreat to play games and camp out under the stars! Climb the folding ladders to watch the ladybugs, catch butterflies and feed the cat. Watch the ocean waves or wish on stars through the telescope! Stash secret treasures in the hidden compartment and decorate the whole fort with wildflowers! Includes Olivia mini-doll figure.
Includes Olivia mini-doll figure
Features the tree house pet cat Maxie, 4 ladybugs, a bird Goldie with birdhouse, 4 butterflies, hidden compartment and folding ladders
Accessories include telescope, milk carton, food dish, fish and flower pack
Climb the ladders to the treetop then fold them up!
Meet up with all of the LEGO® Friends for treetop sleepovers and star gazing!
Feed the cat with a fish, milk carton and dishes!
Decorate Olivia's Tree House with butterflies and wildflowers!
Rebuild and create new places to play!
LEGO Friends pieces are fully compatible with all LEGO bricks
Collect all of the LEGO Friends sets for a whole world of LEGO Friends fun!
LEGO mini-dolls are LEGO minifigures made especially for the world of LEGO Friends with thousands of customizable hair and fashion combinations
Measures over 5" (15cm) tall, 4" (12cm) wide and 4" (12cm) long
Birdhouse measures over 3" (8cm) tall, 1" (3cm) wide and 1" (4cm) long
Mini-doll included
Gallery
Sources
External Info
Community content is available under
CC-BY-SA
unless otherwise noted.