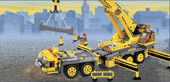 Work in Progress!
A work in progress is being carried out on this page by Agent Charge, and may undergo critical changes while this message remains in place.
As a courtesy, please contact the user before making edits on this page.
If this template has been on the page for over one week, it may be removed.


4641 Speed Boat is an upcoming City set to be released 2011. It will include 34 pieces, it will cost US $4.99, and it will be intended for children ages five through twelve.
Description
Speed Boat: The speed boat features an under slope with three rounds attached to the bottom.[1] A large bright red slope is attached to the under slope and has two grills at the front.[2] The back has enough room to sit one minifigure.[3] It is still unknown if the boat floats because the box says it does not float.
Gallery
(Images from the 2011 New York Toy Fair are courtesy of fbtb)
External Links
References