GTA: The Criminal Enterprises - The Loop
Play Sound


4980 Tunnel Transport was a 1999 Rock Raiders set. It contains 349 pieces and 2 minifigures.
Description
The Tunnel Transport is the second largest Rock Raiders set and the largest Rock Raiders vehicle. In addition to the main vehicle, it comes with two smaller vehicles. The first of the smaller two is a land vehicle, the Small Digger, with a bucket for carrying crystals or bouders. It has a magnet on the top, allowing it to attach to the bottom of the Tunnel Transport. It has two saws at the front.
The second vehicle is a small hovercraft, called the Hoverboard in one of the books. It is small, with no weaponry. It is mostly Old Dark Gray and Teal. It has a part on the back which allows it to attach to the back of the Tunnel Transport in a small compartment. The vehicle has a spotlight at the front.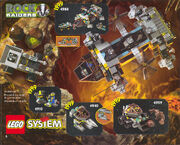 The Tunnel Transport itself is also an air vehicle. It is kept aloft by four propellers, two above it and two beneath it. It also has a bucket which carries rocks and dynamite which attaches to the bottom of the Transport with a magnet. The Transport has many tools on the back part, including a pick axe and circular saw. It has multiple headlights and lanterns to light up the dark caves of Planet U. It has two lasers in the front.
Minifigures Included
Background
After landing on Planet U because of a shortage of fuel, the Rock Raiders discovered that the crystals they needed to power their ship back to home could be found on the planet. They also found that Rock, Ice, and Lava Monsters guarded and ate these crystals. They would attack anyone else who had crystals in order to steal them.
Gallery
Notes
External links