LEGO Creator Knights' Kingdom
Item №:

5723

LEGO Theme:
Developer(s):

Superscape

Publisher(s):
Date Released:
Genre:

Construction Simulation

Mode(s):

Single Player

Rating:

E/3+

Platforms:

Windows PC

'

LEGO Creator Knight's Kingdom was a LEGO based video game released in the year 2000. It was the second LEGO creator video game. Like all the games in the LEGO Creator PC-Game series, it allowed the player to create vast environments with LEGO bricks and unleash characters into their created worlds and watching them interact, with the in-game models and characters being based on the LEGO Castle subtheme Knight's Kingdom.
Official Description

This is a description taken from LEGO.com. Do not modify it. (visit this item's product page)
---
CREATOR: KNIGHTS KINGDOM
Create your very own medieval kingdom of adventure, role-playing scenes from the past with fun LEGO mini-figures. Enlist the help of brave warrior Richard the Strong as you enter a land where you have the power to shape history. Will good conquer evil? It's entirely up to you!
Minifigures
Features
The game is set in a medieval based land, meaning that the pre-made and many of the bricks in the game, along with all the minifigures, are medieval based.
In terms of creating, the game includes all the regular LEGO bricks and many medieval themed bricks, most of them were featured in the Knights' Kingdom theme. There was also the inclusion of the new "Destructa Brick", which could be used in Play mode to destroy built structures. The game uses features such as rotating bricks, painting bricks and lifting bricks to construct models. A feature known as the Workshop is included which allows the player to create their own virtual LEGO models using a library of bricks available. Building instructions are included in the game to help players re-create the models using bricks in their own LEGO collection.
Production
The game was developed by Superscape. It was published by LEGO Media and was released solely on the PC. It was rated E for Everyone by the ESRB.
Gallery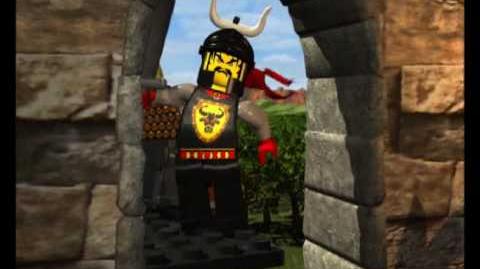 Sources
External links