5946 Tigger's Expedition is a DUPLO Winnie the Pooh set released in 2011. It includes Tigger and Piglet DUPLO figures.
Description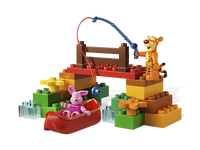 The bridge
The set mainly consists of a brick-built bridge, resting on a riverbank overlooking a river (which is represented by two transparent blue bricks). The bridge is coloured orange, light brown, and red, and has a wooden railing on the side of the bridge that Tigger is fishing off of, but nothing on the other side.
The riverbank
A little riverbank is included in this set, coloured purely green, with yellow and orange flowers. The "river" is merely two transparent blue bricks attached to the edge of the riverbank.
The set also contains Piglet and a red canoe.
Background
This Winnie the Pooh set features Piglet and Tigger on an expedition through the Hundred Acre wood.
LEGO.com description

This is a description taken from LEGO.com. Do not modify it. (visit this item's product page)
---
Explore the Hundred Acre Wood with Tigger and Piglet!
Tigger and his friend Piglet are off on another expedition through the Hundred Acre Wood. Tigger brought his fishing rod and Piglet is in his canoe. Where will their exploring and adventures lead them? LEGO® DUPLO® bricks, figures and animals are colorful, safe and sturdy for little hands and big imaginations.
Includes Tigger and Piglet LEGO® DUPLO® figures
Features fishing rod, canoe, fence and LEGO DUPLO bricks for building a bridge
LEGO DUPLO products are fun and safe for younger hands
DUPLO Figures included
Gallery
Gallery of alternate models
References
External links