5972 Space Truck Getaway is a Space Police III set released in May 2009. It includes Snake and a Space Police III Officer Minifigure.
Description
The Wrecker
The heavily armored Wrecker space truck is a normal flying cargo truck that has been heavily vandalized and modified by presumably the Black Hole Gang. It features a black cab with 3 front spikes and twin lasers. The engine cover features the Black Hole Gang insignia which appears to be scratched on. There are two rear-view mirrors as well as two light gray smokestacks made up of Part 55981. The top of the cabin must be lifted off in order to seat Snake inside. A dark grey 30104 chain connects the cab to the cargo box.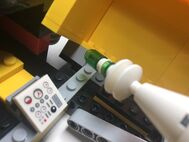 Most of the Wrecker's size is due to the yellow cargo box in the rear. The cargo container is mostly covered by graffiti stickers and opens up to contain a Space Police laser. The laser is able to move thanks to a pin connection and can also swivel 360 degrees. Inside the container is also a small 2x2 control panel sticker detail meant to be used to control the laser.
The Wrecker sports twin thrusters on its sides that each have a 85959 flame piece used to represent the truck's exhaust.
Minifigs
The set contains two minifigures, Snake (with black visor) and a Space Police III Officer with black airtanks and a double-sided head (one side with a confident smile, one side with a panicked expression).
Notes
LEGO.com Description

This is a description taken from LEGO.com. Do not modify it. (visit this item's product page)
---
Watch out for the space truck's hidden laser!
Emergency alert to all units! Astro-punk 'Snake' is on the loose in the super-tough Wrecker space truck, and he's hauling a stolen Space Police laser cannon hidden in the back. It's up to you to bring him to justice, but look out for the Wrecker's heavy blast armor, twin pulse lasers and spaceship-shredding spikes!
2 minifigures included: alien 'Snake' and Space Police Officer!
Alien space vehicle is outfitted with blast armor, twin lasers, front grill spikes!
Rear compartment opens to expose stolen police laser!
Wrecker space truck measures 10 inches (25.4cm) long and over 11 inches (27.9cm) wide!
Minifigures Included
Gallery
External Links