New Pokemon Games - The Loop
Play Sound

6071 Forestmen's Crossing is a LEGO Castle set designed by Daniel August Krentz[1] and released in 1990 under the Forestmen subtheme. It contains a woodland hideout next to a river, a horse and five minifigures, including the Forestwoman and four forestmen.
This set did not appear in European catalogues and was not released in Germany, Belgium or the Netherlands.
Description
The whole structure consists of a hollow tree and an overgrown tower ruin on opposing sides of the small river, interconnected by a rope bridge. The ruin contains a hideout on the ground floor that can be accessed via two foldable wall sections on its front and back. Usually a treasure chest is stored here. On the first floor is a platform with crenelations and a lookout on top of it. From the top leads a ropebridge to the tree on the other side. This tree is entirely hollow and split in two, allowing everybody to walk right through it. A ladder leads from the ground up to the rope bridge.
Minifigures included
Gallery
Notes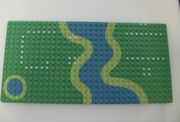 References
External links