Roblox: DeepWoken - The Loop
Play Sound


6080 King's Castle, also known as Castle Lion in the UK,[1] was the first set released in 1984. This was a Castle set designed by Niels Milan Pedersen[2] for the Crusaders and included a large castle, four horses and twelve minifigures, comprising four archers, two spearmen, two axemen, and four mounted knights. In Canada and Australia, where the faction was known as the Lion Crest, this set was called the Lion Crest Castle.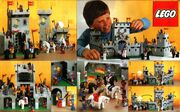 Description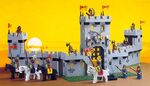 The castle consists of a rectangular wall with two towers on the rear corners and a gatehouse at the front. The gatehouse had a drawbridge and a portcullis. The whole building is made up of three segments of which the two rear smaller segments (with the towers) are connected by hingebricks to the rear corners of the fore segment with the gatehouse. This allows to fold the castle open, similar to the later 6085 Black Monarch's Castle. Under the rear right tower is a prison cell shut by a normal door locked with a bar. The walkway behind the crenelation at the rear wall could be reached via a stairway built upon the divide between the two rear segments.
The archers wear uniforms with lion crests on their torso pieces, while the spearmen and axemen have torsos with halberd crests. The four knights have torsos with printed on breast armour.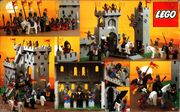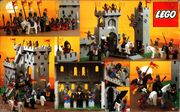 Notes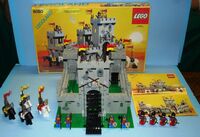 See also
References
External links