6239 Cannon Battle is a 2009 Pirates set. It was one of the first sets released upon the revival of the theme, and contains a spring loaded pull-back cannon, a breakable wall, a pirate and a Imperial Soldier.
Details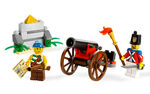 The soldier is armed with a sword and has a fire torch which can also be inserted in the canon, while the pirate has a rifle and a treasure map. The pirate actually has a dark green headcloth as seen on the box to the right, not sky blue as in the other picture. The wall consists of several loosely connected segments (with tiles) in order to fall apart when fired upon.
LEGO.com Description
This is a description taken from LEGO.com. Please do not modify it. (visit this item's product page)
---
Cannon battle for the treasure map!
The pirate has found a treasure map, but the soldier wants it too! BOOM! The firing cannon blasts the wall to pieces. Will the soldier get the map, or does the pirate have a tricky plan to escape?
Includes soldier, pirate, treasure map, sword and musket!
Fire the pull-action cannon and blast the break-away wall to pieces! Rebuild and fire again!
Minifigures Included
External links