6381 Motor Speedway is a Race set that was released in 1987. It contains the start/finish line of a Formula 1 circuit with accompanying support facilities, a camera stand, two race cars and five minifigures, including two pilots and a mechanic.
Description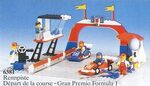 Above the finish line runs an arc with start lights. The pit stop contains a car jack, an oil drum, a tool rack with a hammer and a wrench, a fire extinguisher and spare wheels. On the opposite side of the race track is a race control tower with a camera stand next to it. The camera uses a film reel and is mounted on a 2x2 turntable.
Both race cars share the same design and differ only in colour. They are labelled with the numbers "2" and "3".
Notes
This set is the first LEGO Town Formula 1 race track and was superseded just one year later with 6395 Victory Lap Raceway.
The baseplate with the race track print first appeared here. It was later reused in another Formula 1 related set, 6395 Victory Lap Raceway (1988) and made its last appearance in 4555 Freight Loading Station (1995), which interestingly had nothing to do with racing.
Unlike other race track sets, the design of the cars from this set was not reused by other models.
See also
Other LEGO System sets including race tracks
External links