6390 Main Street is a LEGO Town set, that was released in 1980. It contains a street scene with a construction site, a car repair shop, a popcorn seller, a truck and a car, several accessories and eight minifigures, including four construction workers and a policeman. It has 568 pieces.
This set was reissued as 10041 Main Street for LEGO's Legends line in 2003.
Description
The street scene is built upon two road plates (one straight and one with a T-intersection) and two smaller (8x32) baseplates for the buildings. The red building on the right contains the car workshop with a flower pot and a table on the ground floor. On the first floor is an office with a monitor, a table and two swivel chairs.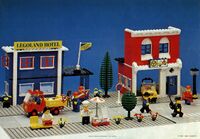 The blue building that is under construction is going to be a hotel ("LEGOLAND Hotel") when completed, as indicated by the building instructions. The tower crane in front of it has a small control cabin and a winch at its base. It's mounted on a 4x4 turntable and can be moved along a sliding track that runs parallel to the street in front of the hotel. When the construction is finished, the parts of the crane structure can be reused to build the interior furnishing of the hotel. A sticker with the name the hotel can be applied to the sliding tracks and placed as a hotel sign on the top of the building. There is also a flag with the name that can be placed on it.
The popcorn stand has a sunscreen and a unique "Popcorn" sign on a sticker. The included car is a convertible with rollbar. The truck has a roofless driver cabin.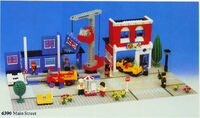 Also included are four road signs (1x Stop, 1x no parking and 2x construction site), a brickbuilt street lamp, two trees (round and spindle-shaped) a bench and several flowers.
Among the included minifigures are four construction workers, two completely in blue and two with red torsos. All of them wear red hard hats. The remaining figures comprise a policeman, a chef with a cook's hat, a woman and a man with cowboy hat.
Notes
The next set that featured a full-fledged construction site with a building under construction (7633 Construction Site) was not released until 2009 .
The street lamp is identical to the one from 379 Bus Station.
The 1980 JCPenney Christmas catalog refers to the red building as a "car dealership." [1]
Minifigures Included
A chef
A person in a cowboy hat
A worker (Two appear in this set)
A lady
A police officer
A worker (Two appear in this set)
See also
Other street scenes
The Modular Houses line included buildings that could be combined to create a street scene
References
↑

JCPenney Christmas 1980, pg. 499.
External links