6482 Rescue Helicopter is a Town set released in 1989. It contains 198 pieces, which build a rescue helicopter with tandem rotors and three minifigures.
Description
The left side of the helicopter can be flipped up to access its interior which contains a small monitor and some room for the minifigs and the stretcher that could be inserted through a hatch at the helicopter's back.
Among the three included minifigures are a pilot and a doctor, who wear the same uniform (safe the head gear), and a patient
Notes
This set includes a 9V battery box with light & sound bricks.
The only other LEGO System helicopter that had tandem rotors was included in 6597 Century Skyway.
This set was most likely planned to be an ambulance similar to 6480 Hook and Ladder Truck and 6450 Mobile Police Truck, but the battery box would've left no room for a patient. It may have been turned into a helicopter to rectify this.
Similar sets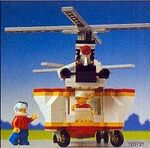 External links