6799 Showdown Canyon is a Western themed Bonus Pack that was released in 1997, it contains two small sets in separate boxes packaged in a larger box that could be converted into a playscape. Both models were only available as part of this Bonus Pack and had no individual numbers. Yet, they had seperate instruction sheets.
Description
The first set is a horse-drawn carriage with a safe on its bed and comes with one horse and two minifigures, the sheriff and a coachman (who could be the deputy). The safe contains two banknotes. Also included are a whip, a rifle and a revolver.
The second set comprises a small gun cart with two rifles on it and two bandits (Black Bart and Flatfoot Thompson) who are also equipped with three revolvers and dynamite (printed 1x2 tile).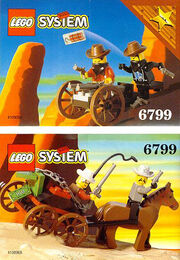 Notes
The box was labeled to contain 69 pieces ("Cont. 69 pcs/pzs"), but there are in fact 75 pieces.
Minifigures included
Sources
Community content is available under
CC-BY-SA
unless otherwise noted.