6952 Solar Power Transporter is a Classic Space set released in 1985. It contains a large ground vehicle, a small robot and three Classic Space astronauts (red, black and white).
Description
The articulated vehicle consists of a big centre section with two identical cockpit sections attached to its rear and front respectively. The centre section contains an open room with two monitors. In default configuration two detachable rocket drive modules are stored on its roof.
The different modules can be detached and recombined in many different ways. For example, the two "cockpits" can be put together to form a seperate ground vehicle or each can be docked with one of the drive modules to form two small spacecraft (which requires the wheels to be taken off first). The centre section has extendable supports so it does not fall over when the cockpits are removed, since it has only one axis.
Notes
Minifigures included
Box Art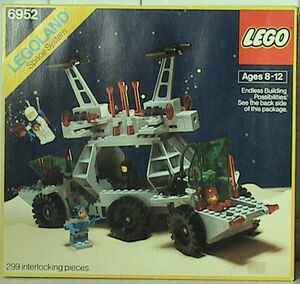 External links
Community content is available under
CC-BY-SA
unless otherwise noted.