70113 CHI Battles is a Legends of Chima set released in 2013. It includes Longtooth and Wakz, their respective Speedorz, and several obstacles, cards, and accessories.
Description
Two Speedorz are included, one yellow with a lion motif and spikes in the back, and a red one with a wolf motif and chainsaws in the back.
Included are two green ramps which the Speedorz can jump off of toward a pole. The pole is brown with green foliage hanging off of the sides of a basket at the top which holds a blue orb.
Four fang cones are included. Two have yellow bases while two have red.
A top is included which holds a shaft with a blue jewel inside.
Also included are the weapons Stafik, Mauruk, Clubius Maximus and Jabaka, twelve Chi crystals, and two ripcords.
There are three parts of the game. The first involves the ramps and chi tower. Both players launch their speedorz and try to use the ramps to hit the chi tower and knock it over, spilling the chi orb. The second part involves starting the top spinning and then both players try to hit it with their speedorz. The third part involves setting up the fang cones, then both players take turns trying to knock down the most cones.
Background
Main Article: Speedorz#Legends of Chima story line
LEGO.com Description

This is a description taken from LEGO.com. Do not modify it.
---
Blast into the jungle to compete in a collection of daring events for the CHI!
Attach Longtooth and Wakz onto the Speedorz, then pull the rip cord to speed up the ramps and knock down the CHI. Next, be the first to hit the spinning target. Win by knocking down the most fang cones! Attach the power-upz for an even more intense contest! Includes 2 minifigures, 4 weapons, 2 Speedorz, 2 rip cords, 2 power-upz, 2 ramps, 4 fang cones, 12 CHI and 10 game cards. Put your skills of accuracy and timing to the test with this game for 1 or more players!
Includes Longtooth and Wakz minifigures with 4 weapons
Features tree with detachable spinning top, 2 ramps, 4 fang cones,lion and wolf Speedorz, 2 rip cords, 2 power-upz, 12 CHI and 10 game cards
Weapons include 2 CHI weapons and 2 secondary weapons
Hit the tree and grab the CHI orb!
Ram the spinning top!
Knock over the fang cones!
Pull the rip cord and unleash the Speedor!
Attach the power-upz for even more intensity!
Compete with your friends in an action-packed game of skill!
Collect the entire LEGO® Chima Speedorz series to create combo games!
Minifigures Included
Speedorz Game Cards Included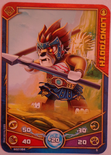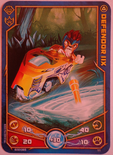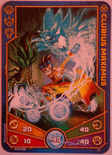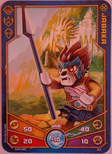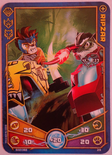 Longtooth's Character Card
Defendor IIX
Clubius Maximus
Jabaka
Ripzar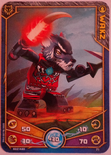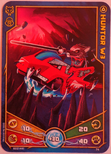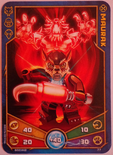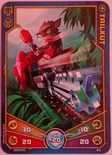 Wakz's Character Card
Huntor W3
Maurak
Stafik
Tailkut
Gallery
Notes
The two Speedorz found here are exclusive to this set.
External Links
Community content is available under
CC-BY-SA
unless otherwise noted.