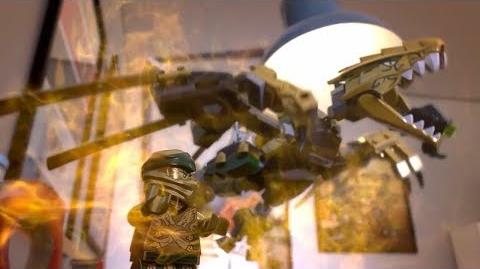 70666 The Golden Dragon is a 171 piece Ninjago Legacy set to be released in January 2019. It includes Lloyd Garmadon and Overlord. It is a remake of set number 70503 The Golden Dragon, which was released in 2013.
Official Description

This is a description taken from LEGO.com. Do not modify it. (visit this item's product page)
---
Build the Golden Dragon and ride into the Final Battle with Lloyd!
Recreate the epic Final Battle between Golden Ninja Lloyd and Overlord with the LEGO® NINJAGO® Legacy 70666 Golden Dragon action figure, featuring a minifigure saddle, opening mouth with hidden stud shooter, and posable legs, wings and tail. The cool ninja battle toy for kids includes 3 LEGO NINJAGO minifigures with weapons to intensify the role-play action as you recreate classic scenes from the NINJAGO Masters of Spinjitzu TV show.
This LEGO® NINJAGO® Legacy action toy includes 3 minifigures: Golden Ninja Lloyd, Overlord and Stone Army Scout.
The Golden Dragon ninja toy features a minifigure saddle, opening mouth with hidden stud shooter and posable wings, legs and tail.
Open the ninja dragon's mouth and fire the hidden shooter.
Weapons include Golden Ninja Lloyd's gold-colored katana, Overlord's blade spear and Stone Army Scout's crossbow.
Accessory elements include Overlord's 2 torsos, 4 arms and ghost-like 'legs'.
The LEGO® NINJAGO® Legacy range features new versions of popular ninja playsets from past seasons to recreate or reimagine iconic conflicts from the NINJAGO Masters of Spinjitzu TV show.
Measures over 2" (6cm) high, 9" (24cm) long and 10" (26cm) wide.
Background
In Tales from the Monastery of Spinjitzu, the Golden Dragon appears in Lloyd's dream sequence as he remembers his final mission with the Ultra Dragon and its subsequent departure from Ninjago.
Spoiler warning: Plot or ending details follow.
In March of the Oni: "Endings", the Golden Dragon appears when Lloyd is summoned before the First Spinjitzu Master.
Spoilers end here.
Trivia
Both this set and the original featured Golden Ninja Lloyd and a Scout, but this set features a new Overlord figure in place of a Warrior.
The Legacy Scout with short legs is exclusive to this set.
Legacy Golden Ninja Lloyd was later included in 71702 Golden Mech with a shoulder armor piece, while the Legacy Overlord figure was later included in 71699 Thunder Raider
External Links
Community content is available under
CC-BY-SA
unless otherwise noted.