Monastery Of Spinjitzu
Item №:

70670

Pieces:

1070

Minifigures:
Price:
$79.99
€79.99
£79.99
$139.99

Additional prices:

$99.99

Ages:

9+

Released:

January 2019

Theme:
70670 Monastery of Spinjitzu is a Ninjago: Legacy set released in 2019. It is based on 2504 Spinjitzu Dojo, which was released in 2011.
Official Description

This is a description taken from LEGO.com. Do not modify it. (visit this item's product page)
---
Live the life of a ninja at the action-packed Monastery of Spinjitzu!
Prepare for ninja battles at the LEGO® NINJAGO® Legacy 70670 Monastery of Spinjitzu and stop Wyplash stealing a Golden Weapon. The buildable monastery model opens out for easy play and features an opening gate, tea room with knife trap function, rotating ninja training station, chicken trap function and NINJAGO history mural wall stickers. Practice Spinjitzu in the courtyard with 2 handheld ninja minfigure battle platforms, a sword-spinning training station and 'fruit-cuttting' training station. This action-packed ninja playset includes all 4 collectible Golden Weapons—The Sword of Fire, The Nunchucks of Lightning, The Scythe of Quakes and The Shurikens of Ice—plus 8 minifigures to role-play and reimagine classic action from the NINJAGO Masters of Spinjitzu TV show.
This toy ninja set includes 8 LEGO® NINJAGO® minifigures: Wu, Jay, Nya, Zane, Cole, Lloyd, Kai and Wyplash.
The Monastery of Spinjitzu opens out for easy play and features: an opening gate; tower; tea room with 2 seats and a hidden lever-operated knife trap; rotating training station and a buildable bonsai tree; chicken trap function; and LEGO® NINJAGO® history mural wall stickers.
This ninja toy includes a training station with 2 rotating swords, 'fruit-cutting' training station with a knife, banana and apple elements to knock over, plus 2 handheld ninja battle platforms for LEGO® NINJAGO® ninja minifigures to stand on.
This LEGO® NINJAGO® toy includes all 4 of the ninja warriors' collectible Golden Weapons: Kai's Sword of Fire, Jay's Nunchucks of Lightning, Cole's Scythe of Quakes and Zane's Shurikens of Ice.
Weapons include Wu's bo staff, Nya's spear and Wyplash's dagger.
Also find collectible Golden Weapons in the 70667 Kai's Blade Cycle & Zane's Snowmobile, 70668 Jay's Storm Fighter and 70669 Cole's Earth Driller LEGO® NINJAGO® sets.
The LEGO® NINJAGO® Legacy range features new versions of popular action toys from past seasons to recreate or reimagine iconic conflicts from the NINJAGO Masters of Spinjitzu TV show.
Measures over 11" (29cm) high, 12" (32cm) wide and 8" (21cm) deep when closed.
Background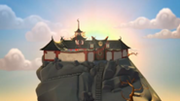 The monastery is located high above Ninjago on top of the Mountain of Impossible Hieghts. It was originally where the First Spinjitzu Master once lived. Later, Sensei Wu lived there and trained his ninja. The monastery had a training course that can be activated once pressing a button located inside a dragon statue. It was later destroyed by the Hypnobrai when they reclaimed their tribal staff, and the ruins were left desolate for some time.
The Monastery once hosted a celebration of the defeat of the Serpentine by the Elemental Masters, though it also served as the site of their final battle with the traitors Acronix and Krux. After Garmadon and Wu stole their powers with the Time Blades, the blades were thrown into a time vortex above the monastery, with the Time Twins swiftly following. Forty years later, Acronix returned to the ruins of the monastery, and briefly battled Wu and the Ninja there. When he and Krux traveled back in time with the Iron Doom, they and their Vermillion attacked the Monastery and the Elemental Masters. After being thwarted by their old allies-with help from Kai and Nya-the pair attempted to travel into the future.
After the defeat of the Sons of Garmadon and the Colossi, the Monastery was rebuilt and once again became home to the Ninja. The courtyard wall was decorated with murals depicting the various foes they had faced and defeated. The Omega later led his army of Oni to the monastery to attack it, and the Ninja and their allies fought them on the heights leading to the monastery. Eventually, they achieved victory by performing a joint Tornado of Creation, which caused the Oni army to vanish.
Spoiler warning: Plot or ending details follow.
The Ninja were later subjected to grueling exercises in the monastery after sixth months of laying about, with a fed up Wu setting traps and unleashing an electrically powered chicken against them. Later, he and P.I.X.A.L. revealed to the Ninja that they had built a secret hangar in the mountain beneath which contained a number of new vehicles. Antonia and Lil' Nelson later made their way here to alert Wu to the peril the Ninja had gotten into in Aspheera's tomb. Kai, Jay, and Cole returned to the monastery to warn him of Aspheera, and learned that he was responsible for her imprisonment. The Ninja later had a final battle with Aspheera in the vehicle hangar, from which the Ninja also departed for the Never-Realm.
Spoilers end here.
Minifigures Included
Trivia
Wyplash is new and the only exclusive figure in this set:
The chicken that can be launched as one of the set's play features is a reference to "The Master", a theatrical short that was a companion to The LEGO Ninjago Movie.
Gallery
External Links
Community content is available under
CC-BY-SA
unless otherwise noted.