70732 City of Stiix is a 1,069 piece Ninjago set released in 2015. It includes Kai, Jay, Nya, Lloyd, Wrayth, Ghoultar, Cyrus, Ming, and a Skreemer.
LEGO.com Description
This is a description taken from LEGO.com. Please do not modify it. (visit this item's product page)
---
Seek out the Scroll of Airjitzu in the City of Stiix!
Team up with the Ninja as they battle to enter the spooky City of Stiix! Power towards the city on Nya's speedboat, blasting the stud shooters at the ghoulish enemy. Evade shots from the city's rooftop ghost bomb shooter, outpost cannon and the massive Ghost ship's stud shooters to reach the dock. Battle against the Scythe Master Ghoultar with Jay's powerful Deepstone Katana. If a Ninja gets captured in the prison cage, use Nya's crowbar to break them out. Find and open the secret entrance to the temple, but watch out for the trap door on the first floor. When you reach the top of the city, battle the Evil Green Ninja and seize the Scroll of Airjitzu! Includes 8 minifigures with assorted weapon and accessory elements: Kai, Jay, Nya, Evil Green Ninja, Chain Master Wrayth, Scythe Master Ghoultar, Ghost Warrior Cyrus and Ghost Ninja Ming.
Temple features a docking station, adjustable crane with opening Ninja prison cage, secret opening mountain-wall entrance, hidden skeleton, shop with Aeroblade, assorted weapons, secret book and crystal elements, guard room with trapdoor, plus table, chair, cup, bottle and the Scroll of Airjitzu elements, rotating rooftop ghost bomb shooter and translucent green spiders
Ghost ship features a large movable fabric sail, 4 stud shooters, barrel of tools and a Ninja prison
Outpost features awindmill with rotating axe blades, adjustable ladder and treasure chest, walkway and a rotating ghost bomb cannon
Nya's speedboat features 2 stud shooters, 2 detachable swords, golden Ninja blade details and a translucent flame exhaust
Also includes a Skreemer (attachable to minifigures) with a sausage
Please note: Ghost boat and Nya's speedboat do not float in water
Weapon elements include 2 Golden Katanas and 2 Deepstone Katanas (for Jay and Nya), Kai's Deepstone Scythe, Nya's crowbar,Evil Green Ninja's Sword of Sanctuary, Wrayth's Ghost Master Blade on a chain, Ghoultar's Scythe Ghost Master Blade, Cyrus' crossbow and Ming's Ghost Energy Blade
Accessory elements include Deepstone armor for Kai and Jay and Nya's wrench
Cyrus and Ming minifigures feature transparent ghost legs and ghost armor
Wrayth and Ghoultar minifigures feature ghost tails (new for fall 2015)
Nya minifigure is wearing Samurai X outfit
Fire the speedboat's stud shooters
Dodge ghost bombs shot f rom the Outpost's cannon
Battle the Ghost Ninja with an array of cool weapons
Turn the hidden handle to open the temple's secret mountain-wall entrance
Don't fall through the temple's trap door!
Defeat the possessed Green Ninja and snatch the Scroll of Airjitzu
Recreate your favorite scenes from the NINJAGO™: Masters of Spinjitzu TV show
Temple measures over 16" (42cm) high, 10" (26cm) wide and 4" (11cm) deep
Ghost ship measures over 9" (25cm) high, 12" (31cm) long and 4" (11cm) wide
Outpost measures over 10" (26cm) high, 5" (15cm) wide and 3" (9cm) deep
Nya's speedboat measures over 1" (3cm) high, 9" (23cm) long and 1" (5cm) wide
Minifigures Included
Background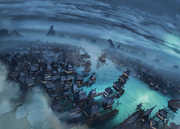 The City of Stiix, also known as the City on Water, is a location focused on the fifth season of Ninjago. It is a city that floats on wooden planks in the ocean. All the buildings are wooden as well. Ronin's pawn shop is located there, although it was destroyed during a battle between the Ninja and the ghosts. In the episode "Stiix and Stones", Soul Archer shot a ghost arrow at the entry sign of the city, turning the sign into a ghost. In "Curseworld, Part II", the majority of Stiix was destroyed, after the attack of the Preeminent.
Ronin's Pawn Shop
Ronin's Pawn Shop is a small store located in Stiix. Like all buildings in Stiix, the shop is wooden and oriental style. The shop includes many valuable artifacts stolen by Ronin, including the Scroll of Airjitzu, the Blade Cup, and the Aeroblades. In "The Crooked Path" the shop is taken over by Morro and his ghosts, and is transformed into a ghost shop.
Notes
Although Ronin's pawn shop is included in this set, Ronin is nowhere present in the set itself.
Evil Green Ninja appears in this set with the Sword of Sanctuary that is included and in the set 70735 Ronin R.E.X.. The sword allows its wielder to foresee their opponent's next move, giving the wielder an advantage in battle.
Gallery
External links