7091 Knights' Catapult Defense is a Castle (2007) set released in 2007, intended for ages 5–12. It includes two knights with a catapult and two skeleton warriors, who are armed with a crossbow and maceball.
Description
This set consists of a catapult manned by two knights, and a small barricade manned by two skeletons.
The Catapult The Catapult's base is a simple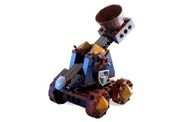 affair, with four wheels attached to it, two on either side. Attached to the base is a rotating platform which contains the catapult. The catapult itself has a wheel on one side, so the knights can "fire" it.
The Barricade The barricade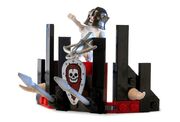 is a small wall, turned inward on either side, which has spikes mounted on it, and a shield attached to its front-most end.
Notes
LEGO.com Description

This is a description taken from LEGO.com. Do not modify it.
---
Smash the barricade!
Who goes there? The brave knights of the kingdom do! Defend the castle and demolish the skeleton warriors' barricade with the knights' powerful firing catapult. Includes 2 knights and 2 skeleton minifigures!
Minifigures Included
Gallery
External links