71005 The Simpsons Series 1 is a series of Minifigures released in May 2014. It is based on characters from The Simpsons.
LEGO.com Description

This is a description taken from LEGO.com. Do not modify it. (visit this item's product page)
---
Collect every mystery minifigure in the iconic The Simpsons™ Series!
Woo-hoo! It's The Simpsons™! The LEGO® Minifigures series continues with this great collection of 16 of your favorite characters from TV's longest-running comedy. There's Homer, Marge, Bart, Lisa, and Maggie Simpson, as well as Grampa, Ned Flanders, Ralph Wiggum, Nelson Muntz, Apu Nahasapeemapetilon, Chief Wiggum, Krusty the Clown, Itchy & Scratchy, Mr. Burns and Milhouse. Each The Simpsons™ minifigure comes in a sealed 'mystery' bag with its own special accessories, display plate and collector's leaflet. Buy a bag, open it up and see which one you get!
Every LEGO® The Simpsons™ minifigure comes with a display plate and accessories that you'll recognize from the hit TV series
A must-have for LEGO® minifigure collectors and fans of The Simpsons™
Open the bag and find out who you've got!
PLEASE NOTE: Only 1 of 16 individual minifigures in each 'mystery' bag. Unfortunately, we cannot accommodate requests for specific minifigures – and some minifigures may be more difficult to find than others. If purchasing multiple bags, you may receive 2 or more of the same minifigures – trade with your friends to collect them all! A maximum of 16 minifigures may be ordered per address, per household
Minifigures Included
List of Minifigures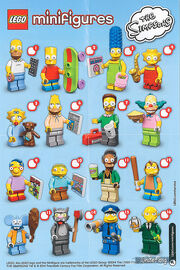 Minifigure Gallery
Notes
This series features the complete Simpsons family.
Apu, Krusty the Clown, Milhouse, Mr. Burns and Nelson Muntz are originally rumored to appear in other Simpsons sets.
Moe was rumored to feature in this series, but he did not appear in the final list. Some speculate that this happened due to his occupation of being a bartender. However, he was replaced by Ralph Wiggum in the final list and confirmed to appear in the episode "Brick Like Me".
Like Series 2 to 4, this series contains three females.
This is the only series that has most molded heads.
This is the very first licensed Minifigures series that LEGO has ever made.
Chief Wiggum, Itchy, Moe, and Scratchy are first expected to feature in this series.
This is the first Minifigures series where none of the minifigures have a standard head piece.
This is the first Minifigures series where all the minifigures have ears.
This is also the first series where all the minifigures feature noses.
Some of the Minifigures from this series had their regular Minifigure counterpart in the episode "Brick Like Me" with the exception of Itchy and Scratchy.
This is the first Minifigures series, also the first LEGO Minifigures, to have short sleeved arms and short legs molded in two colors.
This is the only Minifigures series where this is availble for 5 months from May 2014 to October 2014, due to 71007 Minifigures Series 12 being available in October 2014 after The Simpsons series.
This is the first series where all the Minifigures have names.
Ned Flanders is the only Minifigure that doesn't have a new head piece.
Bart Simpson, Homer Simpson, and Krusty the Clown all appear as playable characters in LEGO Dimensions.
Ned Flanders, Marge Simpson, and Grampa are all NPC's in LEGO Dimensions.
Gallery
Community content is available under
CC-BY-SA
unless otherwise noted.