725 Basic Building Set was a Universal Building Set released in 1990. It contains 427 pieces including two Minifigures.
This Basic set is intended to enable the constructor to build and rebuild many different constructions, although one at a time. It has wide assortment of accessories which increases its playability. The style of buildings is similar to later Paradisa but in different colour scheme – white and red with blue details. It is recommended for builders over 7 years old.
Contents
This set is packed in a cardboard box with a flap top. It is mainly green, decorated with some idea pictures of various constructions assembled from the bricks included. The set consists mainly of white bricks and red roof sloped tiles but there are also examples of other coloured parts (blue, yellow, black, green, brown, transparent white, transparent yellow). There are two light grey 16x16 base plates and some more smaller plates, mainly white, which makes nice and elegant colour combinations with red doors and windows with blue lattices and red shatters. The are some arches and corner wall panels as well as hinges and 2x2 plates with rotating platform, which allows building more complex constructions. Among accessories there are a few flowers, a palm tree, an umbrella, a saddle and hitching, four small wheels, two flags, some fences of different height, a couple of lanterns, four chairs, two wine glasses, a cupboard, a cabinet with two drawers, a pot, a pan, a broom, a tap and a telephone. There are two minifigures included, accompanied by two animal figures: a black horse and a parrot with printed wings.
Description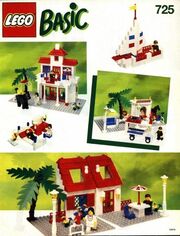 The leaflet shows step-by-step assembly instructions for building a few different models:
This simple vehicle built on a white plate can host a driver and a passenger behind him. Apart from the blue wheelarches and transparent white windscreen it has no specific automobile features like a steering wheel or doors, but on the roof there is some place for luggage.
This little flat-roofed building made of two angular wall segments can house only one standing minifigure – a food seller. The kiosk is furnished by a cabinet with a tap and a telephone. There is a small table outside for clients and a broom stand. The two transparent [[curved window panes and two chairs are used to create a bus stop.
The bedroom furniture set
A simple double bed with a bedside table, a dressing table and a chair offers some rest to minifigures but the set can't be used in any of the houses shown in the leaflet due to its size and lack of spare bricks. The bed is made of a white plate and some roof tiles which serve as pillows. Four blue cylinder bricks on each corner are used for decoration. The red vanity with a solid white mirror is built on two cupboards. A small lamp is placed on it as well as on the small white bedside table.
The bungalow has steep roof with two skylight windows and two tiny chimneys. On either side of the door there is a sconce light. The interior is very simple and consists of a kitchen and a dining room. In the front garden there is a table with two chairs screened by an umbrella and a parrot stand. The house is built on hinges which allows constructor to open it to play or close to display.
This brick-built construction is mainly white. It has a movable hinged sail with red and blue pattern and a flag on the top. Some low grill fences are used as railings.
This three storey house has a porch built on lamp posts and a balcony on the upper floor. Above, flanked by two sections of the roof, there is a tower-like structure with a little window and a chimney.There is no staircase and the interior design is very simple but in the garden a little transparent bower is situated under the palm tree.
On the last page of the leaflet as well as on the box there are some idea pictures of many more possible constructions including an oriental style building, an office furniture set, a horse cart and a hydroplane.
Minifigures Included
External links