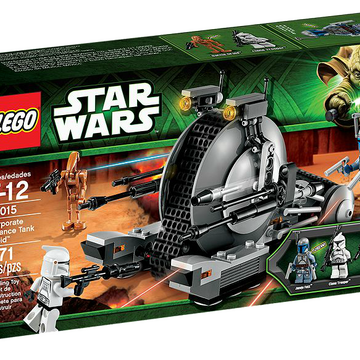 75015 Corporate Alliance Tank Droid is a 271 piece Star Wars set released in 2013.
Description
The Tank Droid has a black track running from back to front. At the front of this are two large circular 'shields' creating a front 'wheel' from which the guns and the eyes connect onto. The guns themselves have three barrels of different sizes, the smallest of these being flick-fire missiles. At the back of the vehicle is another 'wheel' which the track goes around. There is a section with some bars in between the two 'wheels.' At the bottom of the front 'wheel' are two supports.
The set includes three minifigures: Jango Fett, a Clone Trooper, and a Battle Droid.
Background
In the first battle of Geonosis, the Separatists launched Tank Droids against the Republic forces.
LEGO.com Description
Battle the LEGO® Star Wars™ Corporate Alliance Tank Droid™!

Build the great Battle of Geonosis™ where the Separatist forces are advancing on the Jedi Knights and their clone army with the LEGO® Star Wars™ Corporate Alliance Tank Droid™! Help the Clone Troopers™ to repel the Droid's crushing track tire and 2 flick missiles! Then fend off the Battle Droid™ and infamous bounty hunter Jango Fett. Includes 3 minifigures with weapons: Clone Trooper, Jango Fett and a Battle Droid.

Includes 3 minifigures: Clone Trooper™, Jango Fett and a Battle Droid
Features large track tire and 2 flick missiles
Weapons include 2 blaster pistols, blaster and a blaster rifle
Fire the flick missiles!
Navigate any terrain and crush your enemy with the rugged track tire!
Recreate awesome battle scenes from Star Wars™: Episode II Attack of the Clones!
Recreate an even bigger Battle of Geonosis with 75016 Homing Spider Droid™, 75019 AT-TE™ and 75021 Republic Gunship™!
Measures over 4" (11cm) high, 7" (18cm) long and 3" (9cm) wide
Minifigures Included
Gallery
External Link(s)
External info
Corporate Alliance Tank Droid 75015 75015 Corporate Alliance Tank Droid 75015 Corporate Alliance Tank Droid
See Also