Fire Emblem Warriors: Three Hopes - The Loop
Play Sound

76023 The Tumbler is a DC Comics Super Heroes set that was released in August 2014. It is an ultimate collector's series set based on the 2008 blockbuster hit superhero movie, The Dark Knight. It includes Batman and The Joker.
Description
The set features predominantly the Tumbler from Christopher Nolan's "Batman Begins" and "The Dark Knight", and includes an "overly detailed" interior depicting two seats, a steering mechanism, computer monitors, rear view camera, two keyboards, and other levers. The Tumbler has six large black tires, and has some sort of a suspension system made up of TECHNIC pieces. The roof can be taken off to reveal the interior of the Tumbler. Around the vehicle, there are hinge bricks that allow several parts to move, like in the films. The back depicts a giant motor in between the four back tires. The entire vehicle is black, with inclusions of gold and grey.
In addition to the Tumbler, the set comes with a fact sheet that explains the details of the Tumbler. The fact sheet is built onto a stand, where the two Minifigures can be placed on.
The minifigures included are Batman, in his "Batman Begins" film suit, and a re-designed Joker, also based on his appearance in "The Dark Knight".
Notes
This is the second set produced to be based of off "The Dark Knight". The other set was 7888 The Tumbler: Joker's Ice Cream Surprise.
This is also the third set to based off of a film in Christopher Nolan's "Dark Knight Trilogy".
The tires were created exclusively for this set.
This set includes the "Batman Begins" suit, making it so every set based off the Dark Knight Trilogy has a suit from a different movie. The first being released in 2008 the second, 2013 and this variation which is to be released in 2014
This is the only non-exclusive bat-suit based off Christopher Nolan's trilogy that is black, not dark grey. The "Dark Knight Rises" suit was released as a black variation but only as an exclusive San-Diego Comic-Con minifigure.
LEGO.com Description
This is a description taken from LEGO.com. Please do not modify it. (visit this item's product page)
---
Build the awesome Tumbler from the Batman™ The Dark Knight Trilogy!
Take on the challenge of building The Tumbler, an amazingly cool LEGO® model of the iconic vehicle from the Batman™ The Dark Knight Trilogy. Construct this black armored vehicle highlighted with new colour LEGO® elements and brand new LEGO front wheels. Check out the cool, detailed interior and adjustable top wings. Includes 2 new and exclusive minifigures: Batman™ and The Joker.
Includes 2 minifigures: Batman™ and The Joker
Features an armored exterior, adjustable top wings, detailed interior and huge rubber-tread racing tires
Batman™ and The Joker minifigures are new and exclusive to this set!
Model includes new LEGO® front wheels
Includes a fact sheet about the Tumbler vehicle used in The Dark Knight Trilogy movies featuring Batman™
Tumbler measures over 5" (15cm) high, 15" (40cm) long and 9" (24cm) wide
Minifigures Included
Gallery
Video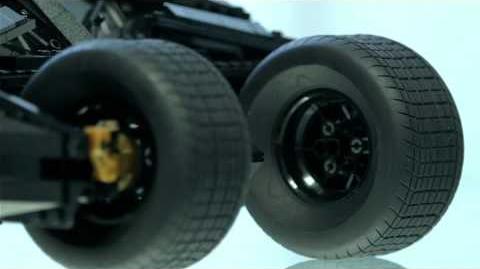 See Also