7772 Lobster Strike is an Aqua Raiders set released in 2007. It contains 223 pieces, which build a giant lobster, an underwater exploration rover and two Aqua Raiders, on with a underwater helmet the other with a hard-hat.
Description
The underwater-rover is technically not really airtight, due to the large gaps under its cockpit-canopy, but its pilot wears no diving gear, so it can be assumed that the vehicle is meant to be. The vehicle's robot arms are equipped with a grinder, which was first introduced as propeller for the subs of Alpha Team: Mission Deep Sea, and a gripper. The pieces of the robot arms are connected with click-rotation hinges which allow them to stay in place when brought into the desired position. There is also a twin-barreled cannon on top of it, which is similar to the one of the mini-sub from 7775 Aquabase Invasion.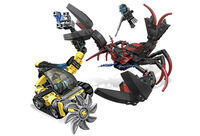 Flippers, an air tank and a helmet are only provided for one of the two minifigures, which is an odd occurrence since all other Aqua Raiders sets, except 7776 The Shipwreck have diving gear for all the included minifigures even if they don't normally wear it.
The vehicle is similar to one included in 4888 Ocean Odyssey which also featured the same caterpillar treads as this set.
This is also one of nine non-BIONICLE sets that include Part x1750, which are commonly used as Barraki spines in BIONICLE sets. Here the pieces are used to represent the lobster's antennae. Three of the other sets were Aqua Raiders sets as well.
LEGO.com description

This is a description taken from LEGO.com. Do not modify it.
---
Giant claws from the deep!
This high-tech underwater exploration rover has it all: working treads, a robot arm, and a drill for collecting precious undersea crystals. But do it and its crew of two have what it takes to fight off the giant lobster? With its huge size, armored body and giant claws, this creepy crustacean means business!
Includes 2 diver minifigures!
Lobster's legs, tail and claws really move!
Rover has a spinning drill and "robot" arm that moves!
Open the rover's hatch to seat the operator at the controls!
Minifigures Included
External links
Community content is available under
CC-BY-SA
unless otherwise noted.