7776 The Shipwreck is an Aqua Raiders set released in 2007. It contains the wreck of a sailing ship, a mini-submarine, a small underwater scooter, two Aqua Raiders and a skeleton. This set is Limited Editon.
Description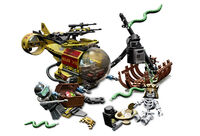 The shipwreck comprises just the bow section of a sailing ship and one mast with the steering wheel. In front of the mast lies a treasure chest that triggers the mast to collapse when removed. Inside the wreck is also a golden plate with jewels and a King Skeleton with a crown. The submarine is a bigger version of the one from 7775 Aquabase Invasion and has two robot arms and a longer tail section with two propellers, as well as a small rotatable harpoon rack on its roof. Further armament is provided by two harpoon guns next to the cockpit. Although the sub is larger on the outside, its interior has only room for one minifigure. One of the robot arms is equipped with a magnet holder to carry one of the two included magnet safe boxes.
The sea life in this set consists of two green snakes and a yellow crab. Together with 7770 Deep Sea Treasure Hunter this set was the only one from the Aqua Raiders theme that did not include a large sea monster.
This set did not include any diving gear for the pilot of the minisub, similar as in 7772 Lobster Strike. All other Aqua Raiders sets included optional diving equipment for every minifigure, even if they didn't wear it by default.
LEGO.com description

This is a description taken from LEGO.com. Do not modify it.
---
Explore the mysterious shipwreck!
Deep below the waves, the Aqua Raiders have discovered a long-lost shipwreck with an ancient king's fortune in gold and jewels. Help the deep-sea divers use their high-tech sub's robotic arms and working magnetic collector to pick up the sunken treasure, but watch out for the poisonous sea snakes and the ship's falling mast!
Includes 2 diver minifigures and 1 skeleton!
Open the hatch to seat a diver at the controls!
Use the sub's magnetic arm to pick up the treasure!
Minifigures Included
External links
Community content is available under
CC-BY-SA
unless otherwise noted.