Roblox: DeepWoken - The Loop
Play Sound

7782 The Batwing: The Joker's Aerial Assault is a set from the Batman theme that contains Batman's Batwing and The Joker's helicopter. Batman, The Joker, and Joker Goon minifigures are included.
Description
The Batwing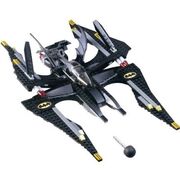 The Batwing vehicle is built very thinly using primarily LEGO plates instead of bricks. It has an opening cockpit that holds one minifigure and Batman's accessories. The Batwing also features opening wings and wind flaps on the wings. Also, when the wings are folded up, slide-out rockets can be seen and slid-out using small knobs on the sides of the wings. Another feature is that when the back of the vehicle is pushed down, a spring-fire missle fires. The Batwing can land on its unique stand, which is included in the set.
The Joker's Helicopter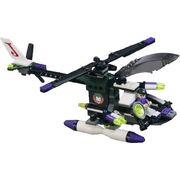 The Joker's helicopter features a large rotor above the main body and a small rotor at the end of the tail boom. It also stores Joker Bombs in the main body, which are able to be dropped by pulling a lever near the bottom of the helicopter. Another feature of the helicopter are hidden guns that are able to fold out from sides of the main body. It's opening cockpit is able to hold up to two minifigures and store weapons as well. On the side of the cockpit is a spotlight that, when hit by the Batwing's missile, will drop the rope ladder attached to it.
Background
This set was made to represent from the 1989 Batman film, in which The Joker tried to spread laughing gas throughout Gotham City while using his helicopter as a getaway vehicle. He is later stopped by Batman, who piloted the Batwing. At the end of the film, The Joker died when he fell from the helicopter's rope ladder. As well as Batman's Batwing looks similar to its 1989 appearance were Batman tries to stop the Joker by getting rid of those balloons spreading laughing gas to the city and launches missiles to stop the Joker, but failed.
LEGO.com Description

This is a description taken from LEGO.com. Please do not modify it.
---
Stop The Joker and save Gotham City™!
When The Joker™ and his goon take to the skies, it's up to Batman™ and the Batwing to stop him! Launch the Batwing's missile at The Joker Copter and stop the villain from dropping laughing gas on the city of Gotham!
Open the Batwing's wings to reveal slide-out rockets!
Launch the Batwing's missile at The Joker's hidden-weapons helicopter!
Sleek Batwing measures 10" (25cm) wide and 15" (38cm) long!
Hit the spotlight to knock the ladder and the crooked clown from the air!
Batwing's wings opens to reveal slide-out rockets!
The Joker Copter measures 9" (22cm) long!
Includes stand for Batwing with flip-down ladder!
Batman has lots of cool gadgets!
Includes grey-suited Batman, The Joker and henchman minifigures.
Notes
Minifigures included
Gallery
See also
External links