7976 Ocean Speeder is an Atlantis set released in 2011. It includes 54 pieces, costs and is intended for children ages six through twelve.
Description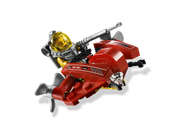 Ocean Speeder:
The ocean speeder is made of mostly red pieces and in the middle of the ocean speeder are slopes forming the hood with a handlebar hanged at the back so that Lance Spears can attach to the ocean speeder. On the back of the ocean speeder are two grey propellers. There are two "arms" at the front to grab hold of crystals. Stickers are used on the slopes of the ocean speeder to add extra detail.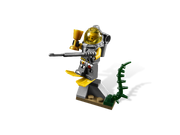 Rock Seabed:
The rock seabed is made up of a 2x4 plate for its base and grey slopes to resemble rock on a seabed. Attached to the base is a dark green clip that has a dark green "seaweed" piece at the end to give the impression of seaweed coming out of the seabed.
Background
According to The Secret Journal of Dr. Artimus Rhodes, the Ocean Speeder was used by Lance Spears to rescue Atlantis but was captured by Dark Guardians when Lance was captured and Samantha used the parts from the Ocean Speeder and the Seabed Striker to build another sub to explore Atlantis.
Notes
LEGO.com Description

This is a description taken from LEGO.com. Do not modify it. (visit this item's product page)
---
Dive deeper in the Ocean Speeder to seize the treasure!
Fearless Lance Spears is diving for the treasures of Atlantis on his Ocean Speeder as a dangerous sea snake spots him! Can he escape the slippery serpent and reach the treasure?
Includes Lance Spears minifigure with diving gear
Grab with the Ocean Speeders arms, move it's propellers and shoot with the harpoon!
Ocean Speeder measures 3" (7cm) wide
Features sea snake, treasure and rare gold elements
Minifigures Included
Gallery
References
External links
Community content is available under
CC-BY-SA
unless otherwise noted.