watch 03:03
The Loop (Games)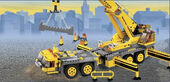 Work in Progress!
A work in progress is being carried out on this page by Mariofighter3, and may undergo critical changes while this message remains in place.
As a courtesy, please contact the user before making edits on this page.
If this template has been on the page for over one week, it may be removed.
8057 Wreck Raider was released in November 2009[1] as part of the LEGO Atlantis theme. It includes a Mini-Sub with 2 Flick-Fire Missiles, 64 pieces, a Squid key, and a Captain Ace Speedman and Shark Warrior Minifigures.
Description
Wreck Raider
Minifigures
The minifigures included are a Shark Warrior and Captain Ace Speedman. The Shark Warrior is equipped with a Trident and the Squid Key. [[Acel is equipped with a oxygen-flowing helmet and light green flippers.
LEGO's Description

This is a description taken from LEGO.com. Do not modify it. (visit this item's product page)
---
Capture the blue treasure key from the Shark Warrior!
While exploring the ocean aboard his high-speed scooter sub, the deep-sea diver has found one of the treasure keys leading to the sunken city of Atlantis! But will the Wreck Raider's twin turbines and flick-launching harpoons be enough to defeat the trident-wielding Shark Warrior and capture the blue key? Includes Shark Warrior with trident and deep-sea diver minifigures.
Set includes Shark Warrior minifigure and diver minifigure.
Collectable blue Atlantis treasure key included!
Measures over 3" (8cm) long!
Gallery
Notes and References
External Links
Community content is available under
CC-BY-SA
unless otherwise noted.