8285 Tow Truck is a LEGO TECHNIC-themed set released in 2006. It contains 1877 pieces and was the second largest TECHNIC set ever made when it released. It is a pneumatic tow truck that can be rebuilt into a flatbed truck. It's recommended for children aged 11 through to 16.
Description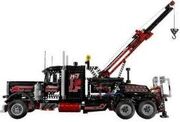 The Tow Truck is equipped with rack and pinion front wheel steering, and an operating crane, winch and lift—just like a real tow truck. Its rear telescopic towing mechanism lifts pneumatically to tow stranded vehicles, while the ratchet-regulated winch secures the load. The motor will lift and lower the arm and pull the tow line up and down. When opening the hood, it reveals the detailed V6 engine with moving pistons and spinning radiator fan. Side compartments conceal manual controls for raising the hook or extending and lowering the boom. It is a very authentic model for skilled builders. When pumping the pneumatic cylinder, it lifts the telescoping boom. The Tow Truck measures over 26" (66 cm) long. When the wheels are turned, the engine pistons move, similar to
8674 Ferrari F1 Racer 1:8
. Lowering the stabilizers "helps" for towing heavy loads. The telescoping boom extends, retracts, lifts and lowers. The Tow Truck includes building instructions to rebuild into a heavy load flat-bed truck.
External links
Community content is available under
CC-BY-SA
unless otherwise noted.