8971 Aerial Defense Unit is a LEGO Agents set that was released in 2009. The set contains seven minifigures, the Aerial Defense Unit, which is the Agents' helicopter, and the satellite broadcaster. Two things of Agents body armour were also included in the set.
Description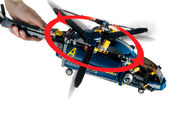 Two units, the ADU (Aerial Defense Unit) and the satellite broadcaster, make up the set. The ADU is the largest and main part. A cockpit that has the ability to house two minifgiures is positioned in the front of the helicopter. The cover to the cockpit is also possible to open. Pushing and sliding the top portion of the tail (nearest the doors) with your thumb will activate the tri-blades that are positioned atop the helicopter. The craft also features openable doors, that when opened, reveal the troop bay. It also reveals the zip-lines that have the ability to connect to the body armour. This makes it possible for the Agents to be suspended in the air. The satellite broadcaster serves as the base for the three Magma Drones as well as the Magma Commander.
Background
The ADU served as the Agents' tool to destroy the Magma Commander, the Magma Drones, and the satellite broadcaster.
Notes
This is the only Agents set to include the Magma Commander, the Magma Drones, and Agent Swift.
This set has an acronymn similar to the "Alien Defense Unit" in Alien Conquest
LEGO.com Description

This is a description taken from LEGO.com. Do not modify it.
---
Save the City with the ultimate Agents air vehicle!
Red alert for Agents Chase, Charge and Swift! Dr. Inferno's hot-headed henchman Magma Commander is unleashing his magma-drones on the City. Your Mission: to destroy his satellite broadcaster and neutralize the drones! To do it, you'll need the newest Agents aerial defense vehicle – the enormous, gadget-packed twin-propeller Agent Chopper!
Includes seven minifigures: Agents Chase, Charge and Swift, Magma Commander & 3 Magma Drones!
Twin-propeller activates by pulling trigger on handle!
Zip lines take Agents into action!
Open the side doors to play inside Agents' command center with computers and added gadgets!
Aerial Defense helicopter measures over 17 inches (43.2cm) long!
Minifigures Included
Gallery
See also
External links