9469 Gandalf Arrives is a set in the theme The Lord of the Rings released in May 2012.
Description
It includes Gandalf, Frodo Baggins, a Horse and Gandalf's cart loaded with various items, which are supposed to represent fireworks coming out of the back of the cart.
Background
This set represents the scene in the beginning of The Fellowship of the Ring, where Gandalf the Grey arrives in the Shire on his cart and is greeted by Frodo Baggins.
LEGO.com Description

This is a description taken from LEGO.com. Do not modify it. (visit this item's product page)
---
Visit the Shire with Gandalf the Grey and Frodo!
Join Gandalf the Grey as he travels to the Shire to celebrate the 111th birthday of his old friend Bilbo Baggins and relive the opening scene of The Fellowship of the Ring! As Gandalf makes his way through the Shire on his horse and cart, he meets an excited young hobbit, Frodo Baggins. This is where the legendary adventure of The Lord of the Rings begins! Includes 2 minifigures: Gandalf the Grey and Frodo Baggins.
Includes 2 minifigures: Gandalf the Grey and Frodo Baggins
Also includes the new LEGO horse
Accessories include book, staff, backpack and letter
Features horse cart, carrot and barrel with fireworks
Collect the exclusive Gandalf the Grey minifigure!
Build the scene where the adventure began!
Cart and horse measures 6" (16cm) long
Notes
One of the items in the wagon is one of the small Ninjago snakes in red; it is most likely representing the dragon firecracker that Merry and Pippin steal during Bilbo's birthday party.
Another item from the wagon is a envelope that Frodo places The One Ring inside of after Gandalf told him to keep it secret, keep it safe.
The horse has a new mould and moving legs, which enable it to balance on its back legs.
Minifigures Included
Gallery
Videos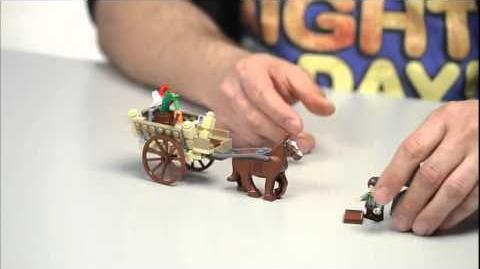 External links