World of Warcraft: Dragonflight - The Loop
Play Sound
"What can I do for you, sir?"
―Alfred's soundbite in LEGO Batman 2: DC Super Heroes
Alfred Pennyworth is a minifigure from the Batman theme. He was re-released a decade after his appearance in the Batman line in the DC Comics theme.
Description
Alfred Pennyworth has a Light Nougat head with a thin mustache, laugh lines, and side burns. His torso is coloured black and depicts a black jacket with a grey vest and dark blue bow-tie. His legs are coloured light grey. Alfred has no hairpiece.
In the video games
In LEGO Batman: The Videogame, Alfred is identical to his appearance in 7783 The Batcave: The Penguin and Mr. Freeze's Invasion, but he balances a silver platter on his right hand at all times.
His appearance for LEGO Batman 2: DC Super Heroes is unchanged except for he now has back printing (similar to Lex Luthor's), and he still carries the silver platter like The Waiter.
His appearance in LEGO Batman 3: Beyond Gotham is similar to his appearance in the previous games except his hand are grey and the plate has a handle on the bottom rather than a tube
Background
Alfred Pennyworth served in World War II. After the war, he went on to become an actor, but, before his father's final wish before his death was for Alfred to become a butler for the Wayne family, which was a family tradition. When Thomas and Martha Wayne were murdered in Crime Alley, Alfred took care of their son Bruce Wayne. He later became Bruce's confidant, as well as butler when he took on the identity of Batman. He also urged Bruce to accept Barbara Gordon as Batgirl.
Alfred has been a father figure to Bruce, and a grandfather figure to Dick Grayson, Jason Todd, Tim Drake, and Damian Wayne.
Alfred is a member of the Bat-family which primarily consists of Batman, Robin, Nightwing, Red Hood, Red Robin, Batgirl, and Commissioner Gordon.
In LEGO Batman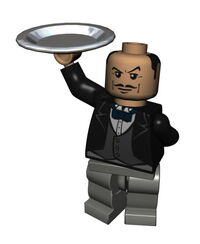 Alfred appeared as a minor character in Riddler's Revenge and Joker's Return.
Riddler's Revenge
Alfred helped Batman and Robin to solve The Riddler's clues before the Dynamic Duo apprehended him and Two-Face.
Joker's Return
Alfred helped Robin to arm the Batcopter before apprehending Mad Hatter.
In LEGO Batman 2
Alfred reappears in LEGO Batman 2: DC Super Heroes as a playable character. Players can contact him from certain consoles to view a map of Gotham City and summon unlocked vehicles to their location for use.
He appears as a non-playable character in the level "Unwelcome Guests" where he is the citizen in peril and surrounded by flames.
Alfred later appears on the news station where Vicki Vale says he carried the message that a charity event for the zoo animals has been cancelled.
Alfred can be unlocked at the door of Wayne Manor.
In LEGO Batman 3
Alfred appears in LEGO Batman 3: Beyond Gotham as a major character. He is unlocked throughout the storyline with no extra cost. Unlike the previous games he is not the one giving hints throughout the loading and levels. It is shown that Alfred is brave enough to fight Batman.
LEGO.com Description

This is a description taken from LEGO.com. Please do not modify it. (visit this item's product page)
---
Bruce Wayne's loyal butler Alfred Pennyworth is one of the few people in the world who know that his wealthy employer is secretly the crimefighter and detective known as Batman. Alfred's job includes not just keeping stately Wayne Manor tidy, but also taking care of the entire Batcave and making sure that Batman's vehicles and equipment are always well-polished and in tip-top shape.
Agility: 3
Fighting: 4
Strength: 3
Intelligence: 7
Speed: 2
LEGO Batman Movie
Alfred Pennyworth has been the butler to the Wayne family for pretty much forever. Hard-working, long-suffering and utterly loyal, he sees it as his responsibility not just to keep Wayne Manor and the Batcave clean and tidy, but also to look after his employer's well-being…even when Batman doesn't necessarily agree. He has in many ways been a father figure to Batman and he cooks an amazing lobster thermidor. Bat-Fact: In fact, worth a lot more than a penny.
Disco
Now this is one stuffy old butler who can really cut a rug! That's old-fashioned talk for "dance well" if you're a youngster. Surprisingly enough, Alfred is also pretty great with that electric guitar. Batman™ would tell you that he must have been picking up pointers from the Dark Knight's own big musical career. Alfred, on the other hand, would probably say he taught Batman everything he knows!
Vacation
Alfred Pennyworth™ comes from a time when butlers never rested, movies were black-and-white, and bathing suits covered you from your shoulders to your knees. Here on the beach with a glass of tropical fruit juice in his hand, he's about as relaxed as it's possible for Alfred to get…though you'll notice that his collar is just as clean and crisply starched as ever!
Notes
In LEGO Batman: The Videogame, Alfred appears in the Batcave hub, but may not be tagged.
To unlock Alfred in LEGO Batman 2: DC Super Heroes, the player must collect 35 gold bricks. He can be found at the door of the Wayne Manor mansion (North Island) in Gotham City.
He is identical to the butler from Indiana Jones. However, Alfred has a moustache, while the butler doesn't.
He is the only character of The LEGO Batman Movie who later returns in The LEGO Movie 2: The Second Part.
In the Dark Knight Trilogy, Alfred is portrayed by Michael Caine, who also voiced Finn McMissile in Cars 2.
In The LEGO Batman Movie, Alfred is voiced by Ralph Fiennes who is best known for playing Lord Voldemort in the Harry Potter films (which Voldemort also appeared in The Lego Batman Movie voiced by Eddie Izzard).
In The Batman, Alfred was portrayed by Andy Serkis whose best known for his work in the Middle Earth franchise as Gollum as well as the uncredited voice of the Ringwraith and the Witch-King, and also portrayed Ulysses Klaw and Supreme Leader Snoke in the Marvel Cinematic Universe and the Star Wars films respectively.
In the French dubs of Batman vs. Two-Face, Batman V Superman: Dawn of Justice and Justice League, he was voiced by the late Bernard Tiphaine, who also voiced a S.H.I.E.L.D. Agent in the dub of The Avengers, Stan Lee in the dub of Agents of S.H.I.E.L.D., Ra's Al Ghul in the dub of Justice League vs. Teen Titans, and Magneto in the dub of X-Men: The Animated Series.
In Batman: The Dark Knight Returns, he was voiced by the late Michael Robin Jackson, who also voiced Ganthet in Green Lantern: Emerald Knights and Green Lantern: Rise of the Manhunters.
In Batman Begins latin dubb he is voiced by Armando Réndiz, who also voiced Enemy Butler in Indiana Jones and the Last Crusade latin re-dubb and Commisioner Gordon in Batman Returns latin dubb.
Gallery of Variants
Minifigure
Videogame
Movie
Appearances
Video Game Appearances
Movie Appearances
Gallery
References
See Also