Ariel is a Disney Princess mini-doll introduced in 2014. She appears in three sets so far.
Description
In 41050 Ariel's Amazing Treasures and Ariel's Undersea Palace, Ariel is a mermaid, and she has a new mermaid mini-doll leg piece in green, which is representing her tail. Her torso is light nougat with a sparkly purple seashell bikini top. She has long and wavy red hair and a happy face with pink lipstick and long eyelashes.
In 41052 Ariel's Magical Kiss, Ariel uses the same head and hair-piece but is dressed in a long light pink long-sleeved dress. Her torso piece shows parts of light nougat bare skin on her arms and neck.
Background
Ariel was a mermaid who wanted to become a human. After saving a drowning man named Prince Eric, Ariel fell in love with him. Her desire to live with her beloved one was fulfilled by a witch named Ursula, who agreed to turn Ariel into a human in exchange for her voice. Ariel agreed, but soon realized that she was cheated. Ariel finally got her voice back and Prince Eric defeated Ursula. Ariel became a human and married Eric.
Appearances
Other Physical Appearances
Gallery of Variants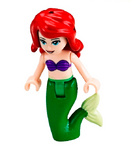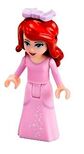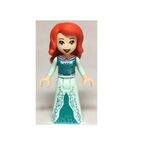 From 41050
From 41052
Human Form from 41145
Pink Dress Varient from 41153
Green Dress from 41160
2016 minifigure
Notes
See also
Community content is available under
CC-BY-SA
unless otherwise noted.