Bain is a minifigure who first appeared in LEGO The Hobbit: The Video Game as a playable character. He made his physical debut in the 79016 Attack on Lake-town set in 2014. Bain also appeared alongside with Bard in the Target Exclusive for The Hobbit: The Battle of the Five Armies Blu-ray combo pack.
Background
Born during the late Third Age, Bain is a young Man of Dale, son to the famed Bard the Bowman and brother of Sigrid and Tilda. He helps his father in hiding the last Black Arrow while Bard is captured and imprisoned by the order of the master.
In The Lord of the Rings books he would eventually become King of Dale, and later had a son, Brand, who was killed during the War of Ring by the Easterlings.
Description from LEGO.com

This is a description taken from LEGO.com. Do not modify it. (visit this item's product page)
---
Bain Son of Bard
Young Bain is the son of Bard the Bowman, and like his father a descendant of Lord Girion, the ruler of the dragon-ruined city of Dale. Bain looks up to Bard and gladly helps his father when the time arises.
Gallery of Variants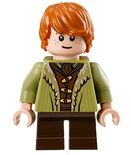 Regular
Regular (No coat)
Appearances
The Hobbit: The Battle of the Five Armies Target Exclusive
Video Game Appearances
Gallery
Sources
Community content is available under
CC-BY-SA
unless otherwise noted.