This article is about the minifigure. For other uses of the word "Batman", see Batman (disambiguation).
This article contains information regarding scheduled, forthcoming or expected.
While this minifigure has been released in some form in the past, a new variant is expectected for release soon. The content about any future variants may change as the release approaches and more information becomes available.
"I'm BATMAN."
―Batman in The LEGO Movie
Batman (alias Bruce Wayne) is a Batman and Super Heroes minifigure based on the super hero from the DC Comic Universe. He originally appeared with two variations in 2006, one in 2007, and one in 2008; being the original suit, 1989 film suit, classic suit, and 2008 film suit, respectively. An exclusive new variant was given away at Comic-Con in 2011 as a preview to the upcoming Super Heroes theme. This new theme also features two new Batman comic suits, his blue 1960's suit and his 1990's black suit, and an Ultrabuild Constraction figure. 2013 expanded further upon Batman's depictions with suits based on The Dark Knight Rises in addition to his Arctic camouflage and his black 2012 suit with the moulded black wings. Batman's first Microfigure was also released in 2013. 2014's known variants include a suit based on the Beware the Batman TV series, a brighter version of the blue Super Heroes suit, and a Scuba suit. In 2015, new variants of Batman released included his Space Suit and his New 52 suit. In 2018, a new varient is set to be released representing his Rebirth suit.
He appears as one of the two tritagonists in The LEGO Movie where he is voiced by Will Arnett in the film and by Jim Meskimen in the video game adaption. He is also the main protagonist in The LEGO Batman Movie.
Description
Batman's minifigure comes in several different colour variations to reflect his appearances in different continuities. His Original Suit resembles his outfit from Modern Comics, his Classic Blue Suit is based on his appearances in
Silver Age
comics, and his Armoured Suit is made to resemble his costume in the live-action films
Batman Begins
and
The Dark Knight
.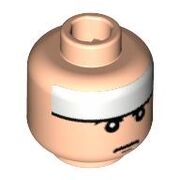 All Batman suits released before
2011
use the same face; a
Light Nougat
head with a frown and a
White
headband. All variations at least use the same Cowl and Cape pieces, but the colour may differ between variations.
Comic
The comic suit was first released in 2006 within three sets, and later in KC7782 The Batwing with Joker Key Chain in 2007. This variation resembles Batman's appearance in his current appearances. This variation is made from five pieces; headgear, head, cape, torso, and legs. Batman's headgear is a Black, bat-shaped cowl with two holes for eyes, a rectangular section cut out for his mouth, a nose which juts out, and two "bat ears". Batman's head is Light Nougat with two eyes, a frown, and a White headband above his eyes. His cape is also black like the cowl and has five triangular points at the end. The torso is Medium Stone Grey (with Black hands) and has a printed pattern of a black Bat Logo, toned core muscles, and a Warm Gold utility belt with ovular packets and a square buckle. His legs are black and left unprinted. It is based off the Batman that appeared in the comic books.
1989 Batman Film
The 1989 Film Suit was first released in 2005 within a Comic-Con Exclusive, but was made widely available in 2006 with three sets. This variation resembles Batman's appearance in the 1989 movie Batman and its sequel Batman Returns. This variation is also made from five pieces; headgear, head, cape, torso, and legs. Batman's headgear is a Black, bat-shaped cowl with two holes for eyes, a rectangular section cut out for his mouth, a nose which juts out, and two "bat ears". Batman's head is Light Nougat with two eyes, a frown, and a White headband above his eyes. His cape is also black like the cowl and has five triangular points at the end. The torso is Black and has a printed pattern of a curved Bat Logo against a Warm Gold oval, toned core muscles, and a Warm Gold utility belt with ovular packets and a square buckle. His legs are black and left unprinted.
Classic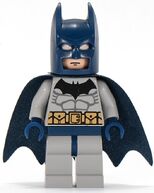 The classic suit, released in
2007
and made to resemble Batman's appearance in comic books from the Silver Age of Comic Books, has appeared in two sets and is once again made from five pieces.
Batman's headgear
is an
Earth Blue
bat-shaped cowl with two holes for eyes, a rectangular section cut out for his mouth, a nose which juts out, and two "bat ears".
Batman's head
is
Light Nougat
with two eyes, a frown, and a
White
headband above his eyes.
His cape
is also Earth Blue like the cowl and has five triangular points at the end.
The torso
is
Medium Stone Grey
(with Earth Blue hands) and has a printed pattern of a black Bat Logo, which is larger and more angular than that of the modern comic suit, toned core muscles, and a
Warm Gold
utility belt with two whole large square packets that have triangular flaps.
His legs
are unprinted, medium stone grey, and have earth blue hips.
Dark Knight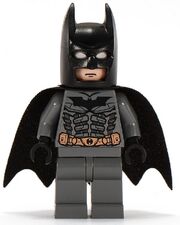 The 2008 film suit has appeared in three sets and made to resemble Batman's appearance in the recent movies
Batman Begins
and
The Dark Knight
. This variation is once again made from five pieces; headgear, head, cape, torso, and legs.
Batman's headgear
is the same
Black
, bat-shaped cowl with two holes for eyes, a rectangular section cut out for his mouth, a nose which juts out, and two "bat ears".
Batman's head
is
Light Nougat
with two eyes, a frown, and a
White
headband above his eyes.
His cape
is also black like the cowl and has five triangular points at the end.
The torso
is
Dark Stone Grey
(with Black hands) and has a pattern of a black Bat Logo, which is more square than that of the Comic Suit, have a grey armour printing rather than muscles, and a
Warm Gold
utility belt.
His legs
are unprinted, dark stone grey, and have black hips.
Batman uses the same Black Bat-like Cowl and Five Pointed Cape as all of his previous variations for his 2011 comic-con exclusive suit, with the exception of the Classic Variation which included those parts in Earth Blue. Batman's new head is slightly different, with more of a scowling mouth. The eyes and headband are virtually the same as previous variations. Batman's torso, arms, hands, and legs are all black with printing on both the front and back of the torso, which is an updated print of the 2008 Film Suit Torso. His utility belt is still Warm Gold, but is now much more detailed than the previous variation. The armored printing on the torso is also much more rounded than that of the previous variation.
Super Heroes (blue)
On the blue Super Heroes suit, Batman's hips, hands, cowl, and cape are earth blue like the Classic Comic suit which most of his printing resembles, but with the logo from the 1989 Film Suit, but against Bright Yellow rather than Warm Gold. His utility belt also resembles that of the Comic Suit, but without the triangular flaps. He has back printing depicting the back of the belt and the suit's cut on his back.
A slight variation of the blue Super Heroes suit is available in 6858 Catwoman's Catcycle City Chase. In place of the cape, he has a dark blue bat-winged jetpack.
Super Heroes (black)
The other variation released in 2012 is similar to his 1990's comic black suit. It has the same logo and shape as the Blue Super Heroes variation, but against a Black torso. In suit, Batman's hips, hands, cowl, and cape are also black. His utility belt is now much larger and clearly has a large, yellow buckle, similar to the Classic Comic suit, but not in gold and reversed. There are four rectangular packets on the belt. He has back printing depicting the back of the belt and the suit's cut on his back. Batman's face is the same one used on the Blue Super Heroes Suit. This variant is used in The LEGO Movie, but is identical in the set he appears in for the theme.
Electro
Batman's Electro Suit is one of his super suits from LEGO Batman 2: DC Super Heroes, which was physically released in LEGO Batman: The Visual Dictionary.
Batman has the redesigned cowl which has been appearing in 30160 Bat Jetski and other Super Heroes sets from more recent production runs and has a printed blue line in between the ears to represent the electric current in the game. His face is the same as all other Super Hero variations. Batman's torso is black with the bat-logo used with his first comic book variation, but in light blue. It also has a blue belt, again similar to the comic suit's, but without the flaps. There are two blue circles on either side of his chest about halfway up which are connected by a silver line that runs across. A similar pattern runs down his legs. There is back printing that continues both the belt and lines (with two lines instead of one) from the front, He also has arm printing on both arms detailing a line with a circle at each end in light blue. He has silver boot "toes" on the bottom of his feet.
Arctic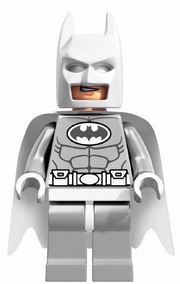 One of Batman's 2013 variations depicts him with a white cape, gloves, cowl (the newer variety), tights, utility belt, and his classic symbol, this time in white and gray. He has back printing depicting the back of the belt and the suit's cut on his back. His face is the same.
This variant resembles his Arctic camouflage suit from the comics, which he uses to survive icy cold conditions or when he faces Mr. Freeze directly.
Dark Knight Rises
Another 2013 variation based on The Dark Knight Rises features in 76001 The Bat vs. Bane: Tumbler Chase. Batman uses the new remoulded cowl, Five Pointed Cape, head, gloves and hips. Batman's torso, arms and legs are now grey instead of black with printing on both the front and back of the torso, which features the torso design which is identical to the 2012 version, but now in a more greyer tone and the utility belt is bronze.
Another 2013 variation features his black Super Heroes suit from the previous year, but the cape is replaced with wings and the new remoulded cowl is used.
Microfigure
The last 2013 variation is a microfigure to be included in the LEGO Games set 50003 Batman. The head print is similar to Batgirl's. The torso is a smaller version of the black Super Heroes variant.
Beware the Batman
In 2014, a version was released based on his appearance in the TV series Beware the Batman. He has his new cowl, his standard face and cape. His torso, arms, hands and legs are medium stone grey, while his hips are black. His torso is printed with the series' bat symbol, the suit's cut on his body, and he has a yellow belt. The back features the back of the belt and the back muscles on his suit.
Juniors
For the Juniors line, a new version of the blue Super Heroes was released, the only differences are a brighter blue and the newer cowl.
Scuba
Also released is a scuba suit, and include a the newer cowl in and a breathing apparatus with air tanks on the back. The black head is blue goggles and a breathing mask. The rest of the body is dark blue except the hands are black. The torso has the bat symbol and some type of machinery, a belt and the suit's cut on his body. The back is printed with the continuation of the belt, machinery, and the suit's cut on his back This version also comes with black flippers and a harpoon gun.
Space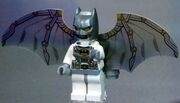 In 2015 Batman has a new spacesuit. Batman wears a new silver cowl over his face with openings over his orange eyes and now his mouth and chin. The brow is moulded into a permanent scowl and has two shorter bat-shaped ears poking up. The expression revealed through the opening over the mouth is a breathing mask. Batman wears a bulky costume with space gear, this time the suit is white. A yellow oval is one his chest with a black Bat-symbol inside. He wears a white utility belt with a hexagonal buckle and a high-tech packet on either side. He has light grey gloves and hips. He has a Jetpack connected by a transparent white connector. The "Cape" is supposedly made of a thin plastic to achieve wings. You can de-attach them and add a new cape to the jetpack too, which is speculated to have a closed wing design.
New 52
Batman also will be sporting a New 52 outfit which dons a new black cowl over is face with openings the same as the space suit. His suit is Dark Grey making this the first suit based off the comics to be a dark grey minifigure. He has black outlines on his abs with more features than the normal muscular minifigure. And it has grey shading on it, making it look glossy. He also has a new yellow belt which is also a hexagonal buckle type, also having bigger yellow pouches on the sides. The New 52 suit also has multiple lines across it in black to make the suit look armoured. In 76035 Jokerland, he wears the New 52 with black boots. In 76027 Black Manta Deep Sea Strike, he reuses the head from his scuba suit.
Mighty Micros
This figure takes inspiration from Batman's appearance in Batman: The Animated Series, and shares the short legs and cartoony style with the other Micro figures. He uses the New 52 cowl, and the face printed on the black head shows him with a small frown. His torso is simple and matches the style seen in the animated series.
Gas Mask
This Batman suit has been equipped to protect Batman from The Scarecrow's fear gas, and as such, it includes a ventilation breather unit in front of his cowl, which is the same as the New 52 variants. His eyes are green, and his suit is mostly black. His torso shows a silver metal chestplate with green detailing, including the Batsymbol, and a silver utility belt. He wears his usual cape and his legs are blank.
LEGO Dimensions
In Batman's appearance in the LEGO Dimensions Starter Packs, he has the same, body, cape, and legs from his New 52 outfit, but wears has his previous cowl and head, rather than the new ones.
Batman V. Superman (batsuit)
In 2016, Batman has his outfit from Batman v. Superman: Dawn of Justice.
Batman V. Superman (armor)
Batman also has his armored outfit from Batman v. Superman: Dawn of Justice in 2016.
Desert
This used the same cowl and cape as usual, however the suit is light brown and has armored plating printed on it.
Justice League
This version is identical to the standard Batsuit from Batman v. Superman, however he has a new face with stubble and leg printing.
Tactical
The tactical batsuit is based on the suit from the Justice League movie. It has a lightweight tactical armor, and silver eyes to represent the goggles on the actual suit.
Rebirth
This version is based on the DC Rebirth comics. It is very simplistic with yellow lining around the Bat-symbol. Unlike the comics, this minifigure doesn't have a cape.
Key Chains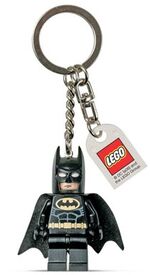 The 852314 Batman Key Chain is Batman's 2008 Film Suit variation but his parts may not be removed as a normal minifigure's can. He also has a silver chain attached to the top of his head, which in turn attaches to a silver ring, which has another shorter chain attached to that which holds a plate that reads LEGO.
The 851686 Batman Key Chain has his 1989 film suit variation, but with the same side effects as the 852314 Batman key chain.
In 2012, 853429 Batman Key Chain was released which features Batman as a key chain in his blue Super Heroes suit.
Magnets
In 852089 Mr. Freeze Minifigure Magnet Set, Batman appears as a magnet alongside Mr. Freeze and The Riddler. Batman is identical to his comic suit appearance, but there are magnets in his legs and his torso is permanently attached to his hips.
Batman's appearance in 853431 Batman, Robin, The Joker Magnet Set is of his Black Super Heroes suit, but with a normal cape instead of a pointed one. His legs are attached to the magnet base and his torso to his hips.
His 1989 Film Suit is used in the M780 Batman Minifigure Magnet Set and 4493780 Batman Magnet Set, but have the same side effects as in the Mr. Freeze Minifigure Magnet Set.
McDonald's Toy
In McDBat3 Batman Figure, Batman appears as a McDonald's toy. He has his comic suit, but is one piece of plastic in a more solid pose with his appendages bent in ways minifigures can't. He holds an enlarged batarang. This figure is based off his video game variant.
Ultrabuild Figure
Batman appears as a buildable action figure, or Ultrabuild figure in 4526 Batman. He uses the Hero Factory system of building. He has blue boots and is dark silver from his legs to his waist. His chest is blue with a bat symbol on it. Batman's hands, arms, and cowl are also blue. On either side of his back is a black rod, each with two curved, blue spikes coming off. He carries a silver and blue double-bladed sword.
Video Game Appearances
In LEGO Batman: The Videogame
In LEGO Batman: The Videogame, Batman's basic suit is identical to his comic book suit. He is armed with a yellow and black batarang, and able to use grapple. Batman is able to change abilities depending on the suit he is wearing. Each suit has a different look which sets its appearance apart from the others.
The heat protection suit is very similar to the Comic Suit, but Batman's torso and legs are now Red. His Gloves, Cowl, and Cape are all Dark Red, and he has a pair of goggles fixed in place over his eyes.
The glide suit is almost identical to the Comic Suit, but Batman's cape is replaced with a pair of mechanical wings which spread out whenever he double jumps.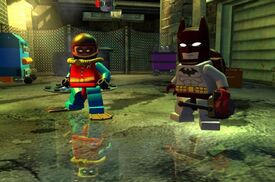 The Demolition Suit is different from all of Batman's video game suits, rather than resembling a variation of the Comic Suit, it resembles the 1989 Film Suit, but Batman's cape is replaced with a detonator.
The preliminary version of the Demolition Suit closer resembled the Comic Suit, but with red gloves. The detonator from the final version was also used instead of a cape.
The Sonic Suit also resembles the Comic Suit, but Batman's Torso and Legs are Light Blue. His Cape, Cowl, and Gloves are all Bright Blue. He also carries a small "sonic gun" that shatters glass.
In LEGO Batman 2: DC Super Heroes
In LEGO Batman 2: DC Super Heroes, Batman's standard suit based on his appearances in 6863 and 6864 and is still able to use a Batarang and grapple.
Batman's super suits return, but have different abilities. They include the electricity suit, the power suit, the sensor suit, and the bat suit.
The electricity suit is capable of going through electric barriers when other characters, such as Superman, can't go through. It also allows Batman to absorb an electric charge and deploy it to machinery. It is black with a black bat-logo, outlined in blue, similar to the comic suit. It has a blue/silver belt, again similar to the comic suit's, but without the flaps. There are two silver circles on either side of his chest about halfway up which are connected by a silver line that runs across. A similar pattern runs down his legs. He has silver boot "toes" on the bottom of his feet. Rather than a cape, he has two black cylinders on the back which are capped with blue pieces.
The power suit is able to launch rockets to destroy silver objects and gives Batman super strength. It has a bulkier cowl with shorter ears, black shoulder-pads, a torso similar to the black Super Heroes suit, but with three horizontal yellow lines in place of the belt, and has yellow boxing gloves. Batman's cape has been replaced with silver canisters on the back.
Batman's sensor suit allows him to turn invisible which can not be seen by enemies and bypass cameras, X-ray vision, and remotely activate switches. It gives Batman green goggles with red lenses,a green bat logo, green hands and green knees and belt.
His bat suit resembles his standard black suit, but has wings that are purple and black in place of a cape and allows Batman to glide. He also has a purple bat symbol, purple hands and hips, and a sonic gun that is black and has a blue disk at the end that can mimic Black Canary and Man-Bat's glass breaking abilities. The bat suit only makes an appearance on console versions.
On the portable versions, Batman (Classic Suit), the suit he uses in 6857 and 6860, is also an unlockable character. The minikit needed to unlock this can be found in the level The Batcave.
Background
Comics
When a young Bruce Wayne witnessed his socialite parents shot dead by the mugger, Joe Chill, he vowed to bring justice to the criminals infesting Gotham City. He then trained himself in detective skills, sciences, engineering, escape artistry, martial arts, and criminal psychology. But Bruce realized that those skills would not be enough to stop the superstitious and cowardly lot plaguing the streets. While he was in his study reflecting on his parents' deaths, a bat flew into the window, both startling and inspiring him at the same time. He would become the bat to strike fear in those who preyed upon the innocent. And so, Bruce then took his mantle as a crime fighter and became known as Batman.
At first, Batman fought "plain-clothes" villains without any super powers powers or gimmicks until about six months into his career when he encountered Mr. Freeze, a scientist specializing in cryogenics-turned villain trying to rescue his dying wife. Batman's rogues gallery expanded to include other villains, many of which are insane, such as Bruce Wayne's former best friend, the hideously scarred Two-Face, The Riddler who challenges Batman's intellect rather than his strength, Gotham's gentleman of crime with an obsession for birds and umbrellas, The Penguin, and the clown prince of crime, The Joker, among others.
While Batman's rogues gallery grew, his allies did too, including his butler, Alfred , who tends to Bruce Wayne's needs behind the scenes and serves as his confident; Tim Drake, better known as the third Robin or Red Robin; Dick Grayson as Nightwing, or formerly the first Robin; Damian Wayne, Batman's son who soon became the fifth Robin; Red Hood, the second Robin who became a twisted and violent vigilante; Police Commissioner James Gordon, and his daughter, Barbara Gordon who became Batgirl; Jean-Paul Valley as Azrael, a college student who had been brainwashed by a religious organisation; and The Spoiler, or Stephanie Brown who is the daughter of a minor villain, as well as occasional allies such as Huntress (Helena Bertinelli) and Catwoman (Selina Kyle, who are both allied with and against Batman and his other allies at times. Batman also leads the Outsiders, a rag tag group of Super Heroes operating in Gotham City, which includes heroes who are not directly allied with Batman otherwise, such as Katana.
Batman is also a founding member of the Justice League, an organisation of Super Heroes untied to handle threats too big for one hero. Other Justice League members include Superman, Wonder Woman, Green Lantern, Cyborg, Aquaman, Flash, The Martian Manhunter, and occasionally, Batgirl, Nightwing, Huntress, Zatanna, Hawkman, and Shazam.
Batman's love interests include Talia Al Ghul (the daughter of Ra's Al Ghul and the mother of Batman's son, Damian Wayne), Selina Kyle (Catwoman), and Zatanna. He has also shown attraction to Wonder Woman, Lois Lane, Vicki Vale, Black Canary, and in some depictions, Barbara Gordon and Poison Ivy.
Burton/ Schumacher series
As Gotham City approaches its bicentennial, Mayor Borg orders district attorney Harvey Dent and police commissioner James Gordon to make the city safer. Meanwhile, reporter Alexander Knox and photojournalist Vicki Vale begin to investigate rumors of a vigilante nicknamed "Batman" who is targeting the city's criminals.
Batman's alter-ego is Bruce Wayne, a billionaire industrialist who, as a child, witnessed his parents' murder at the hands of a psychotic mugger. At a fundraiser for the bicentennial in Wayne Manor, Bruce meets and falls for Vale, and the two begin a romantic relationship. However, the evening is cut short as Bruce is alerted to Commissioner Gordon's sudden departure due to police business and leaves to investigate as Batman. Mob boss Carl Grissom, who has already been targeted by Dent, discovers his mistress Alicia is involved with his second-in-command Jack Napier. With the help of corrupt police lieutenant Max Eckhardt, Grissom engineers Napier's death in a raid at Axis Chemicals. However, Grissom's plan is foiled with the sudden arrival of Commissioner Gordon, who wants Napier captured alive. In the ensuing shootout, Napier, who has realized he was set up, kills Eckhardt, but Batman also makes an abrupt appearance and, in a struggle, Napier is knocked into a vat of chemicals. Batman escapes and Napier is presumed dead.
As Batman returns to his life as Bruce Wayne, Napier is revealed to have survived the accident, but left disfigured with chalk white skin, emerald green hair, and a ruby red grin. The sociopathic Napier is driven insane by the incident and begins calling himself "the Joker". He kills Grissom and usurps authority over his criminal empire.
The Joker begins to terrorize Gotham City by lacing hygiene products with "Smilex", a deadly chemical which causes victims to die laughing with the same maniacal grin as the Joker. As he searches for information on Batman, the Joker also becomes obsessed with Vale. He lures her to the Gotham Museum of Art and his henchmen destroys the works of art, but Batman arrives and rescues her. They escape in the Batmobile, but are pursued by the Joker's men, whom Batman manages to defeat. Batman takes Vicki to the Batcave, where he gives her information from his research on Smilex that will allow the city's residents to protect themselves from the toxin. Furious, the Joker vows to kill Batman.
Bruce visits Vicki at her apartment, prepared to tell her about his alter-ego, but the Joker interrupts their meeting, asking Bruce, "(Have you) Ever danced with the devil by the pale moonlight...?" before shooting him. Bruce, however, survives and escapes, as he used a bended serving tray as body armor. He remembers that the mugger who killed his parents asked the same question, and realizes that Napier was his parents' killer. Vicki suddenly appears in the Batcave, having been let in by Bruce's butler, Alfred Pennyworth. After telling her that he cannot focus on their relationship with the Joker terrorizing Gotham, Bruce departs as Batman to destroy the Axis plant. Meanwhile, the Joker lures the citizens of Gotham to a parade with the promise of free money, but while throwing cash at the crowd as promised, also attacks them with Smilex gas released from his giant parade balloons. Batman arrives and saves them using the Batwing. Furious, the Joker shoots the Batwing using a long-barreled gun, causing it to crash.
The Joker kidnaps Vicki and takes her to the top of a cathedral. Batman, who survived the crash, fends off the Joker's remaining men despite his injuries, and confronts the Joker. The two struggle, with Joker eventually gaining the upper hand, leaving Batman and Vicki clinging onto an outcropping. The Joker tries to escape by helicopter, but Batman attaches a heavy granite gargoyle to the Joker's leg with his grappling hook, causing him to lose his grip and fall to his death after it breaks off.
Commissioner Gordon announces that the police have arrested the Joker's men and unveils the Bat-Signal. Harvey Dent reads a note from Batman, promising that he will defend Gotham whenever crime strikes again. Vicki is taken to Wayne Manor by Alfred, who tells her that Bruce will be a little late. She responds by claiming that she is not a bit surprised, as Batman looks at the signal's projection, standing watch over the city.
Some time following the previous movie, Tucker and Esther Cobblepot throw their deformed infant child Oswald into Gotham River, fearing he would become a menace to society after attacking their pet cat on a snowy Christmas night. His basket floats to an abandoned zoo and is found by a rookery of penguins who raise him as one of their own.
33 years later, during the lighting of Gotham Plaza's Christmas tree in Gotham City, a villainous gang of carnival performers stage a riot. While billionaire Bruce Wayne, as vigilante Batman, subdues the criminals, corrupt businessman Max Shreck falls through a trapdoor and is brought to the underground lair of Cobblepot himself, who is now the nefarious kingpin known as "The Penguin". A former sideshow freak, Cobblepot explains his desire to become a respected citizen of Gotham and blackmails Shreck into helping him.
Meanwhile, Shreck's secretary, Selina Kyle, inadvertently discovers her boss's plan to illegally monopolize Gotham's supply of electricity. To protect his secrets, Shreck pushes her out of his office window. Falling through several canopies, Kyle miraculously survives but lies unconscious in an alley. A group of cats swarm around her and she suddenly regains consciousness. Traumatized, Kyle develops dissociative identity disorder and, after having a mental breakdown and trashing her apartment, she fashions a black vinyl costume and whip, becoming the formidable Catwoman.
Shreck arranges for one of Cobblepot's men to kidnap the Mayor's infant son, allowing Cobblepot to "rescue" him. As a reward, Cobblepot is given access to the Gotham City Archives, where he learns his real name, and that he is the last surviving member of his family. Meanwhile, the Mayor, persuaded by Wayne, refuses to give Shreck a construction permit for his power plant. Cobblepot orders his gang to attack downtown Gotham, ruining the Mayor's reputation and giving Shreck the opportunity to propose Cobblepot as a replacement. Batman confronts Cobblepot, but Catwoman appears while firebombing Shreck's department store, and Cobblepot escapes. After a fight in which Batman knocks her off a building, Catwoman again survives after landing in a truck full of kitty litter.
Although Kyle enters a romantic relationship with Wayne, she, as Catwoman, agrees to help Cobblepot with a plan to ruin Batman's reputation by framing him for the abduction of Gotham's "Ice Princess" beauty queen. While Batman traverses the rooftops in search of the Ice Princess, Penguin's goons disassemble the Batmobile and plant a device in the car that will allow Penguin to control it. Distracted by Catwoman, Batman fails to stop Cobblepot from attacking the Princess using a swarm of captive bats. She falls to her death before Batman can save her, making everyone believe that Batman pushed her. When Catwoman rejects Cobblepot's amorous advances, he responds by attacking her with his motorized helicopter umbrella. As the umbrella rises into the sky, Catwoman narrowly cheats death again as she falls into a rooftop greenhouse. Fleeing from the police, Batman realizes that Cobblepot is remotely controlling the Batmobile, taking it on a rampage through Gotham. Batman disables the control device, but first records the Penguin's mocking insults about how gullible the people of Gotham are.
At a press conference for Cobblepot organized by Shreck, Batman broadcasts the recording, destroying Cobblepot's public image. Enraged, Cobblepot flees to the sewers and orders his gang to kidnap and drown all of the first born sons of Gotham's citizens. At a masquerade ball hosted by Shreck, Wayne and Kyle deduce each other's secret identities. Cobblepot suddenly invades the party, revealing his intention to drown the kidnapped children, including Shreck's son Chip, in sewage water, prompting Shreck to offer himself instead. Batman defeats the kidnappers, and Cobblepot retaliates by unleashing an army of penguin soldiers to destroy Gotham with missiles. Piloting the Batboat through the sewers, Batman redirects the penguins to instead fire on Cobblepot's hideout. Cobblepot attacks Batman in a rage, but ends up being assaulted by bats and falling through the ceiling of his lair into the toxic water.
Catwoman ambushes Shreck in a vengeful attempt to kill him, but Batman stops her and unmasks himself, as does Catwoman when she rejects Wayne's attempts to reason with her. Shreck then shoots Wayne before shooting Kyle multiple times until he runs out of bullets, leaving her severely but not mortally wounded. Putting a taser to his lips, Kyle kisses Shreck while grabbing hold of an exposed power cable, causing a fiery electric shock that kills Shreck. Wayne, who survived, uncovers Shreck's corpse while digging through the rubble in an attempt to find Kyle. Cobblepot, fatally injured from his fall, then arises and tries one last time to kill Wayne with his umbrella, but ultimately fails and succumbs to his injuries. Subsequently, his penguin family carry out a makeshift funeral that culminates with them pushing his corpse into the water.
Afterwards, as Alfred drives Wayne home, Wayne spots a shadow outside resembling Catwoman. He follows it and instead finds her pet black cat, Miss Kitty. He decides to take it home. As he leaves, the Bat-Signal lights up in the night sky as Catwoman watches from afar.
Some time after defeating the Penguin, Batman defuses a hostage situation caused by a criminal known as Two-Face, the alter ego of the former district attorney Harvey Dent, but Two-Face escapes and remains at large. Edward Nygma, a researcher at Wayne Enterprises who idolizes Bruce Wayne, has developed a device that can beam television into a person's brain. Bruce offers to let Nygma come up with schematics for the device and set up a meeting with his assistant. However, after Nygma demands an answer from him immediately, Bruce rejects the invention, believing it to be too close to mind manipulation. After killing his supervisor Fred Stickley, Nygma resigns and seeks retaliation against Bruce for rejecting his invention. Nygma begins by sending him riddles (Nygma rigs the security cameras to record Stickley committing suicide, as well as a suicide note, which everybody believes but Bruce Wayne doubts this is the truth) A news report reveals how Harvey Dent became Two-Face: when he was prosecuting a mob boss named Sal Maroni, Maroni threw acid on Dent's face, disfiguring half of it. Batman tried to save him, but failed. After the incident, Dent seeks to kill Batman for failing to stop Maroni. Bruce meets Chase Meridian, a psychiatrist who is obsessed with Batman, and invites her to come with him to a circus event. After a performance from the circus performers, The Flying Graysons, Two-Face arrives and threatens to blow up the circus unless Batman comes forward and surrenders his life to him. The Flying Graysons attempt to stop Two-Face, but most of them get killed as a result. Only Dick Grayson, the youngest member, survives as he climbs to the roof and throws Two-Face's bomb into a river.
Bruce invites the orphaned Dick to stay at Wayne Manor. Dick, still troubled by the murder of his family, intends to kill Two-Face and avenge his family. When he discovers that Bruce is Batman, he demands that Bruce help him find Two-Face so that he can kill him, but Bruce refuses. Meanwhile, Nygma turns himself into a criminal called "the Riddler" and proposes an alliance-forming deal with Two-Face: the researcher will mass-produce his brainwave device, funded by the criminal's capital-stealing spree. At Nygma's business party, Nygma discovers Bruce's alter ego using the brainwave device. Two-Face arrives and crashes the party. He nearly kills Batman, but Dick rescues him. Meanwhile, Chase has fallen in love with Bruce, which surpasses her obsession with Batman, but she soon discovers that they are one and the same. Bruce decides to stop being Batman in order to have a normal life with Chase and to prevent Dick from murdering Two-Face. Dick angrily runs away while Bruce and Chase have dinner together in the manor. The Riddler and Two-Face arrive and attack Wayne Manor; in the process, the former destroys the Batcave. The criminals kidnap Chase after Two-Face shoots Bruce and the Riddler leaves him an another riddle.
Using the riddles, Bruce and his butler, Alfred, deduce the Riddler's secret identity. Chase is imprisoned by the criminals in their hideout. Dick returns and becomes Batman's sidekick, Robin, after realising that the Caped Crusader could use a hand. The duo head to Riddler and Two-Face's lair, Claw Island, where they are separated. Robin encounters Two-Face and almost kills him, but realizing that he does not have it in him to murder, Robin spares him. Two-Face uses this opportunity to capture Robin. Batman arrives at the lair, where Robin and Chase are held as hostages. The Riddler gives Batman a chance to save only one hostage, but Batman destroys the Riddler's brainwave collecting device, causing the Riddler to suffer a mental breakdown. Batman then rescues both Robin and Chase. Two-Face corners the trio and determines their fate with the flip of a coin, but Batman throws a handful of identical coins in the air, causing Two-Face to stumble and fall to his death. The Riddler is taken to Arkham Asylum and imprisoned, but he claims he knows who Batman is. Chase is asked to consult on the case, but Nygma says that he himself is Batman, due to his damaged memories. Chase meets Bruce outside and tells him that his secret is safe before parting ways. Bruce resumes his crusade as Batman with Robin as his partner to protect Gotham from crime.
A year after the defeat of Two-Face and the Riddler, Batman and Robin attempt to thwart Mr. Freeze from robbing diamonds from the natural history museum, but he steals one and flees. Mr. Freeze was originally Dr. Victor Fries, a doctor working to develop a cure for MacGregor's syndrome to heal his terminally ill wife. Fries was forced to wear a cryogenic suit powered by diamonds after becoming unable to live at normal temperatures following a lab accident.
At a Wayne Enterprises lab in South America, the botanist Dr. Pamela Isley is working under the deranged Dr. Jason Woodrue, who is experimenting with the Venom drug. She witnesses Woodrue use the formula to turn the violent, but diminutive, convicted serial killer Antonio Diego into a hulking monstrosity dubbed "Bane". Woodrue and Isley argue over the use of the drug; Isley refuses to join her boss, prompting Woodrue to kill her by overturning a shelf of various toxins. Despite Woodrue's efforts, she is resurrected, transforming into the beautiful and seductive "Poison Ivy" before exacting revenge; she kills Woodrue with her poisonous kiss. She finds that Wayne Enterprises funded Woodrue, thus she appropriates Bane as a muscle-bound thug, taking him with her to Gotham City. Meanwhile, Alfred Pennyworth's niece, Barbara Wilson, makes a surprise visit and is invited by Bruce Wayne to stay at Wayne Manor until she goes back to school.
Wayne Enterprises presents a new telescope at a press conference interrupted by Isley. She proposes a project that could help the environment, but Bruce declines her offer, which would kill millions of people. That night, a charity event is held by Wayne Enterprises with special guests, Batman and Robin, and she decides to use her abilities to seduce them. Freeze crashes the party and steals a diamond from the event. Although he is captured by Batman and detained in Arkham Asylum, he eventually escapes with the help of Ivy and Bane. Meanwhile, Dick discovers that Barbara has participated in drag races to raise money for Alfred, who is dying of MacGregor's syndrome.
Batman and Robin begin to have crime fighting relationship problems because of Ivy's seductive ability with Robin, but Bruce convinces Dick to trust him. Ivy is then able to contact Robin once more; she kisses him but fails to kill him due to Robin wearing rubber lips. Meanwhile, Barbara discovers the Batcave, where an AI version of Alfred reveals he has made Barbara her own suit. Barbara dons the suit and becomes Batgirl. Robin and later on Batman become trapped, but are rescued by Batgirl, who reveals her identity.
Batman, Robin and Batgirl decide to go after Freeze together. By the time they get to the observatory where Freeze and Bane are, Gotham is almost completely frozen. Batgirl and Robin confront Bane when the villian attempts to kill the duo. They eventually defeat him by kicking apart his venom tubes, stopping the flow of venom to his body. Bane collapses before transforming back to his original size of Antonio Diego and is left helpless on the ground. Meanwhile Batman and Freeze begin to fight each other, with Batman defeating Freeze. Batgirl and Robin manage to unfreeze Gotham; Batman shows Freeze a recording of Ivy during her fight with Batgirl. Freeze learns that Ivy has betrayed him over the death of wife. Ivy lied to Freeze and blamed Batman for Nora's death, but she informs Batgirl that it was her idea. Freeze is angered by the betrayal and is informed by Batman that his wife is not dead but restored in cryogenic slumber and has been moved to Arkham waiting for him to finish his research. Batman proceeds to ask Freeze for the cure Freeze has created for the first stage of MacGregor's Syndrome to administer to Alfred. Freeze atones for his misunderstanding by giving him medicine he had developed. Ivy is detained in Arkham alongside Freeze, who promises to torment Ivy during their sentence. After Alfred is cured, everyone agrees to let Barbara stay at Wayne Manor.
The Dark Knight Trilogy
Bruce Wayne was a young boy when he fell into a hole and was scared by the bats in the cave, causing his fear of bats. He then leaves the theatre with his parents, and watched his parent murdered in front of him by Joe Chill, comforted by Jim Gordon is, and raised by the family butler Alfred. Years later, Chill is granted parole for testifying against mob boss Carmine Falcone. Bruce goes to the trail intending to shoot Chill, but one of Falcone's assassins kills Chill first, and Batman confides his attempt to his childhood friend Rachel Dawes (now an assistant district attorney),who is disgusted by Bruce's desire for vengeance. Following a confrontation with Falcone, Bruce decides to leave Gotham to learn about the criminal underground and skills needed for him to return and purge the city from its crime and corruption. While in a prison, he is confronted by Henri Ducard, who offered him to be trained as a member of The League of Shadows led by Ra's Al Ghul. After he completes his training, the League's true intentions are revealed: to free Gotham from itself by destroying it. Bruce then burns down the League's temple, in the process killing Ra's and saving Ducard.
Bruce then meets Alfred on plane while returning to Gotham, revealing his plan to become a vigilante to bring Gotham back from its corrupted state. He poses publicly as a reckless playboy, while privately taking interest into his father's company, Wayne Enterprises. He meets Lucius Fox, and Fox provides him with information, a suit, memory cloth, and a military car prototype called the Tumbler, which Bruce uses to form his persona of Batman. Batman then intercepts a drug transfer and hands the previously untouchable Falcone over to Sergeant Jim Gordon, meanwhile a "Microwave Emitter" which uses waves to vaporize water is stolen.
Falcone and his henchmen are declared mentally unfit for trial and transferred to Arkham Asylum by the corrupt Dr. Johnathan Crane who had been using Falcone to import a dangerous hallucinogenic drug that causes severe psychosis. Crane exposes Falcone to the toxin while wearing a burlap mask, driving Falcone insane with fear of "The Scarecrow." While investigating Crane, Batman is also exposed to the drug and is rescued by Alfred and given an antidote by Fox. Rachel goes to Arkham, where Crane reveals that he has been dumping the toxin into Gotham's water supply before dosing her with it. She is rescued by Batman, who exposes Crane to the toxin and interrogates him. Crane reveals that the toxin is only dangerous if inhaled. Batman inoculates Rachel and gives her two vials of the antidote, one for Gordon and one for mass production.
At his birthday celebration at Wayne Manor, Bruce is confronted by Ducard, who reveals himself to be the real Ra's Al Ghul. Feigning drunkenness, Bruce kicks his guests out so they will be safe, leaving him alone with Ra's and his ninja. Ra's reveals the League's plan to destroy Gotham: having stolen the Microwave Emitter and conspired with Crane, they intend to vaporize the city's toxin-riddled water supply, creating mass hysteria and violence. The League sets fire to the mansion and Bruce is nearly trapped inside, but Alfred saves him at the last minute. As the League begins unleashing the toxin, Batman rescues Rachel from a drug-induced mob and reveals his true identity to her. He entrusts Gordon with the Tumbler and pursues Ra's, who is using Gotham's train system to deliver the weapon throughout the city. Batman confronts Ra's on the train and escapes just as Gordon uses the Tumbler to destroy the elevated tracks, leaving Ra's to die in the ensuing crash.
Batman becomes a public hero, but simultaneously loses Rachel, who cannot bring herself to love both Bruce and Batman. Bruce buys a controlling stake in the now publicly traded Wayne Enterprises, fires Earle, and replaces him with Fox as the new CEO. Jim Gordon is promoted to Lieutenant, showing Batman the Bat-Signal and mentions a costumed criminal who leaves Joker playing cards at crime scenes. Batman promises to investigate this new criminal while disappearing into the night.
A year after Batman Begins, crime is close to being eradicated with the help of new Distinct Attorney Harvey Dent. The Joker and a group of hired henchmen rob a mob bank, but having organized the henchmen to kill each other in the process, he escapes alone. Batman and Gordon decide to include Dent in the fight against Gotham's criminal element. At a dinner, Harvey is revealed to be dating Rachel Dawes, Bruce is impressed by Dent's idealism and decides to hold a fundraiser for him. The mob is told by Lau, a Chinese accountant, that he has hidden their money and fled to Hong Kong. The Joker crashes the meeting, warns the mob the Batman has no jurisdiction, and offers to kill Batman for half their money. The mob refuses, and Gambol puts a bounty on the Joker's head. Later, Joker kills Gambol and takes control of his faction of the mob, while Batman goes to Hong Kong, apprehends Lau, and brings him back to Gotham. Lau agrees to testify against the mob.
The Joker issues a deal, either Batman takes off his mask and reveals himself, or a person will die each day until he does. True to his word, the Commissioner and a judge are killed. Joker interrupts a party for Dent, intending to kill Dent himself, but Batman intervenes and Joker gets away after throwing Rachel out of a window, but is saved by Batman. Rachel is looked after by Alfred after she is revealed to be The Joker's next target. The Joker tries to assassinate Mayor Garcia during Loeb's memorial service, but Gordon foils the attempt, apparently sacrificing himself in the process. As a result, Bruce plans to reveal his identity, but Dent instead names himself as Batman to protect the truth. Dent is taken into protective custody and pursued by Joker across the city as Batman rushes to aid. Gordon, who faked his death, helps apprehend The Joker and is promoted to Commissioner. However, Dent and Rachel disappear. Batman interrogates the Joker and learns each are in separate buildings filled with explosives. Batman finds Dent moments before the buildings explode, killing Rachel and scarring half of Dent's face. The Joker then uses a bomb to escape from the police department with Lau.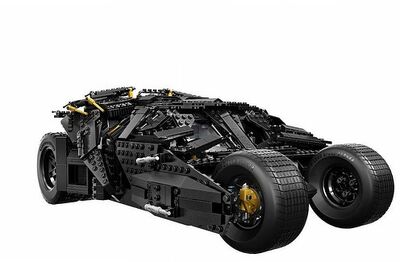 Coleman Reese, an accountant at Wayne Enterprises, deduces Batman's secret identity and plans to blackmail him. The Joker kills Lau and The Chechen, and threatens to bomb a hospital unless Reese is killed. Gordon rescues Reese, while The Joker visits Dent in the hospital, convincing him to get revenge. Dent uses his burned lucky coin to decide the fates of those responsible for Rachel's death, killing Maroni and two corrupt cops who had helped kidnap Rachel. After blowing up the hospital and escaping with hostages, The Joker gives two explosive rigged ferries, one of citizens and the other of Arkham Asylum inmates, the choice to blow the other up before midnight—otherwise, both will explode. Batman asks a reluctant Lucius Fox to use a city-wide tracking device to find the Joker; Fox agrees, but says he will resign immediately afterward. Batman rescues the hostages, who are disguised as Joker's gang, by fighting off the Joker's real men and Gordon's S.W.A.T. team. The ferry passengers refuse to kill each other, and are saved as Batman apprehends The Joker. Nevertheless, Joker gloats that he has won, as the citizens of Gotham will lose hope once Dent's rampage becomes public knowledge. Batman leaves to find Dent as The Joker is taken into custody.
Dent lures Gordon to the building where Rachel died and holds his family hostage, as Batman confronts him. Dent judges the fates of Batman, himself, and Gordon's son with three coin flips. As a result, he shoots Batman in the abdomen, spares himself, and flips to determine the boy's fate. Batman, who is wearing body armour, tackles the former D.A. off the building before he can kill the boy, resulting in Dent's death. Batman convinces Gordon to hold him publicly responsible for the murders so that Dent will remain a symbol of hope for the city. A manhunt for Batman ensues, as he escapes on the Batpod. Alfred burns a letter written by Rachel to Bruce announcing her engagement to Dent, Fox watches the signal tracker self-destruct, and Gordon destroys the Bat-Signal before delivering a eulogy at Dent's funeral.
Eight years after the events of The Dark Knight, organized crime has been completely eradicated under the Dent Act. Batman has taken the blame for Dent's death and the five people Harvey killed, and is public enemy #1. Bruce Wayne is shaken by the death of Rachel and has become a recluse, hiding away in Wayne Manor. Selina Kyle talks to Bruce and steals his mother's prized necklace, prompting Bruce to go into the Batcave for the first time in years to find out about Kyle. GCPD officer John Blake confronts Bruce and hints that he knows Bruce is Batman and says that Gotham will need Batman again and Wayne Enterprises is collapsing so it needs Bruce. Gordon also persuades Batman to come back. Alfred resigns after he fails to talk Bruce out of becoming Batman again, including telling Bruce that Rachel had intended to marry Dent before she died. Bane raids the Gotham stock exchange (under John Daggett's orders) and bankrupts Bruce. Bruce hand Wayne Enterprises and the thermonuclear project to Miranda Tate in order to prevent Daggett from possessing it.
Batman asks Selina to take him directly to Bane, which she does and then betrays him, locking him in Bane's headquarters. After a brief fight Bane breaks Batman's back and mask, and reveals that his headquarters is under Wayne Enterprises and takes the Tumblers. Bane then takes Bruce to a prison known as The Pit to watch his beloved city destroyed while he sits helpless at the bottom. While there, the inmates of the prison relay Bane's story and the tale of Ra's Al Ghul's child, the only one who was able to escape the Pit, and Bruce believes the child to be Bane.
He spends months recuperating and watching Bane turn Gotham into a state of anarchy and isolating it off from the rest of the country after threatening to deactivate the generator, which had been turned into a bomb. He failed multiple times to climb out of the pit. He eventually succeeded and returned to Gotham. He overthrows Bane with the help of Gordon, Selina, John Blake, and Lucius. Miranda reveals she is the daughter of Ra's, named Talia, stabs Batman in the side, tells Bane's true history, and gets away with the bomb. Batman stops her in The Bat, while Gordon places a disturber on the bomb, and Talia dies in the result. Batman then reveals his identity to Gordon before he takes the bomb into the bay, seemingly sacrificing himself. Batman is commended a hero, while Bruce is named a casualty of the takeover. Alfred sees Bruce at an Italian cafe with Selina Kyle while John Blake finds the Batcave under the instructions in Bruce's will.
Beware the Batman
A couple years into his crime-fighting career, Batman is trained and protected by Alfred, his butler and former MI-6 agent. After Alfred is injured, Bruce finds an ally in Katana, Alfred's goddaughter and former member of the C.I.A. and League of Assassins. Batman also slowly gains an ally in Lt. Gordon.
His rouges gallery included Professor Pyg, Mr. Toad, Magpie, Humpty Dumpty, Tobias Whale and his archenemy Anarky. He also had to deal with the League led by Ra's Al Ghul and included Lady Shiva, Silver Monkey, and Cypher, who wanted to Ion Cortex and the Soultaker Sword, which was stolen by Katana until it was reclaimed by Shiva.
DC Extended Universe
Batman has been crime fighting for close to twenty years. Since then, he has had two Robins, Dick Grayson and Jason Todd, who was murdered by the Joker and Harley Quinn. Batman has become more violent has he got older. While on the search for the White Portuguese, Bruce Wayne is invited to a party in Metropolis hosted by Lex Luthor. At the party, Bruce meets Clark Kent, who questions his opinions on the Batman. Bruce then slips away to hack into LexCorp's systems, but his research is stolen by Diana Prince. He eventually gets it back, and discovers Lex Luthor's metahuman thesis. The files include footage of Wonder Woman, The Flash, Aquaman, and Cyborg. During a pursuit, Batman encounters Superman, who gives a warning. Batman then creates an arsenal of Kryptonite weapons, and and armored suit to fight Superman. After kidnapping his mother, Lex Luthor forces Superman to go to Gotham to kill Batman. Batman brutally beats Superman, but stops when Superman gives him a warning to "save Martha." Batman teams up with Superman, and goes to a warehouse to rescue Martha Kent, Superman's adoptive mother. After realizing what has happened, Lex Luthor creates Doomsday, which causes Batman, Superman and Wonder Woman to team up. During the fight, Superman sacrifices himself, which causes Batman to rethink his ways, and become a hero again.
Some time after, Batman arrested Deadshot, who hesitatingly surrendered. He also chased down the Joker and Harley Quinn, but was only able to arrest Harley.
Batman and Wonder Woman would go on to find the other metahumans to form the Justice League, as dedication to Superman's sacrifice.
In the Video Games
Batman is the main hero on every hero level in LEGO Batman: The Videogame, LEGO Batman 2: DC Super Heroes and LEGO Batman 3: Beyond Gotham except for level 2, level 9, level 10 and level 11.
LEGO Batman
Prologue
When Commissioner Gordon lit up the Bat-Signal, Batman and Robin were seen in the Batmobile and on the Batcycle (respectively). They made a sharp turn, supposedly in the direction of the bank Clayface and The Riddler are robbing.
The Riddler's Revenge
Once some of Batman's most fearsome enemies escaped Arkham Asylum and teamed up, Batman and Robin headed towards a bank which had been robbed by The Riddler and Clayface. The Dynamic Duo made their way through the streets defeating the Riddler Goons and Henchmen who tried to stop them. At the bank, a fight ensued against Clayface, who was eventually knocked back into a cage in the vault when the security system pumped poisonous fumes into the air. Two-Face arrived in his Armoured Truck to rescue The Riddler and a giant key he'd stolen. Batman was unable to stop his escape, but did manage to plant a tracking device on the truck.
Using the tracking device, Batman and Robin followed the truck to Mr. Freeze's old Ice Cream Factory. The duo was immediately attacked by more Riddler Goons and Henchmen, but once they entered the factory, they encountered a new enemy, the Freeze Girls. By reaching the end of the factory, the duo encountered Mr. Freeze and managed to defeat him. The Riddler escaped once again in Two-Face's armoured truck, this time with a Freeze Ray.
Batman gave chase to Two-Face's armoured car in the Batmobile, successfully destroying it. Two-Face and Riddler went in different directions to try and escape. Riddler was cornered against Police Headquarters. Riddler tried to fend of by making desperate attempts at the duo with his "?" cane, but he was rescued by Poison Ivy.
In the Batcave, Batman used the Batcomputer to analyse a leaf from the vine Ivy used to save the Riddler. He discovered it was from the Botanical Gardens. Batman and Robin reached the gardens to discover the Janitors and Scientists under siege from not only The Riddler's goons and henchmen, but from humanoid plant creatures, presumably created by Poison Ivy. In a closed off area behind the garden's laboratory, Batman and Robin discovered and defeated Poison Ivy, but The Riddler escaped yet again (this time with mutant vine seeds) when he pointed out to Batman that Ivy caused Robin to fall in love with her. Batman forced Robin back to the Batcave, while Ivy was arrested.
Back in the Batcave, with help from Alfred, Batman and Robin solved the clues The Riddler had left at each of his escapes and discovered his plot was to stage a siege on the Gotham Gold Reserves. And sure enough, inside the Gold Reserves, they found Riddler and Two-Face. Two-Face created a diversion by shooting a nearby barrel of toxic waste onto the floor while The Riddler continued on. Using the Attract Suit, Robin created a swamp boat which he and Batman used to reach Two-Face. A fight ensured in which Two-Face was nearly defeated, but he got away at the last moment, calling more henchmen and goons to cover him in his flight.
Batman and Robin followed Two-Face through the vault. Riddler ordered Two-Face to attack. This time, Two-Face was almost defeated, but ran to the side of The Riddler at the last moment. The Riddler then used the vault's defence laser to try and defeat the Dynamic Duo. Batman and Robin used the chromed gold in the vault to deflect the laser beams back at The Riddler until his laser was destroyed. The Riddler then changed his tactics to using the mind control technology in his "?" cane to take control of a whimpering Two-Face, and attack the Duo himself. Eventually, both Riddler and Two-Face were knocked back into a pile of gold bars, subduing them both.
Power-Crazed Penguin
When the Gotham Diamond was stolen from a museum, Batman and Robin found Catwoman fleeing from the scene and gave chase to her on the rooftops of Gotham. They caught up with her, once and a short fight ensued, after which Catwoman escaped. The duo continued to follow her above the city until she was finally cornered. She drew Batman in for a kiss, during which she threw the diamond to the streets below. Catwoman was then arrested and placed in a police van.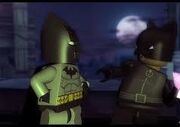 While in the Batboat, Batman was ambushed by Penguin Goons in submarines. Batman worked his way through the harbour, to find The Penguin's submarine. The submarine was destroyed, Penguin and Killer Croc, (who had helped Penguin escape the museum after the diamond heist) headed for the sewers. Batman and Robin caught up with the criminals, but Killer Croc threw the door which gave access to the sewer in Robin's direction to cause a diversion.
Batman and Robin followed the criminals into the sewer where they were attacked by Penguin's Henchmen and Goons. The Duo eventually reached the Police Headquarters, by way of the sewage system, to find that Catwoman had been freed and that she had fled the scene with Penguin. Killer Croc was waiting for Batman, and began throwing nearby debris in his direction. When Croc would change his tactics and charge at Batman or Robin, the duo used this time to strike and defeat him. When Croc fell, he dropped a flyer for the Gotham City Zoo.
When Batman and Robin reached the zoo, they discovered the Man-Bat in the hull of a boat Penguin had been using as a lookout. Man-Bat was wrapped in his own wings and defeated.
Batman and Robin continued on to the "Arctic World" portion of the zoo to discover Police Officers had been defeated by a large group of Robotic Penguins. Batman and Robin made their way past the Penguin Minions and Freeze Girls to a cave in the exhibit. In the cave, Batman discovered a satellite dish (which had been stolen by Bane previously), powered by the Gotham Diamond, which controlled the Penguin Minions that were assaulting the city. Batman redirected Penguin's bombers into treadmills which gave power to the satellite. Penguin, Catwoman and the Freeze Girls attacked the duo, only to be defeated and returned to Arkham Asylum.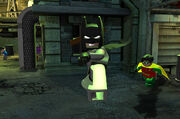 Joker's Return
While shopping for a new cape on the Batcomputer, Batman received a transmission of The Joker laughing into his camera. Alfred helped to prepare the Batwing and Bat-copter for the journey to the factory which transformed the Red Hood into the Joker to investigate. In the factory, Batman and Robin were attacked by Joker Goons and Henchmen. In the back of the factory, Batman discovered The Mad Hatter extracting the factory's chemicals. He made attempts to subdue Batman and Robin with his mind-control technology, but failed as he could only control one person as a time.
While the Dynamic Duo were fighting the Mad Hatter, Joker and Harley Quinn captured Commissioner Gordon and threatened to kill him if Batman did not act. Batman reached the carnival where Gordon was being held, and a fight ensued with Harley Quinn, while The Joker escaped on his helicopter. Gordon was freed and Harley was contained in a Police Van for the time being. Batman meant to give chase to Joker in his helicopter, but ended up pursuing Scarecrow in his bi-plane, which he shot down, crashing into Joker's helicopter in its fall. Both aircrafts were destroyed, and Batman left both villains for dead, not to notice that they survived by clinging onto balloons and fell through to the Gotham Art Gallery, where Scarecrow was captured by the Police.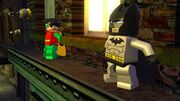 Joker, however, escaped the gallery and met with Killer Moth, who was to help him reach his destination. While on their way, they encountered Gordon, freed Harley Quinn, and caused havoc on the nearby Police Forces. Batman received a transmission of the trouble on the Batcomputer. He and Robin reached the scene of the crime to find Killer Moth still there. They gave chase to him through the city streets. They eventually cornered and threatened him to tell Batman where Harley and The Joker were, or be sprayed with bug poison. Killer Moth pointed through a hole in the wall he was pinned up against, and Joker's truck was seen pulling up the Gotham City Cathedral.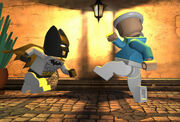 Batman, Robin, and the remaining Police Forces rushed to the Cathedral. To gain entry, Robin opened up a window from which Harley Quinn jumped out. Batman used the water turrets mounted on the back of police vans to defeat her. Batman and Robin chased Harley to the top of the Cathedral where she and The Joker hid in giant bells. Once they were discovered by Batman, The Joker summoned his helicopter for protection, but once the helicopter was destroyed, it collapsed the platform which The Joker and Harley were on, knocking Harley unconscious. The Joker then attacked the Dynamic Duo, successfully defeating them with his Joy-Buzzer, knocking them unconscious. Harley was revived by the time Batman was. Batman threw a Batarang at the giant bells which disturbed the bats in the tower, who attacked Harley and The Joker who were then arrested by Commissioner Gordon and sent back to Arkham Asylum.
Epilogue
Batman and Robin scaled the side of Arkham Asylum with their Grapple-Guns. The Joker looked up out of the window in his cell and began to swing his fist in anger. At the top of the asylum, the Bat-Signal shined. Batman and Robin aimed their guns in the direction of the signal and the game ends with a close up of the bat symbol on Batman's chest.
LEGO Batman 2
In LEGO Batman 2: DC Super Heroes Batman is a main character.
Bruce Wayne and Lex Luthor were the nominees for The-Man-of-the-Year award, and at the ceremony, Bruce wins. However, the theatre was raided by The Joker, Harley Quinn, The Penguin, The Riddler, and Two-Face. Bruce exits to change into Batman while the villains rampage and Joker steals the award. Just as he is giving his "acceptance speech" Batman and Robin burst through the stage on the Bat-boat. Joker, Penguin, Riddler, and Two-Face escaped through the stage's trapdoor, while Harley fought the Dynamic Duo. She was defeated, and Batman and Robin began to search for and defeat the other villains.
Joker was able to escape the theatre, however, and made it to his boat. He was chased by Batman and Robin in the latter's helicopter with Batman hanging from a rope ladder. Joker threw chattering teeth to cut the ropes, but Batman summoned and landed in the Batwing. Batman and Robin chased him through to the Amusement Mile, where Batman disrupted the water with the Batwing's wing and caused Joker's boat to go ashore. After several failed attempts to destroy the Batwing, Joker was caught in a bat shaped net and sent to Arkham Asylum.
In the Batcave, Bruce Wayne is contacted by Martian Manhunter from the Justice League Watchtower and informs him of an emergency. Alfred shows Bruce and Tim Drake where it is on a map, and they change into Batman and Robin and leave for Arkham Asylum where they find the villains Joker freed attempting a prison break. They then attempt to stop them, starting with Catwoman. The villains are stopped, and the police arrive. Commissioner Gordon informs the Dynamic Duo that all of the villains have been accounted for, except Joker. Batman notices an electrified brick outside of Joker's cell. He and Robin go to investigate. They run-in to Killer Croc and Mr. Freeze, who create obstacles, and stop The Scarecrow from escaping. They bring a black piece back to the Batmobile and discover it was destroyed with LexCorp technology and conclude that Luthor broke Joker out. Batman, Robin, and Gordon are alerted by a Police Officer that there has been a break-in at Ace Chemicals, and they leave. When Gordon and the Officer look back, they realize that the villains have escaped.
At Ace Chemicals, Batman and Robin find that The Joker had already been there and stolen chemicals. They try to escape when a fire begins and just before they fall into the inferno, they are rescued by Superman. With help from Superman, they are able to escape. Batman tries to find out what Joker is making, and realizes it is Kryptonite. He uses the Batcomputer to find nearby locations of Kryptonite, and heads downtown. They follow a large vehicle, the Juggernaut. On the inside, Lex and Joker are creating Kryptonite. Batman and Robin begin firing at it. When the defenses are weakened enough, the Dynamic Duo infiltrate it. Batman takes the Kryptonite, and Lex is subdued. Joker however uses his joybuzzer on Batman and Robin to the point where they fall out of the Juggernaut, into their vehicles. Joker aims the Deconstructor at the Batmobile, which falls apart, and the Juggernaut gets away.
Back in the Batcave, Batman analyzes the Kryptonite and finds that it is only similar to true Kryptonite and that is harmless to Kryptonians. However, if there wasn't actual Kryptonite in the Juggernaut, the Batmobile's computer shouldn't have shown it. He and Robin decide that it was just a trick of Joker's, and put it away with the other Kryptonite they store in-case Superman goes bad.
Lex and Joker enter the Batcave, since the "Kryptonite" had a homing signal. A fight ensues, and the Bat-bike, Batwing, and Batboat are destroyed. Batman and Robin flee through the elevator, and hang on to the shaft to escape when it falls. Joker and Lex find the Kryptonite vault and leave with it after Joker's pies explode and a fire begins. At the top of the elevator shaft, Superman arrives to rescue Batman and Robin. Together they escape the Batcave. Batman and Superman head after a LexCorp aircraft while Robin stays and tries to fix the vehicles.
Batman and Superman infiltrate the LexCorp aircraft, but when the reach the control section, Batman is dropped through a trapdoor. Superman rescues him and carries him to LexCorp in Metropolis.
From LexCorp, a large Joker-esque robot emerges and heads back to Gotham. Batman in a LexCorp aircraft and Superman fire at it, and then land on it. Lex emerges with Kryptonite and weakens Superman who falls. Batman saves him by gliding back to Gotham. Though most of his powers return, he is unable to fly and hunches over.
The robot hits at them, and they fall through the ground. It continues to make holes in the ground above the metro, but Superman uses his heat vision to destroy the left hand completely.
At the City Hall, Lex begins to give a speech and infects the crowd with a mind-altering gas so that they will vote for him. Superman destroys the gas emitting flower from the robot.
Robin arrives in a multi-coloured Batmobile. The robot chases Batman and Robin through Gotham City, but they drive in such a way that the Kryptonite it leaves looks similar to Joker's face.
Martian Manhunter sees it from space, and calls the Justice League to Gotham. Wonder Woman, Green Lantern, Cyborg, and The Flash respond.
The robot attacks Wayne Tower, since Lex despises Bruce, and destroys the foundation. Superman and Wonder Woman keep it in place while Batman, Robin, Green Lantern, and Cyborg enter through the bottom of the building together. They knock the Robot off of the top and Green Lantern creates constructs to keep the tower from falling.
Superman is too weak to continue, but Batman, Robin, Wonder Woman, Green Lantern, Cyborg, and The Flash finish it off. Joker is defeated, and Lex emerges in power armour. Batman contacts Martian Manhunter who readies the Watchtower laser. Robin helps aim it, and Lex is defeated.
His dog, Ace the Bathound is mentioned during Vicki Vale's news reports. He, Krypto the Superdog, and Stretch-O-Mutt are nominees for the "Dog of the Year" award.
In Gotham City, Batman and Robin are pursuing Killer Croc after he had broken into the City Records Office. Batman and Robin find Killer Croc and his Croc Henchmen. Killer Croc runs through the sewers where he runs into Cheetah, Firefly, Joker, and Solomon Grundy. Killer Croc gives them the sewer maps.
Back at the Batcave, Batman sees through his telescope a spaceship that is approaching Earth. Batman takes Robin's suggestion to contact Martian Manhunter on the Justice League's communicator to check it out just. Alfred Pennyworth is pleased that Batman is doing the idea that was suggested by Robin. When Batman looks at the spaceship again, he is mesmerized by a beam shot by it causing him to attack Alfred and Robin. This caused Robin and Alfred to work to snap Batman out of the trance he is in. After Robin used the Bat-Vehicles to get Batman out of the Batmobile, Batman summons a lot of bats where the energy controlling Batman ends up using the bats to form a larger Batman figure. Afterwards, Robin tries to get through to Batman which was enough to snap him out of his trance. Batman wonders who was trying to control his mind and why.
In the Watchtower, Martian Manhunter and Green Lantern, assisted by Batman, try to determine what the strange spaceship is. Their communication is halted when the Watchtower's communicators are shut down. An unauthorized use of the Slideways teleport is detected, and Martian Manhunter and Green Lantern learn of the Legion of Doom's presence on the Watchtower. Martian Manhunter alerts Cyborg, The Flash, Superman, Wonder Woman, Batman, and Robin, and they all head up to the Watchtower, except for Batman and Robin, who still need a ride up into space, due to the Slideways teleport system being shut down temporarily. Upon assembling the Bat-Rocket, Batman and Robin head into space. While Green Lantern investigates the spaceship, Martian Manhunter works to hold off Lex Luthor and his villain allies. Firefly traps Martian Manhunter in a ring of fire. Before Lex Luthor can get ahold of the Binary Fusion Cannon, the Justice League Watchtower's computer alerts the entire base of the Bat-Rocket's approach. Joker prepares to take out Batman "old school style." After destroying some Joker Rockets, Batman and Robin lose their respectful vehicles. Before they can be blown up, Superman arrives and saves them. While Superman gets Robin onto the Justice League's jet, Batman works to find a way in to the Justice League Watchtower with the help of Cyborg and Flash.
Once inside the Justice League Watchtower, the Justice League members confront Lex Luthor and his villain allies. Batman and Superman fight their way past LexBots and Joker Henchmen before Lex Luthor shows up in a larger exo-suit. Using his Electric Suit, Batman powers up an EMP device to disable Lex Luthor's exo-suit while Superman subdues Joker. With the villains defeated, the Justice League Watchtower informs everyone present that an unknown object is approaching. Martain Manhunter identifies the object that he sent Green Lantern to investigate. Brainiac contacts the Justice League Watchtowers and introduces himself. Brainiac states that he collects things throught the universe by using his shrink ray to miniaturize cities throughout the galaxy and is now interested in collecting worlds.
It is shown that Brainiac is using the power rings of the captive Green Lantern, Sinestro, Star Sapphire, Atrocitus, Saint Walker, and Larfleeze to power the crystals needed to shrink Earth. Superman does an attempt to stop Brainiac's shrink ray. Lex Luthor states that if Superman fails, they are going to need a Plan B. Batman, Robin, Wonder Woman, Flash, Cyborg, Lex Luthor, Joker, Cheetah, Killer Croc, and Solomon Grundy work together to infiltrate Brainiac's ship in order to rescue Green Lantern and the others from Brainiac. Due to the helmet that Robin was wearing after being regurgitated from Killer Croc, he is unaffected by Brainiac's mind-control and attacks Brainiac to keep him from controlling the heroes and villains present. When Batman, Robin, Wonder Woman, and Solomon Grundy take down Brainiac, Superman is shown to be getting close to stopping the shrink ray which causes it to overload. Brainiac then escapes to Earth as the shrink ray's explosion causes Green Lantern and the power ring wielders to disappear where their respectful energies from the Emotional Spectrum hits each one of the heroes and villains present, except for Batman and Robin who is wearing the helmet. Batman and Wonder Woman pursue Superman, who has fallen to Earth. They follow him to Paris, France where the impact of his crash collapses the Eiffel Tower.
After Superman regains consciousness with Wonder Woman's help, Batman repairs the Eiffel Tower in his own image. After Wonder Woman kicks the Eiffel Tower where it collapses, Superman manages to repair it in the right appearance. Brainiac then arrives where he is now planning to shrink Earth's cities.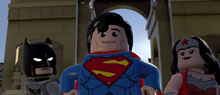 Brainiac manages to shrink Paris and bottle it as Superman claims the bottle. Then they follow Brainiac to London, England where he manages to shrink it. Upon Batman claiming the bottle holding London, he, Superman, and Wonder Woman follow Brainiac to Pisa, Italy where Superman straightens the Leaning Tower of Pisa until Brainiac's ship leans it back to it's original position and shrinks it. Before leaving, Brainiac leaves vowing that the Justice League won't stop him.
In outer space, Green Lantern fixes the Justice League Watchtower. Afterwards, he and Martian Manhunter are contacted by Batman to help them locate Brainiac. Martian Manhunter states that Brainiac is heading for Gotham City as Batman, Superman, and Wonder Woman head there. In Gotham City, Robin, Flash, Cyborg, Lex Luthor, Joker, Cheetah, and Solomon Grundy are confronted by Brainiac.
Wonder Woman manages to bring Brainiac's ship down as he unleashes his robot clones while he escapes into his spaceship. Flash was able to create a cage to trap Brainiac's spaceship which will hold it there for awhile while both groups fall back to the Justice League Watchtower.
Back on the Justice League Watchtower, Robin reveals that he has a shard of the crystal used by Brainiac in his plot to shrink Earth. Superman states that he could use the crystals at the Fortress of Solitude to create a duplicate.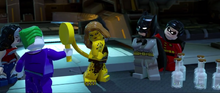 Green Lantern suspects that the other power ring wielders were transported back to the source planets of their power rings. When Robin asks how their going to get Atrocitus, Larfleeze, and Sinestro to help, Green Lantern states that they should get ahold of their power batteries where the energies contained should be enough to help.
On Ysmault, Green Lantern, Solomon Grundy, Batman (who is disguised as Joker), Robin (who is disguised as Lex Luthor), and Wonder Woman (who is disguised as Cheetah) all pursue Atrocitus and Bleez, when they summon the entity of rage: The Butcher. Upon defeating The Butcher, Batman, Robin, and Wonder Woman distract Atrocitus while Green Lantern steals the power battery. On Okaara, Green Lantern, Solomon Grundy, Batman, Robin, and Wonder Woman (all wearing their disguises still) make plans to distract Larfleeze. When Larfleeze and his Orange Lantern constructs are defeated, Green Lantern creates a construct of himself so that he can steal the Orange Lantern power battery.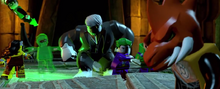 On Qward, Sinestro appears on the Justice League ship where he is not fooled by the act by Green Lantern's group resulting in Green Lantern taking Sinestro off the ship. After Batman, Robin, and Wonder Woman shed their disguises near the Sinestro Corps power battery, Sinestro traps Green Lantern in a marionette. Batman realizes that he must be afraid in order to obtain the Sinestro Corps power battery. He then sees Robin being pursued by a large Killer Croc construct created by Sinestro, and Batman becomes fearful that Robin will be harmed. Batman then claims the Sinestro Corps power battery. Upon Green Lantern's group retreating, Larfleeze and Atrocitus arrive prompting them and Sinestro to go after them.
Martian Manhunter, Flash, Cyborg, Saint Walker, Indigo-1, and Star Sapphire arrive at the Fortress of Solitude. Green Lantern's group also arrives just as Sinestro, Larfleeze, and Atrocitus catch up. Upon the Justice League getting the rest of the Lanterns to focus their energy towards the crystal, Earth is restored to it's normal size, the different Lanterns disappear, and the energies from the Emotional Spectrum disappear from it's victims. The villains then leave as Flash goes to check on Brainiac. Flash returns and reports 
that Brainiac's ship has gotten free. Brainiac arrives at the Fortress of Solitude in his ship where he reveals that he had taken Gotham City and Metropolis on his way to the Fortress of Solitude. Superman suddenly grows in size as Brainiac mind-controls him. After Batman uses a speech to break Brainiac's mind-control, Superman manages to stop Brainiac and obtain the shrink ray that is needed to restore Superman and the cities to their rightful sizes. The Justice League then leaves the Fortress of Solitude with Brainiac as their prisoner. The cities of the worlds have been restored to their rightful sizes.
At the White House, Lex Luthor is enjoying being President with his villain allies present until the Justice League arrives. With the villains arrested, Lex Luthor and Joker are sharing the same cell with a shrunken Brainiac.
When Robin, Frodo, and Metalbeard are each pulled into the vortexes, each unknowingly in possession of one of the Elements, Batman alongside Gandalf and Wyldstyle all jump in after them. The three get pulled into the same vortex and appear on Vorton, where the vortex generator they came out of explodes, prompting them to rebuild it. Aided by X-PO, the three use the generator to travel through the multiverse to search for the five missing keystones that power the generator and the Foundation Elements, hoping to find their missing friends and stop Vortech's plan from succeeding. Along their journey, they meet and assist the various heroes of the worlds they visit, such as Homer Simpson, The Doctor, Doc Brown, Dorothy Gale among others while fighting numerous villains, like the Wicked Witch of the West, Master Chen, The Riddler and Lord Vortech himself. However, Vortech eventually finds out that X-PO is helping them. The heroes travel to Foundation Prime to find their friends and fight Vortech, but it turns out it was a diversion that allows the villains to ambush X-PO and retrieve the Foundation Elements that the trio had previously collected, allowing Vortech to unlock the foundation of the multiverse: a green Lego building plate. This imbues Vortech with near-unlimited power, and he merges Frodo, Metalbeard, Robin and a piece of himself into a giant robot mutant known simply as the Tri, sending it to wreak havoc on the trio's worlds.
After freeing their friends from inside the Tri, they destroy the Vortech piece, causing the Tri to implode. After the Tri's defeat, Batman realizes that they are going to need all the help they can get to defeat Vortech. The trio recruits The Doctor, Mystery Inc., the Ghostbusters, the space ship Defender, Doc Brown and Marty McFLy and even GLaDOS to defeat him. While the Doctor, GLaDOS, and X-PO work on a plan to seal Vortech in a rift loop, the heroes head to Foundation Prime, fighting Vortech along the way. With their allies' help, they are able to destroy the Lego plate, which causes Foundation Prime's palace to collapse and infuriates Vortech. He grows to an enormous size and attacks the trio, but the Doctor is able to manipulate the portal technology and sucks all of them into a rift loop. Using a special device he, GLaDOS, and X-PO designed, the heroes are able to seal Vortech in an endless rift prison for all eternity, saving the dimensions.
|-|The LEGO Movie Continuity=
"I only work in black... and sometimes very, very dark gray."
―Batman in The LEGO Movie
Batman appears in The LEGO Movie, voiced by Will Arnett. He is the tritagonist and assists the main heroes. He is initially Wyldstyle's boyfriend.
He first appears in the Old West; saving Emmet, Wyldstyle, and Vitruvius on the Batwing. When confronting Bad Cop, he uses his Master Building power to turn his car into a baby carriage. He then crashes into the sun, taking them all to Middle Zealand. He turns the Batwing into the Batmobile, and shows off the new loud speakers he added to the back of the vehicle. He takes a rainbow to Cloud Cuckoo Land, which he appeared to hate, especially after seeing Lizard Man (who may have reminded him of Killer Croc) and the Circus Clown (who may have reminded him of The Joker). He and the Master Builders went inside "The Dog", where "The Special" made his speech. However, it was not a success as the Master Builders became angry that Emmet was just an ordinary person. Batman tells Wyldstyle that she was right about Emmet being a "ding-dong". Just then, the Super Secret Police attack the palace and Batman calls, "Every man for himself!" However, Wyldstyle convinces him to help her and the others. They then meet Spaceman Benny, who attempts to help group by building a spaceship. However, he quits after Wyldstyle informs him the skies are surrounded. Emmet then decides that they travel underwater. However, Batman steals his idea, getting the credit. </tabber>
Description from LEGO Magazine

This is a description taken from LEGO.com. Do not modify it.
---
Batman Standing between the innocent civilians Gotham City and the infamous villains of the Rogues Gallery is the Dark Knight himself: Batman! After witnessing his parents death in Crime alley. He promised that he would rid Gotham's streets of crime he worked hard training both his body and mind and has returned to Gotham City as the Batman determined to protect the innocent known as the world's greatest detective if Batman is on the case the bad guys better watch out!
City: Gotham City
Powers: Highly trained martial artist, Master detective and scientist
Base: The BatCave
Arch-Enemy: The Joker
Cool Fact: Batman's utility belt not only has every weapon, antidote and look( )able, it is also rigged to explode if anyone other than the Caped Crusader tries to open it!
LEGO.com Descriptions

This is a description taken from LEGO.com. Do not modify it. (visit this item's product page)
---
Batman
Blue Super Heroes Suit
POW! WHAM! Batman is on the scene in Gotham City as The Caped Crusader from the comics! Criminals and thugs don't stand a chance against this lean, mean minifigure with his fabric cape and bright yellow utility belt. Even though Batman doesn't have any superpowers, his amazing detective skills, martial arts training and high-tech gadgets are more than enough to strike fear into villains everywhere!
Black Super Heroes Suit and TDKR Super Heroes Suit
Batman is back in black! The Dark Knight minifigure is more mysterious than ever in shiny black costume as he banishes crime from the streets of Gotham City, one infamous villain at a time. As the handsome billionaire Bruce Wayne by day and a vigilant super hero by night, Batman watches the night sky for Commissioner Gordon to light the Bat-Signal. After a quick costume change, he'll swoop down from the Gotham City skyscrapers to soar into action and save the day with high-tech accessories
Arctic Suit
Batman believes in being prepared for any emergency. When cold-weather crooks like Mr. Freeze threaten Gotham City, Batman suits up in his thermo-regulated, ice-proof arctic suit to save the day!
He makes it no secret he prefers to work alone, since he could probably get the job done better and faster than anyone else. He is presently Wyldstyle's boyfriend, and lacks very little in the looks, ability or confidence department.
New 52/Armored

This is a description taken from LEGO.com. Do not modify it. (visit this item's product page)
---
LEGO Batman is back…in black! The Dark Knight minifigure is more mysterious than ever in shiny black plastic as he banishes crime from the streets of Gotham City, one infamous villain at a time. As the handsome billionaire Bruce Wayne by day and a vigilant super hero by night, Batman watches the night sky for Commissioner Gordon to light the Bat-Signal. After a quick costume change, he'll swoop down from the Gotham City skyscrapers to soar into action and save the day with high-tech accessories. agility: 9 fighting: 11 strength: 7 intelligence: 11 speed: 7
Space Suit

This is a description taken from LEGO.com. Do not modify it. (visit this item's product page)
---
Super-villains beware; leaving the planet won't keep Space Batman from chasing you down and dishing out justice. In his armored space suit, Batman rockets through the vacuum of space, focused on stopping intergalactic crime. agility: 9 fighting: 9 strength: 7 intelligence: 11 speed: 7
Mighty Micros

This is a description taken from LEGO.com. Do not modify it. (visit this item's product page)
---
Crash! Vroom! Meow! Whenever Catwoman gets up to her latest purr-fect plan, Batman answers the crime-fighting call, speeding to the scene in his custom-built Mighty Micros Batmobile and chasing the criminal feline through the zig-zagging alleys of Gotham City. He's out to catch her and recover the precious treasure she's swiped, but Catwoman likes to prove that she can out-drive the Dark Knight . . . as long as he doesn't distract her getaway with a carton of tasty milk! agility: 9 fighting: 11 strength: 7 intelligence: 11 speed: 7
LEGO Batman Movie Description

This is a description taken from LEGO.com. Do not modify it. (visit this item's product page)
---
Night-stalking crime-fighting vigilante. A heavy metal rapping machine. Super Hero. Master Builder. Batman is all of those and so much more. Equipped with a utility belt packed with Batarangs, grappling-guns and other inventions, and backed up by a Batcave full of cutting-edge vehicles and batsuits, Batman has sworn to forever defend the citizens of Gotham City against crooks and super-villains. Batman ALWAYS works alone. He's also got a really sweet music career going, thanks for asking.
Bat-Fact: Batman thinks his roommate, Bruce Wayne, is a super-cool guy.
Gallery of Variants
Minifigure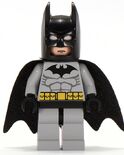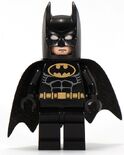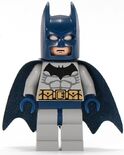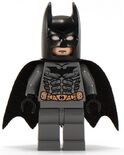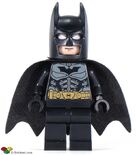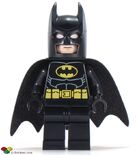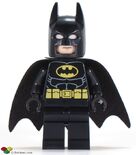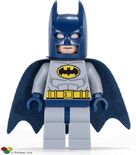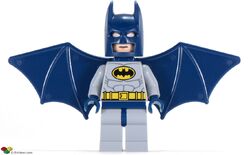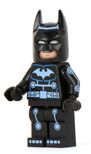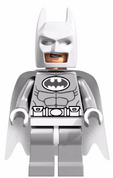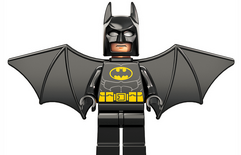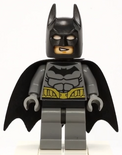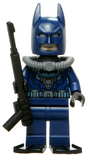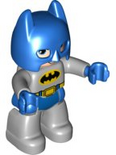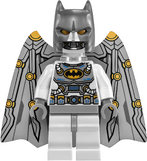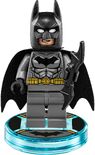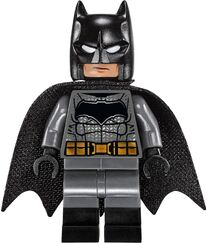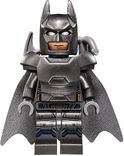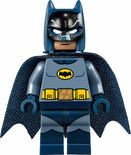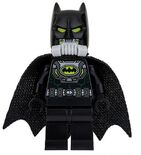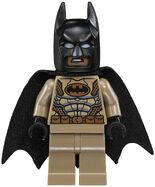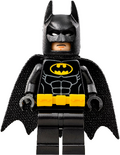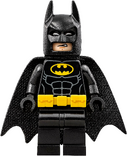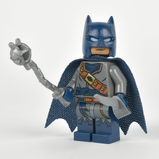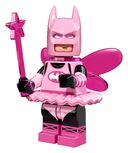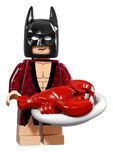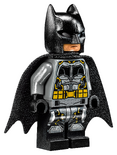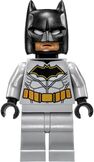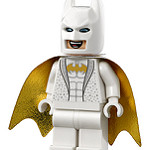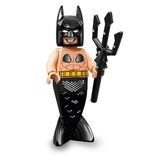 Original
Batman (1989)
Comics
The Dark Knight
The Dark Knight Rises
(Black)
Super Heroes
Super Heroes (w/ cowl)
Blue Suit
Blue Suit (w/ jet-pack)
Super Heroes
(Electro)
Super Heroes
(Arctic)
The Dark Knight Rises
(Gray)
Super Heroes (w/ wings)
Microfigure
Beware the Batman
Super Heroes
(Scuba)
Juniors
DUPLO
The LEGO Movie
Batman Begins
Super Heroes
(Space)
New 52
The LEGO Movie
(dual-sided face)
New 52 (w/ boots)
New 52 (w/ old cowl)
Batman v Superman
Batman v Superman
(Battle)
1966
Mighty Micros
(Black)
Super Heroes
(Gas Mask)
Super Heroes
(Desert)
Mighty Micros
(Blue)
The LEGO Batman Movie
(Head Type 1)
The LEGO Batman Movie
(Head Type 2)
The LEGO Batman Movie
(Head Type 3)
Pirate
Excalibur
Bat-Pack Batsuit
Raging Batsuit
SCUBat Batsuit
Glam Metal Batman
Clan of the Cave Batman
Fairy Batman
Vacation Batman
Lobster Loving Batman
Justice League
Tactical suit
Rebirth
Disco
Mermaid Batman
Pool Batman
Video Game Variations
LEGO Batman: The Videogame
LEGO Batman 2: DC Super Heroes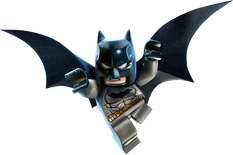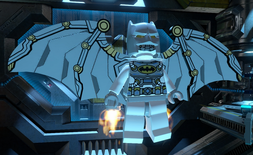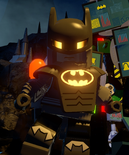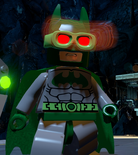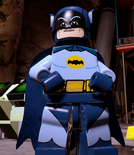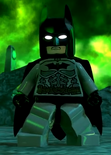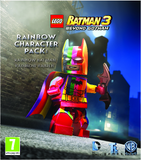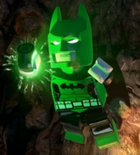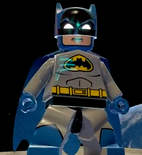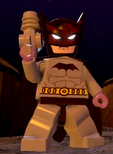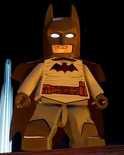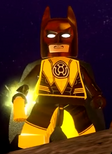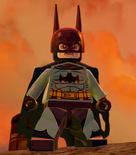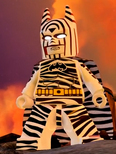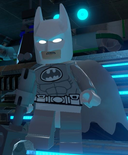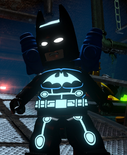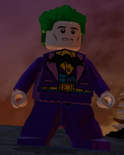 New 52
Space Suit
Sonar Suit
Power Suit
Sensor Suit
Batman of Zur-En-Arrh
1966
The Dark Knight trilogy
Rainbow
Darkest Knight
The Brave and the Bold
Classic
The Dark Knight Returns
Gotham by Gaslight
Sinestro Corps.
Vampire
Zebra
Arctic Suit
Electricity Suit
Scuba Suit
Joker Disguise
Appearances
Movie Appearances
Magnet Set Appearances
Video Game Appearances
Book Appearances
Key Chains
McDonald's Toys
Online Comics
Other
Quotes
"I'll take it from here."
―Batman in LEGO Batman Short
"You gotta check out these new subwoofers I installed in the back. I call them the dogs. Listen to 'em bark!"
―Batman in The LEGO Movie
"I only work in black... and sometimes very, very dark gray."
―Batman in The LEGO Movie
"I hate this place."
―Batman about Cloud Cuckoo Land
"To the Batmobile! Dang it."
―Batman in The LEGO Movie
"I don't mean to spoil the party, but does anyone else notice we're stuck in the middle of the ocean on this couch? I mean it's not like a big, gigantic ship is just gonna come out of nowhere and save us-- MY GOSH!"
―Batman, seeing MetalBeard's Sea Cow in The LEGO Movie
"What do you expect? A spaceship is just gonna come out of the blue and-- are you kidding me?"
―Batman in The LEGO Movie
"This is not how Batman dies!"
―Batman, nearly drowning in The LEGO Movie
"What're you losers talking about? Thought I'd help you guys out. Left the weird cat thing to stall."
―Batman in The LEGO Movie
Notes
Gallery
Videos
References
See also