This article contains information regarding scheduled, forthcoming or expected.
While this minifigure has been released in some form in the past, a new variant is expectected for release soon. The content about any future variants may change as the release approaches and more information becomes available.


Bellatrix Lestrange is a Harry Potter minifigure. She was introduced in 2010, and is a pure-blood witch who was one of the most loyal Death Eaters to Lord Voldemort. As well as being one of the few females in the group, she was also one of the cruelest and most savage; she was capable of performing terrible acts of torture, murder, and destruction.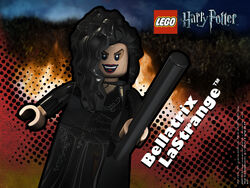 Description
Bellatrix has an elaborate curly black hairstyle which is unique to her. It has a thick lock of hair coming down on one side and a ponytail down her back. She has a light nougat face with two sides of face printing. One shows her happy side, with dark eyeshadow, high cheekbones, and red lipstick lining a sneering, slightly open mouth. Her alternate expression shows worry, with upturned eyebrows and clenched teeth. Otherwise, the features are the same. Her torso features a black dress with ornate silver lining. Her neck has a silver pendant around it. She has two grey half ovals on her sides, common on female minifigures, which symbolizes her being more thin than normal minifigures. She has some back printing, also with ornate silver designs and grey half ovals. She has a 2x2x2 slope for a dress, which continues some silver printing but also includes some folds for her dress.
Gallery of Variants
Notes
Appearances
Other Physical Appearances
Video Game Appearances
Gallery
See also
External Links
Community content is available under
CC-BY-SA
unless otherwise noted.