Belville was a theme introduced in 1994 (although the first set of this theme was released in 1995 and discontinued in 2009.) It was created to primarily appeal to girls. Though the theme contained mostly System pieces, it also used doll-like figures called Belville Figures, similar to the Friends figures, instead of the standard LEGO minifigures.
Characteristics
Belville sets were made up of System parts, but used larger figures than conventional minifigures, called Belville Figures, that have multiple joints.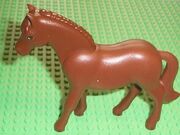 Early Belville sets were packaged under the LEGO System name until 1999. Sets in the theme contained pieces specially made for Belville which later appeared in some normal LEGO sets. Many bricks also had unique features such as embedded glitter. The sets included larger pieces, often in a pink and purple colour scheme, and depicted scenes from fairy tales and fantasy, as well as everyday life. Various animals also made their appearance in Belville which in some cases were exclusive to this theme.

Sets
Replacement
In 2009 (2011 in some countries), Bellvile was discontinued. No other themes targeting girls were released until Friends in 2012.
Notes
Despite the theme being discontinued, a few sets can still be found on store shelves in Greece and a few other countries.
See also
Community content is available under
CC-BY-SA
unless otherwise noted.