Roblox: DeepWoken - The Loop
Play Sound
This minifigure has only appeared in video game(s)
Although this article is about an official minifigure, it never existed in physical form or appeared in any official LEGO sets.
Bill Ding is a character from the LEGO Island series, appearing in the first two video games: 5731 LEGO Island and 5774 LEGO Island 2: The Brickster's Revenge.
Background
LEGO Island
Bill Ding helped the player to build their police helicopter, jet ski, buggy, and race car.
LEGO Island 2
Bill Ding first used the parts given to Pepper Roni by LEGO Island's residents to build Pepper's house. He later rebuilt the Bricksterbot-ravaged buildings of LEGO Island with the pages of the Constructopedia, as Pepper found them throughout the game.
Bill Ding also heard contacted Pepper through radio during some of his missions to encourage him, such as his mission to rebuild the bridge on Castle Island.
Notes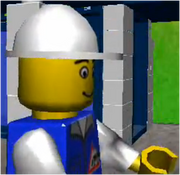 In LEGO Island, Bill Ding's voice changes depending on what hat he wears.
Also in LEGO Island, there are four "Bill Dings"; one separate model for each of the four construction mini-games (rather than a model with a hat that changes per mini-game). The only difference between them are their hats. Due to the way random character spawning works, it is possible and probable to see two of the four Bill Dings walking around the island at the same time.
In LEGO Island 2, his voice is as it was when he helped Pepper to build his racing car.
His name is a pun on the word "building".
Appearances