Brick Builder 2
Theme:
Released:
Playable Minifigures:
Play the game:
Brick Builder 2 is an Online Game for 8804 Minifigures Series 4. It is the sequel to Brick Builder. You play as either the Sailor or the Viking. The object of the game is to grab bricks and place them in a safe zone while avoiding multiple Monsters.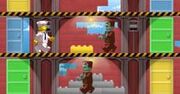 Notes
See also
External links
Community content is available under
CC-BY-SA
unless otherwise noted.