This is the queue for featured articles that have appeared on the Main Page recently or will appear in the future. For a list of articles already featured on the main page, see History.
2012/05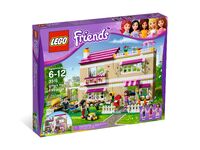 3315 Olivia's House is a Friends set released in 2012. It includes Olivia, Anna, Peter, and Kitty. Also included is a lawnmower, a barbecue, and a vegetable patch. The large house includes a bathroom, Olivia's bedroom, a kitchen, a sitting-room, and a relaxing area on the roof. It is the second-largest set in the Friends theme, with only 3185 Summer Riding Camp currently surpassing it.
(view template)
2012/07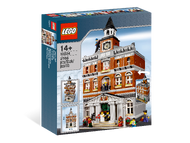 10224 Town Hall is an Exclusives Modular Buildings set that was released on March 1, 2012 (Europe). It includes eight brand new minifigures. It is more expensive than the traditional US $149.99, which is standard for Modulars. This is the tallest Modular Building released so far, and the only one that is recommended for ages 14+, and is, so far, the eleventh largest set by piece count released to date. It was designed by Astrid Graabæk.
(view template)
2012/08

Super Heroes is a licensed theme introduced in January 2012, although certian promotional sets were available in the Summer and Fall of 2011. It currently features a grand total of twenty-seven sets, based on the DC Universe and Marvel comic-book universes.
There were nine DC Universe sets (which focus on the Batman, Superman, and Wonder Woman series) released in January 2012, with two further promotional ones yet to be released. Twenty-two new minifigures were introduced in the DC Universe subtheme in January.
The Marvel collection focuses on The Avengers, X-Men, and Spider-Man. Seven Marvel sets were released in April 2012, with the promised Spider-man set yet to be seen. Nineteen minifigures were also introduced under the Marvel subtheme in April (and February for two of the promotional minifigures).
In addition to regular System models, Super Heroes also features buildable action-figures, known as Ultrabuild sets. These use a building system similar to that used by Hero Factory, and feature three characters each from the DC and Marvel universes.
In addition to the DC sets, a video game based on the DC theme will be released on June 1, 2012.
(view template)
2012/12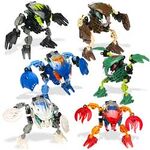 The Bohrok are mechanical insectoid creatures, controlled by strange parasitic beings that live within their heads, known as Krana. If a Bohrok loses its Krana, it shuts down and can be reprogrammed to do one's bidding; but if a Krana gets on another being's face, it then assimilates its host into the swarm. The Krana, which control the Bohrok, are in turn controlled by the two fearsome Bahrag, twin queens of the swarms.
(view template)
2013/01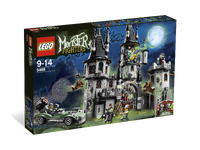 9468 The Vampyre Castle is a Monster Fighters set released in June 2012. At 949 pieces, it is the second-largest set in the theme, and consists of a large model of a castle, with a large gate, several towers, and a car. It contains the minifigures Lord Vampyre, Vampyre Bride, two Bat Monsters, Jack McHammer, Dr. Rodney Rathebone, and a Skeleton.
(view template)
2013/02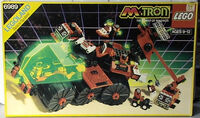 6989 Mega Core Magnetizer is a Space M-Tron set released in 1990. The set comes with the M-Tron's main vehicle, which serves as a home-base (so to speak), as they never had any actual bases.
Providing housing for three minifigures, the Mega Core Magnetizer also was used for repair, storage, transporting, and a landing place for various craft.
The Mega Core Magnetizer supported three minifigures, two small ground vehicles, one flying vehicle, one storage pod, one repair pod, and one small container to hold the trans-neon green 1x1 rounds.
(view template)
2013/04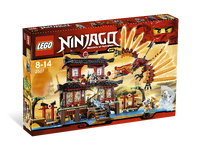 2507 Fire Temple is an Ninjago set released in Summer 2011. The set features a large, Japanese-style temple, along with a very large red dragon, similar in construction to the Ninjago Ice Dragon. It also includes the Sword of Fire, along with each of the other three Golden Weapons. It features the minifigures Nya, Sensei Wu, Kai, Kruncha, Zane, Samukai, and Lord Garmadon.
(view template)
2013/05
10937 Batman: Arkham Asylum Breakout is a DC Universe Super Heroes set first released on December 18, 2012 in the United Kingdom and Germany, and on December 27 anywhere else. At 1619 pieces, it is the largest Super Heroes set to date, taking the title away from 6869 Quinjet Aerial Battle. The set contains a two-story rendition of the Arkham Asylum manor, including special prisons for Mr. Freeze and Poison Ivy, an office for Dr. Harleen Quinzel, as well as other rooms. 10937 also comes with a gate, complete with security cameras, and an Arkham Asylum van. Minifigures included are Batman with black wings and a Batarang, The Joker in an inmate's jumpsuit, a hooded Robin with a kendo stick, The Scarecrow, Poison Ivy with vines, a Guard with handcuffs, Dr. Harleen Quinzel with interchangeable hair and jester's hat, and The Penguin with a fish and an umbrella.
(view template)