This page lists all featured articles of Brickipedia.
History
Gallery
2007/10
Alpha Team is a Lego theme that was first released in 2001 and then discontinued in 2005. The very first Alpha Team consisted of seven members, Dash, the team leader, Cam, Flex, Radia, Charge, Crunch, and a robot named TeeVee, who looked like a television with legs. The Alpha Team fights a criminal mastermind name Ogel, whose name is Lego spelled backwards. Ogel fist fought the Alpha Team with Mind Control Orbs. These orbs turned people into mindless Skeleton Drones, that Ogel could command. Ogel was defeated, and the drones were back to normal with the destruction of the orbs.
(view template)
2007/36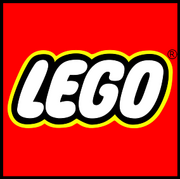 LEGO Group is a family-owned company based in Billund, Denmark and best known for the manufacture of LEGO-brand toys. The company was founded in 1932 by Ole Kirk Christiansen. It was named one of the 100 Best Companies for Working Mothers in 2004 by Working Mothers magazine.
LEGOland
The LEGO Group built four amusement parks around the world, known as "Legoland". Each park features large-scale LEGO models of famous landmarks and miniature LEGO models of famous cities, along with Lego-themed rides. The oldest Legoland park is located in Billund, Denmark. Others followed: LEGOland Windsor in England, LEGOland California in Carlsbad, California, and LEGOland Deutschland in Günzburg, Germany. All four parks have recently been sold to Blackstone Group, although Lego Group still retains a 30% interest and voting rights.
(view template)
2007/37
The 8460 Pneumatic Crane Truck was seld for USD 99 and consist of 841 parts. It was rereleased in 2002 under 8431 Crane Truck and also under 8438 Pneumatic Crane Truck in 2003. Because it is in scale for Technic figures it includes no Minifigs.
This set includes:
seats for 3 Technic figures
two Pneumatic Cylinder and one Pneumatic Pump
With this set you can build 2 different models. The first is a pneumatic crane truck with a big extendable boom. The second one is a truck with a smaler crane and a loading bay. Both trucks can be back up and have steering mechanism for front wheels.
(view template)
2007/40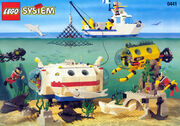 6441 Deep Reef Refuge was a 1997 released set. It was part of the Town line, and included many rare LEGO animals. For USD 60 you get 433 parts.
This set comes with the following:
5 Minifigs
Animals (gray Dolphin, 2 black Manta Ray, black Octopus, gray Sawfish, white Shark)
Ship (not swimable)
2 submarine boats
reef
(view template)
2007/42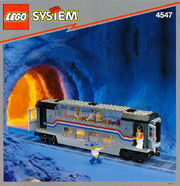 4547 Railroad Club Car is a set first released in 1993 and re-released in 2001 as 10002 Railroad Club Car. It is an expansion to the 4558 Metroliner set, which came out one year before.
The Railroad Club Car comes with the following:
1 two-storey person-wagon
5 Minifigs
costs: USD 37.50
consist of 286 parts
Basement has 2 seperated cabins with one sleeping place and a wash basin. The above storey has 5 seats for minifigs with two tables and can be taken off to reach the basement. The roof is a panorama-window wich open to the side.
(view template)
2007/43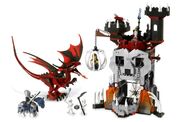 The Skeleton Tower is a 2007 Castle set that includes a Dragon, three minifigures, and two skeletons.
Skeleton Tower features one of the new dragon designs that has a wingspan of thirteen inches and is fourteen inches long, and has moveable wings. The tower itself measures eleven inches high. It has a crank that lowers a bridge opening up the castle, and has a catapult that can launch rocks at intruders. There is also a hanging skeleton prison that the princess is trapped in, and this can be lowered and opened up. This set also comes with a horse.
(view template)
2007/44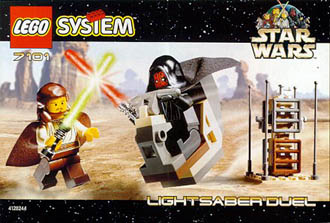 Lightsaber Duel was a set released around the 1999 LEGO Star Wars line. It contained a Qui-Gon Jinn minifig with green lightsaber, a Darth Maul minifig with a single-bladed red lightsaber, Darth Maul's speeder bike, and a moisture vaporator. It cost around $5.99, and was recommended for the ages 6-10. This set was set on Tattooine where Qui-Gon and Darth Maul had their first duel.
(view template)
2007/45

Plankton, arch nemisis of Mr. Krabs, was translated into a Lego figure upon the release of the SpongeBob SquarePants line. Due to the character's minute size in the SpongeBob SquarePants television series, Plankton is not a minifigure. Instead, he is represented as a small green Lego cylinder with his face on it. However, in the 3826 Build-A-Bob set, he is a large green Lego cylinder with a decal of his arms, legs, eye, and mouth (his two antenna are two Lego "levers").
(view template)
2007/47
Futuron was a subtheme of LEGO theme Space in the years 1987 till 1990.
Taking over from Classic Space and inheriting its white-and-blue color scheme, "Futuron" depicted an austere yet bustling settlement on the surface of a planetary body, probably Earth's moon. Its minifigs came in many colors (red, blue, yellow and black), but all shared the same uniform—a zipper crossing from hip to shoulder, with color on top and white below—as well as light-blue-tinted helmet visors. Instead of a big ship, the theme centered around the Monorail Transport System, which featured a battery-powered train system and some twenty linear feet of track.
(view template)
2007/48
Legopedia is a free encyclopedia in german, which was founded on November 12, 2007. The word Legopedia consist of the word LEGO, the famous toy and ending pedia (of encyclopedia). The wiki is about the LEGO toys and the company itself.
Foundation
Some days before Legopedia was registred at Wikia.com and finaly go online on November 12, 2007. Founders were Nihilus66 und Upgrade. After some starting problems in administration it was finaly done.
At the same day the logo was created. An Indiana Jones - Legofigure.
Vandalism
A horrible event happend has been on the same day of founding the wiki: vandalism. They don't expect this would happen on the first day of their existence.
(view template)
2007/50
This happened in 1955:
LEGO bricks begin selling better, but are not yet the core LEGO product.
LEGO first exports toys to

Sweden

.
Godtfred Kirk Christiansen demonstrates the LEGO bricks at a toy fair in Nuremberg,

Germany

.
First LEGO trees are released.
(view template)
2007/51
Godtfred Kirk Christiansen (July 8, 1920 – July 13, 1995) is the son of Ole Kirk Christiansen, the founder of the LEGO Group.

He was married to Edith Kirk Christiansen. In 1950, Godtfred Kirk Christiansen became Junior Vice President of the company. After being Junior Managing Director from 1954, he was appointed Managing Director in 1956. When his father died in 1958, Godtfred Kirk Christiansen inherited the Lego Group. His son, Kjeld Kirk Kristiansen, became president and CEO of the Lego Group in 1979.
References
(view template)
2007/52
A brick is a general term for any LEGO part. However, technically it is an element three plates or more thick, rectangular in shape, with studs on top. They often have stickers or printing on them, like many other LEGO elements. They come in many sizes, from a tiny 1x1 brick to a huge 8x8, or maybe a 1x16.
Sizes
Bricks are referred to by their dimensions. When they are only three plates high, they can be referred to as, say a 2x2 brick. If they are taller, then a third number is added, referring to their height. An example is the 1x2x5 brick.
Interestingly enough, the only odd-number-sized bricks are the 1x and 3x sizes. All sizes above are even.
(view template)
2008/02
Captain Redbeard was the leader of the Pirates in the Pirate theme. He was first introduced in 1989 with the theme start, and to the Pirates, he holds the same rank as Governor Broadside.
Redbeard is a fierce and bloodthirsty pirate that sails on his ship, The Black Seas Barracuda. He has several hidden hideouts and forts in which he can seek refuge, one of which being the Forbidden Island. He was cunning and smooth, and maintained a friendship with Bo'Sun Will, the youngest member of his crew. He also had a pet parrot, Popsy.
(view template)
2008/03
Mars Mission is a subtheme of LEGO theme Space released in August 2007. It is a Alien vs Human concept and includes 11 sets.
Pump System
LEGO revived an older, forgotten feature in this new set. It is called the pump system and was pioneered in the one of the previous space ranges Life on Mars. It is controled by a pump that you press down on. This pumps air trough a rubber 'pipe' and can do several things. One thing it can do is move ir through the weapons to fire them up to 3 meters away. Another thing that you can to with it is putting aliens in it. Put an alien in it and it gets sucked up. Turn the pump and it gets shot out in a differnt direction. This is one of the neat features of Mars Mission.
(view template)
2008/05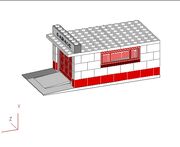 Here is the oldest set with an article at this wiki:
This set was released in different years and under different numbers. 236 Garage with Automatic Door was a set introduced in 1955 and re-released in 1963. In 1955 was also released under 1236 Garage med Automatisk Port and had 62 pieces. The 1963 released version had an additional VW van included and was only available in the United Kingdom.
(view template)
2008/06
The 4563 Load and Haul Railroad is a 9V cargo train. It costs USD 120 and therefor you get 451 parts. The Set was released in 1992 and belong to the Train serial.
This set comes with a locomotive and three different freight waggons, freight itself and a forklift truck. Three Minifigs handle the whole. The locomotive can be driven on 9V-tracks and connect to other 9V-rail vehicles.
(view template)
2008/09
´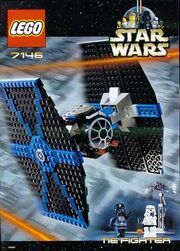 Lego Star Wars was the first license that the Lego company made. It was originally planned to end in 2007, but it was renewed and will now end in 2011.
(view template)
2008/10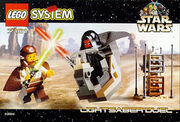 Lightsaber Duel was a set released around the 1999 LEGO Star Wars line. It contained a Qui-Gon Jinn minifig with green lightsaber, a Darth Maul minifig with a single-bladed red lightsaber, Darth Maul's speeder bike and a moisture vaporator. It cost around $5.99, and was recommended for the ages 6-10. This set was set on Tatooine where Qui-Gon and Darth Maul had their first duel.
(view template)
2009/09

Castle is one of LEGO's core themes and was introduced in 1978. Orginally centered around medieval life, involving knights and castles, it also incorporated popular fantasy elements as it saw many changes over the years and is still running today. The theme is the second longest-lived in the LEGO universe (after Town). Read more...
(view template)
2010/01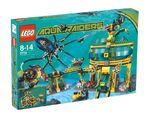 7775 Aquabase Invasion is an Aqua Raiders set released in 2007. It includes a large underwater station with a control room and several gun emplacements, an underwater scooter, a small submarine, a giant squid, four divers and a skeleton. This is the biggest of the seven sets from the theme and the only base of the Aqua Raiders. Read more...
(view template)
2010/02
Pirates was a LEGO System theme introduced in 1989. It was the first completely new theme that appeared after the three initially introduced main themes Town, Castle and Space from 1978. It focussed on the classic idea of caribbean pirates that were pitted against soldiers of colonial empires and would occasionally encounter indigenous people. During its initial run from 1989 to 1997, the theme saw continous releases in every year. While the pirate faction remained largely unchanged, their imperial adversaries were subject to various visual changes.
The theme was the first to feature LEGO versions of firearms and introduced the first minifigures without the standard smiley-faces as well as specific elements for the construction of large sailing ship models, which were one of the outstanding features of Pirates.
Following a long hiatus starting in 1997, the theme was reintroduced in 2009, combining the established look from the past with recent LEGO elements and building styles.
(view template)
2010/03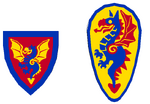 The Black Knights were one of the various factions of LEGO's Castle theme and were introduced in 1988. During its run, a total of thirteen sets were released as part this series, including two major castles, making it one of the larger LEGO Castle factions of this era. The black color of their fortifications was one of the features that set the Black Knights apart from earlier factions, as did their symbol, which was a blue wyvern dragon featured on their shields and banners. A motif that was later reused by the Dragon Masters. The Black Knights were phased out as regular theme after 1994 but the crest still made occasional appearances until 1996.
(view template)
2010/04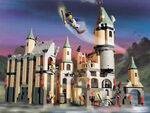 Hogwarts School of Witchcraft and Wizardry or simply Hogwarts is a fictional Boarding school of magic for budding witches and wizards that appears in J.K. Rowling's Harry Potter novels and derived works such as the movie series. The school was also the subject of a vast number of LEGO sets from the Harry Potter theme, making up the bulk of this product line. Over the course of ten years since the theme's introduction, more than 20 different sets portrayed locations in and around the school, ranging from smaller sets which represent single rooms, over reproductions of whole building sections, to large models of the castle itself.
(view template)
2010/05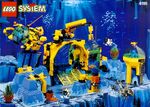 6195 Neptune Discovery Lab is an Aquazone set released in 1995. It contains an underwater base of the Aquanauts, an exploration submarine and four Minifigures. This is also the biggest Aquanauts set and also the only base of this faction.

The Aqua Dome 7 is built upon two raised baseplates and consists of a large main complex, a separate control tower, a docking pad for the submarine and a small refueling station. The main section contains a spacious room with large windows at the rear and can be accessed through two smaller hatches and the large transparent doors at the front. The hatches on the side are each relatively hidden from view by rock formations.
(view template)
2010/07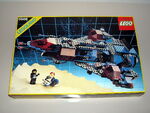 6986 Mission Commander is a Space Police I set released in 1989. It contains a large Space Police starship, a small truck, two Space Police I red-neon jail cells and two small spacecrafts. It also contained two Space Police Officers and a Blacktron prisoner.

Despite its enormous size, the spaceship offers little room inside due to the center section housing a rack mechanism that opens the storage bay for the truck, doubling as the cockpit for the spaceship. When released, the small truck can be used to transport the jail cells. The top of the cockpit may open or close to insert or take out one Minifigure. On either side of the cockpit is a pair of laser cannons. There are two more lasers on the front of the starship. Behind the cockpit section is a transparent-red area. This does not seem to have any particular purpose, however. This section is Black and Blue with a large amount of transparent-red.
(view template)
2010/08

Orient Expedition was one of the various subthemes of Adventurers released in 2003. The sets featured Johnny Thunder and his fellow scientists and adventurers. It was unique in that every set above 100 pieces came with stat cards or a piece of a game board that could be added to the Orient Expedition Board Game to maximize fun. This is currently the last subtheme of Adventurers.

The theme was about Johnny Thunder, Dr. Lightning, Pippin Reed, and their new Asian friends going through Asia to find the Golden Dragon of Marco Polo and his three other treasures before the sneaky Lord Sinister and his partners-in-crime did.
(view template)
2010/09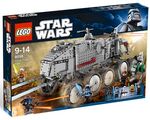 The set 8098 Clone Turbo Tank is a set released in July 2010 as part of the LEGO Star Wars: The Clone Wars line, although, it appeared in Dutch stores around late May 2010. The set consists of 1,141 pieces, which consist of an A6 Juggernaut, also known as a Clone Turbo Tank (CTT), and a small Scout Walker, similar to the AT-RT made in 2005 for the Revenge of the Sith line. The Tank features flick-fire missiles, troop seating in each of the two dual cockpits, a handle similar to the one in 7675 and 10195, and a small "Command Center" similar to the one included in 7676. Minifigures included are Anakin Skywalker (Clone Wars), one Clone Trooper (Clone Wars), one Clone Commander, Cad Bane, Ahsoka Tano, and Aayla Secura, who is currently exclusive to this set.
(view template)
2010/10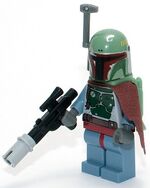 Boba Fett is a LEGO minifigure based on the character from the Star Wars movies with the same name. Initially released in the year 2000, Fett has appeared in a total of five distinct standard variations across eight sets, with two other promotional variants.
Boba Fett's first appearance was in the 7144 Slave I in 2000, and shortly after in the 3341 Star Wars #2. This form of Fett displayed his green Mandalorian armor on his torso piece, with light gray arms and dark gray hands. His leg piece was light gray and brown, and his head piece was black with no face. Fett's Mandalorian armor was completed with his helmet and jetpack, which was one piece. Instead of the helmet having the T-shaped visor printed on, the visor section was made into a gap, relying on Fett's black head piece to give the appearance of the helmet having a black visor, in a similar way to how Scout Trooper helmets are designed. The front of the helmet had printing on it around the visor section, as well as two black triangles above the visor and yellow rectangles on the top left-hand side. For the three sets in which this variant was released (the third set being in 4476 Jabba's Prize released in 2003), Fett came with one weapon- a black gun.
(view template)
2010/11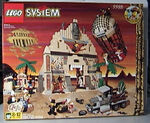 5988 Pharaoh's Forbidden Ruins, also known as 5988 Temple of Anubis is a LEGO Adventurers Egypt set, released in 1998. With 710 pieces this was the largest Egyptian set produced. The set contained a large Egyptian Temple, a truck, a balloon and 10 Minifigures. This set was also released as part of 9377 Adventurers combined set.
The Pharaoh's Forbidden Ruins is made up of four separate entities. These are two baseplates, a balloon, and a truck. Sam Sinister's truck has eight wheels. The front has a license plate. The cabin of the truck, where the Minifigures sit has a pressure gauge in the middle of it. Below that part of the truck are two curved parts. The top of the truck is open, and the roof can be raised or lowered. It has a small windscreen on the front. The truck has a chain in front and in the back there are two side fences to ensure the carried load does not fall off. There are two boxes to carry, each containing tools.
(view template)
2010/12

BIONICLE was a series of sets sold by the LEGO Company from 2001 to 2010. It is usually attributed to the LEGO TECHNIC line due to the inclusion of TECHNIC-specific elements and building-styles although being a largely independent product series. The sets were tied together by an elaborate original storyline that centred around bio-mechanical characters such as the Toa, which are generally large, powerful beings that usually serve good. The evil Makuta, which are servants of Makuta Teridax himself fight against the Toa. The story stresses the Three Virtues: Unity, Duty, and Destiny.
The name "BIONICLE" is short for Biological Chronicle (A common misconception is that it stands for Biomechanical Chronicle. Another misconception is that the word is derived from Bionic with a -le suffix).
(view template)
2011/01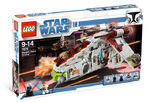 The set 7676 Republic Attack Gunship was released on July 26, 2008 as part of the LEGO Star Wars: The Clone Wars line. This LEGO set consists of 1,034 pieces used to build the Gunship itself, the small Speeder Bike, or the 74-7 Speeder, a small, removable Command Center (similar to the one released in the new 2010 Clone turbo Tank), Bacta Tank, and spy droids. There was an earlier version of the gunship released, 7163 Republic Gunship, released in 2002 under the Star Wars Episode II: Attack of the Clones line. The ship is used mainly as a transport for troops and is equipped with with some weapons. Included are Obi-Wan Kenobi (Clone Wars), Plo Koon, Asajj Ventress, Commander Cody, and Clone Trooper minifigures. The ship is also known as a Low Altitude Assault Transport/infantry (or LAAT/i).
(view template)
2011/02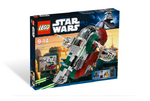 The set 8097 Slave I was released in July/August 2010 as part of the LEGO Classic Star Wars line. It was released early in the U.K. and in the U.S.A. on July 14 in most Toys 'R' Us Stores, and in August in most other stores. The set consists of 573 pieces, and includes Boba Fett (New Design), Bossk, Han Solo (New Design) and Han Solo (Carbonite, New Design) minifigures. This set is one of several released in 2010 to celebrate the 30th Anniversary of Star Wars Episode V: The Empire Strikes Back. This sets is also the fifth version of this vehicle designed by LEGO. (See: Other sets containing Slave I)
Although being another complete redesign of the Slave I, the model carries over many of the features from the most recent previous release of the set, the 2006 6209 Slave I. One of the most notable features of the Slave I is the fact that the wings rotate with gravity. When the ship is picked up, or placed in a sort of "flight mode", the wings rotate with to keep level with the ground as much as possible. Along the lines of the rotating wings, is the interesting design of the ship, giving it the ability to land flat on the bottom, but take off and fly at a 90 degree angle with the base pointing outwards.
(view template)
2011/03
6973 Deep Freeze Defender is an Ice Planet 2002 set released in 1993. It contains 3 minifigures and a large spaceship similar to 6982 Explorien Starship.
The Deep Freeze Defender consists of four separable modules (thus resulting in it being called a modular spaceship) that could be rearranged to form two smaller spaceships. The central section contains the rocket. When its top lid is opened the missile is erected into firing position. A sled is also included. It is slightly larger than the Space Scooter. On each side, is a magnet, allowing it to be stored inside the ship. It has no weaponry, and is a one-man vehicle. On top of it is the Ice Planet 2002 Logo and a pair of snowshoes. Also included is a rocket and a small satellite modelled after Sputnik. The rocket and satellite are the same as those in the Ice Sat-V. It has a magnet on it, allowing it to be carried by a ship, and the satellite can be attached on top.
(view template)
2011/04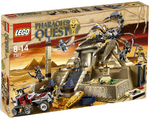 7327 Scorpion Pyramid is a January of 2011-released Pharaoh's Quest set, which was already available in stores in December of 2010. It includes a giant scorpion and seven Minifigures; these consist of three explorers, the Pharaoh Amset-Ra, a Flying Mummy, and two Anubis Guards. A prominent feature is the raised baseplate on which the pyramid is located, and a half-track with a machine gun. Also included is a Giant Scorpion placed above the entrance to the pyramid.
The explorer's vehicle is a two wheeled vehicle; instead of rear wheels, it features a pair of tank treads. The front of the vehicle has an engine grille piece, with some lights and wheels. The vehicle uses an older part from the Adventurers theme for seats. The windscreen is small (placed below a minifigure's line of sight when said minifigure is sitting down).
(view template)
2011/06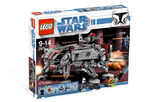 7675 AT-TE Walker was released on July 26, 2008 as part of the LEGO Star Wars: The Clone Wars line. The set consists of 798 pieces and includes Anakin Skywalker (Clone Wars), Ahsoka Tano, Rotta, Captain Rex, a Clone Trooper, and Battle Droid minifigure. The set also includes the main walker itself, and a small droid STAP, redesigned for the Clone Wars. Some notable features of the AT-TE include the ability open both the front and back hatches to reveal the interior, the opening cockpit with controls, the rotating roof-mounted blaster cannon, rotating front and rear ball turrets, and several removable modules. The AT-TE also has the ability to be picked up by the dropship from the set 10195 Republic Dropship with AT-OT Walker, via the retractable "handle" in the centre of the model. This is the second version of the AT-TE, the first being the 4482 AT-TE, released in 2002.
(view template)
2011/08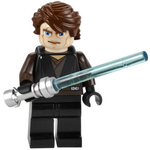 Anakin Skywalker is a Star Wars minifigure based on the character of the same name, first released in 1999, and has had a total of 14 variations made to date.
Anakin's first variations were released in 1999, making them among the first Star Wars minifigures to be released, based upon his appearance in Star Wars Episode I: The Phantom Menace. His podracer variant features plain tan legs, with a matching coloured torso. However, the torso has printing on it to better depict the clothing Anakin was known to wear at this time, with a dark brown belt, black lines to show the shape of the tunic, and brown printing at the top. The torso also has yellow hands. Anakin's head piece is yellow with black printing for his eyes and mouth, along with brown printing for eyebrows and freckles. This variant also has a light grey helmet piece to go on top of the head, with connecting dark grey goggles. Also released in 1999 was Anakin's first pilot variant in the set 7141 Naboo Fighter. This variant is exactly the same as his first podracer variant, except for the helmet- this one is instead brown with black goggles.
(view template)
2011/09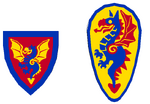 The Black Knights were one of the various factions of LEGO's Castle theme and were introduced in 1988. During its run, a total of thirteen sets were released as part this series, including two major castles, making it one of the larger LEGO Castle factions of this era. The black colour of their fortifications was one of the features that set the Black Knights apart from earlier factions. The Black Knights were also distinguished by their symbol, which was a blue wyvern dragon featured on their shields and banners, a motif that was also used by the Dragon Masters with different colours. The Black Knights were phased out as regular theme after 1994 but the crest still made occasional appearances until 1996.
(view template)
2011/10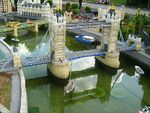 Miniland is an attraction in LEGOLAND Windsor which allows tourists to walk around landmarks recreated in LEGO form. The models are made entirely out of standard LEGO bricks, and are in various scales. People are also displayed around the models, made out of standard bricks, instead of being minifigures. The original layout took 100 model makers three years to complete.
(view template)