Comic-Con 1966 Batmobile is a promotional set released in Comic-Con 2014. It is based off the iconic 1966 "Batman" TV show Batmobile.
Description
The Batmobile is based off of the 1966 "Batman" TV show. The car itself in LEGO form is 13 studs long, 13 studs high, and 8 studs wide. The car is mainly black, with red highlights and spots of transparent brown. It has two seats with a divide in the middle. The front consists of mainly slopes to make the car look angular. On the sides is a red stripe near the bottom of the vehicle that goes through and on the mud-shields. After the second mud-shield near the back, the line gets higher. The back has wings made of 1x3x2 curved slopes. The car itself has it's back curve in on both sides to create a small "V" at the back. The exhaust is in the back of the car and in the back of the seats. The one in the back of the seats is represented by two black antenna elements.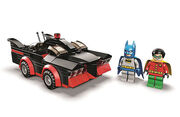 The Batman is this set is from the Juniors line and so is Robin. Batman uses a blue cowl, gloves, cape and tights. The face is the regular Superheroes Batman face with the scowl and the grin. He uses the familiar light grey suit also seen in The Dynamic Duo Funhouse Escape ,The Batcave and a few other Superheroes sets.
Robin is made with the Juniors exclusive face, portraying a grin and a shocked face. A short yellow cape accommodates the regular Robin torso. The hips are green and the legs being red. The figure again is not an exclusive to this set and he shows up in Batman: Defend the Batcave Juniors set.
Background
The Batmobile is very accurate to the sixties TV show, the only flaws are that there are only 2 exhaust pipes behind the seats whereas there should be 3. The Batphone is also in the divide between the seats along with other gadgets. A GPS tool that was also even used as a laser in the TV show was not shown in this set either.
Minifigures Included
Notes
This set is only sold at Comic-Con, which is in U.S.A.
This is the first LEGO Batman set mentioned to be based off of the 1966 TV Show.
Batman is also not based off of the 1966 Batman either. His belt does not include the bat symbol and Adam West's portrayal of Batman was not that muscular as he was often found doing detective work more than beating up thugs.
Gallery