This minifigure has only appeared in video game(s)
Although this article is about an official minifigure, it never existed in physical form or appeared in any official LEGO sets.

Commander Bly is a playable character who appeared in LEGO Star Wars III: The Clone Wars.
Description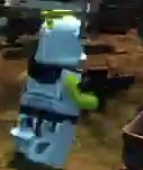 Bly's legs and torso are the same as the ones used for standard Clone Troopers in the game, except his arms are coloured yellow as opposed to white. Bly's helmet is also the same as a normal Clone Trooper helmet, apart from a strip of yellow which runs down the cetnre of the helmet, and entirely covers the helmet's crest. Commander Bly also wears a black pauldron of his left shoulder, and can also wear a grey rangefinder, which allows him to take command of groups of Clone Troopers in certain situations. In LEGO Star Wars III, Bly also has the ability to fire his blaster, jump, and interact with panels designated for Clone Troopers or Senate Commandos.
Background
CC-5052, nicknamed Bly, was a clone marshal commander who led the 327th Star Corps with General Aayla Secura. Bly participated in several battles throughout the Clone Wars, including the battles of Maridun and Felucia. He was part of the mission to protect the Lurmen villagers from harm. During the Battle of Felucia, Bly was contacted by Emperor Palpatine to execute Order 66, whereupon Bly proceeded to shoot Secura in the back, supported by repeated fire from other members of the Star Corps. Bly then went on to serve the Galactic Empire, at one point carrying out a mission with Darth Vader.
Video Game Appearances
External Links
Community content is available under
CC-BY-SA
unless otherwise noted.