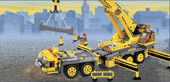 Work in Progress!
A work in progress is being carried out on this page by Grovyle4life, and may undergo critical changes while this message remains in place.
As a courtesy, please contact the user before making edits on this page.
If this template has been on the page for over one week, it may be removed.
Concept Art is a design, usually a very detailed preliminary drawing of minifigures or themes.
Knights' Kingdom II
Minifigures
Sets
Monster Fighters
Minifigures