"Bluelectro, one of the Spinjitzu Ninjas of Ninjago and a member of the Justice League. His powers were passed on to him by his real mother Jennifer Gordon. His Spinjitzu, Airjitzu, Electrokinesis and Elemental Powers can be used to help protect citizens from criminals and help out others. Once facing the criminals of Gotham, he suddenly became immune to Scarecrow's Fear Gas making the Blue Ninja the most fearless member of the Justice League."
―Batman narrating Bluelectro's stats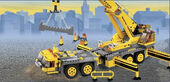 Custom in Progress!
This custom is not yet finished and is being modified by its creator, Bluelectro 2.9, and may undergo critical changes while this message remains in place.

Customs Article


This article describes a custom creation, custom theme, or other fan material, made by a Brickipedia contributor. It has never been, is not, and will not be officially released.

Bluelectro (alias Jason Jay Gordon) is a DC Comics and Ninjago Minifigure set to debut in 2017 alongside the DVD release of LEGO DC Comics Super Heroes: Justice League: Rise of the Spinjitzu Ninjas of Ninjago!. Before the DC event, Jay Walker was recruited by Wu to become a Ninja alongside Cole, Kai, Zane and Lloyd. The group became close friends, fighting against the Serpentine and the Stone Army, and during this time Jay formed a relationship with Kai's sister, Nya. After Lloyd defeated the Overlord, peace resumed until The Overlord returned and created the Nindroid army. A love triangle formed between Jay, Nya, and Cole, which remained after Zane seemingly died.
The Ninjas parted ways after Zane's death, but upon learning of his survival, they journeyed to Chen's Island and entered the Tournament of Elements. Cole made amends with Jay over his relationship with Nya, and the Ninjas and Elemental Masters fought Chen's army. Soon after, Jay would help the Ninjas battle Morro and a legion of cursed spirits, and they were then faced with Nadakhan, who trapped many of the Ninjas in his sword. Jay and Nya battled the Sky Pirates, but when Nya was killed, Jay used his last wish to undo recent events. On the Day of the Departed, Jay and his parents were attacked by a revived Samukai, who Jay defeated with help from Ronin.
Jay joined his allies in battling the Time Twins and their Vermillion army, as well as seeking the powerful Time Blades. Though their enemies were defeated, Wu was lost in the time vortex. A year later, Jay's parents had been killed by the Sons of Garmadon leaving him horrorstrucked and over emotional. He has been taunted by the leader of the Sons of Garmadon Harumi. The Overlord is resurrected, and nearly kills Jay in the most dangerous battle that strips Jay of his powers.
During a week being stranded in the realm, Jay temporarily gets seperated from the others, loses his courage and is feeling more emotional than ever. After hearing Lloyd's voice on a radio, Jay suddenly has his left eye cut out by a dragon. After reuniting with his friends, he's revealed to be 20 years old. Later, he was kidnapped along with his friends by a mysterious figure who happens to be Jay's real mother Jennifer Gordon, who had been stranded for 20 years. His tendencies to his mother had grown and is finally recovered from his grieves. Eventually, the Ninjas returned to Ninjago and helped Lloyd fight the Sons of Garmadon. In a climactic battle, Jay regained his powers and kills Empress Harumi, ultimately bringing Ninjago to peace. After the final battle, Jay and the Ninjas jump into the portal leaving Ninjago and arriving on their new home world Earth, where they became new members of the Justice League.
Background
Before joining the Justice League and getting his super hero name, he was a member of the Ninja team.
Biography
Early Life
Jay was born the son of famous actor Cliff Gordon and the Elemental Master of Lightning Jennifer Gordon. As a baby, his father was killed by a mysterious stranger who targeted him. Jennifer runs off, abandons Jay, and left with a key of his future house at the doorstep of an inventor couple, Ed and Edna Walker, the owners of a large junkyard. The two adopted Jay as their own son.
Seven years later, he was watching a Fritz Donnegan movie on TV with Edna. When Ed arrives home, Jay runs up to him in excitement and hugs him, telling him that Fritz Donnegan is his favorite comic book hero, much to the Walkers' delight of seeing him repeating Fritz's line "Fear isn't a word where I come from!". Ed picks him up and tells him when he gets older, he'll be a lot like Fritz Donnegan and using what he and Edna said in the scrap business "Keep your emotions under control and focus on the problem at hand.", to which Jay agrees with, telling Ed that he always cheers him up and being good at it (for Jay, totally awesome at it).
One morning, Jay took off to test one of his inventions, a set of Mechanical Wings, for apparently the sixth time. The wings worked well, even spinning twice but Jay ended up crashing into a billboard. As he picked himself up on the rooftop he fell onto, he met Master Wu. He claimed he was a dreamer himself and he can build the impossible. Jay soon took up residence at the Monastery of Spinjitzu and began his training, meeting Cole and Zane in the process, all the while, remembering what Wu told him the first time they met.
Finding the Golden Weapons
Way of the Ninja
Master Wu eventually recruited another Ninja, a young blacksmith named Kai whose sister had been abducted by the Skulkin. As Kai neared the end of his training, Jay and the others infiltrated the Monastery and surrounded the blacksmith.
The Golden Weapon
Their fight against Kai eventually took them out into the training yard only for Wu to break up the fight. Like the others, Jay was reluctant when their Master revealed Kai would be the fourth member of the team, stating that there is only ever teams of three in stories. Wu quickly quieted the matter and provided the Ninja with new gi using Spinjitzu. Jay was given a blue suit, as Wu pronounced him the Ninja of Lightning. Wu proceeded to explain their purpose, to which Kai interjected about when they would save his sister. Jay immediately expressed interest that they were saving a girl, but Wu announced that they would now leave to claim the first Golden Weapon.
As a team building exercise, Wu had the Ninja pull him in the carriage to the Caves of Despair. On the way, the four Ninja told the circumstances of how they met Master Wu and agreed that if it hadn't been for their master, they would never be seen together.
Upon arriving at the Caves of Despair, Jay asked Cole about the plan to infiltrate the Skulkin camp, but was unable to execute it as Kai ran off on his own. The three other Ninja followed and after stealing the map to Golden Weapons from Samukai, managed to locate the Scythe of Quakes. The Ninja hoped to sneak out while the Skulkin were busy, but Jay unintentionally alerted the skeletons to their presence and thus were waiting when the Ninja emerged from the caves. The Ninja faced their foes and in the process, Jay learned how to unlock Spinjitzu which he quickly passed on to the others. The Skeletons quickly retreated, as the Ninja unfortunately had awoken the Earth Dragon. After Kai attempted to use the Scythe to stave off the beast, Jay used Spinjitzu to escape.
King of Shadows
After getting the Scythe, the Ninja and their master set out to find the next three Golden Weapons. Traveling by boat, Master Wu told the four about the Tornado of Creation and its capabilities. When they reached the Ice Temple in the Frozen Wasteland, Zane grabbed the Shurikens of Ice—unfortunately the weapons froze him solid and awakened the Ice Dragon. Jay joined his comrades in lifting the frozen Zane and using him as a sled to retreat to the boat.
Their next stop was the Floating Ruins, where they sought the Nunchucks of Lightning. Jay grabbed the Nunchucks, and the Ninja escaped from the Lightning Dragon with his gliders. They ended up in the Forest of Tranquility, where they made camp for the night. During the night, Kai spotted Nya and followed her to the Fire Temple. Unbeknownst to Kai, this was a trap set by Lord Garmadon, both to claim the Sword of Fire and to leave Jay and the others vulnerable to an ambush.
Along with Cole and Zane, Jay was captured when the Skulkin ambushed their camp, taking their Golden Weapons in the process. Jay managed to free himself and his friends after stealing a sword from Nuckal, and the Ninja battled the skeletons as they tried to escape to the Underworld. After a fierce battle, the Ninja were knocked off of the Skulkin's vehicles as they disappeared into portals, with Jay suffering a blow to the throat that left him unable to speak.
Weapons of Destiny
Jay and his teammates went to the Fire Temple in search of Kai and Master Wu, only to see the temple opening up to allow the Fire Dragon an exit. Jay stared in surprise as Kai explained that he had befriended the dragon after revealing that the Ninja were trying to protect the Golden Weapons, but his attention was quickly drawn to Nya as she explained that dragons can cross into the Underworld. He rasped something that Zane translated as a question about Nya's favorite color and briefly celebrated when she revealed it to be blue.
In order to pursue Master Wu and the Skulkin, the Ninja recruited the other three elemental dragons, with Jay taking the Lightning Dragon as his steed. After the dragons crossed over to the Underworld, the Ninja tried to sneak into Lord Garmadon's fortress by jumping across the stalactites on the ceiling. As they moved over the fortress, Jay suddenly began panicking, only for the others to brush off his unintelligible babbling. However, the other Ninja soon realized what Jay had already discovered: they were holding onto Spykor legs instead of stalactites.
In their shock, they fell into the courtyard outside the fortress, where they were quickly surrounded by Skulkins and Spykors. In response to Cole's demand for an idea for fighting the horde, Jay attempted to suggest the Tornado of Creation. Although the others repeatedly misinterpreted his rasping, Jay finally got his point across when he recovered from his injury and screamed "Tornado of CREATION!" at the top of his lungs. Despite the risks, the Ninja used their Spinjitzu to perform the Tornado of Creation, defeating their foes in seconds.
With the skeletons defeated, the Ninja proceeded to enter Garmadon's fortress, where they found Master Wu battling Samukai for possession of the Golden Weapons. During the fight, Jay enjoyed a cone of cotton candy he had somehow procured, only for Kai to knock it out of his hand as Master Wu was defeated. Jay watched Samukai's attempt to betray Lord Garmadon backfire as he was overwhelmed by the combined power of the Golden Weapons, creating a portal that Lord Garmadon quickly escaped through. With their enemies gone for the time being, the Ninja collected the Golden Weapons and returned to the mortal world with their master. Back at Four Weapons, they reunited with Nya and renewed their pledge to protect the world if Garmadon—or any other evil—surfaced.
Ninjago at Peace
Secrets of the Blacksmith
Jay flew Nya back to Four Weapons with his Lightning Dragon (now named "Wisp"), so she could gather her things and move in with the Ninja. Unbeknownst to him, Nya was attacked by Wyplash and three of his minions within the shop. The sound of a fight caught his attention, prompting him to hurry into the blacksmith, only to find Nya calmly packing the rest of her possessions. He asked her what the sound was, but she replied that it was "just some Samurai helmets and stuff." With that, Jay and Nya climbed aboard the Lightning Dragon and flew back to the Monastery of Spinjitzu.
Flight of the Dragon Ninja
Although Master Wu told the Ninja to continue their training, they opted to spend their time racing on their dragons. Jay won the race one day, and began bragging that he was the best Ninja because of it. In response, Cole challenges his friends to another race, with the winner becoming "Dragon Master" for a month.
During the race, Cole and Jay sped through the forest, with Wisp's agility allowing it to dodge around the trees. The group approached the Monastery neck and neck, but Cole arrived first by dangling a chicken in front of his Dragon's nose. When Cole proclaimed himself "Dragon Master" for a month, Jay and the others claimed that they never agreed to those terms, challenging the Black Ninja to another race the next day.
The New Masters of Spinjitzu
One night, while the Ninja were sleeping, Kruncha and Nuckal infiltrated the Monastery of Spinjitzu to steal the Golden Weapons. Jay proved to be the most difficult Ninja to separate from his weapon, as he was cradling the Nunchucks of Lightning in his arms, but the skeletons managed to replace the nunchucks with a cotton candy cone before Jay could wake up and notice the switch. Luckily for the Ninja, Kruncha and Nuckal quickly discovered that they could not control the Golden Weapons, causing them to accidentally activate the training course and batter each other with out-of-control Spinjitzu.
Jay was stirred from his slumber when he heard Kai yelling that the training course had turned itself on again. In response to Kai's demand for the glitch to be fixed, Jay grumpily yelled that he would look at it in the morning, apparently unaware that his weapon had been replaced in his arms. He was soon fast asleep once more, preventing him from noticing the Skulkin Generals replacing the Nunchucks of Lightning in his arms before making their exit.
Battle Between Brothers
After Wu told Zane there were many years of peace after Garmadon was banished to the Underworld, Jay flew overhead on his Dragon, causing Zane to tell Wu those days are over.
Rise of the Snakes
Rise of the Snakes
With peace throughout Ninjago, Jay and the other Ninja fell out of training and instead spent their time playing video games. After a three hour marathon, they were interrupted by Wu who unplugged the TV, who encouraged them not to put off tomorrow what could be done that day and start training again to prepare for his brother's return to Ninjago. At that moment, Nya rushed in bringing word that Garmadon was spotted in Jamanakai village. The out-of-shape Ninja then rushed out the door and down to the dragon pen where Jay attempted to mount the Lightning Dragon but overshot its' saddle.
Eager to get back in the fight, the ninja raced each other to Jamanakai village, but upon arrival Jay argued with Kai who had arrived first. They were interrupted by the sound of evil laughter from the village and drawing their weapons, approached the village ready for battle. However,the Blue Ninja was surprised to find that it was in fact Lloyd Garmadon, the dark lord's son, who was in fact causing trouble saying that he will release the serpentine, an ancient race of snakes which once ruled Ninjago, for candy. The Ninja tied him at the top of a sign, embarrassing him in front of the villagers as they mocked him by eating candy.
As they prepared to return to the monastery, Kai discovered the prophecy of the Green Ninja in Wu's bag which he had taken by mistake. Jay believed himself to be the Green Ninja as did the others so when they returned to the monastery, the four Spinjitzu masters challenged themselves to a tournament for the title. Jay faced off against Kai in the first round, though lost and announced the final round between Kai and Cole. However, the tournament ended when Kai lost control of the Sword of Fire and the Ninja were scolded by Master Wu.
Determined to be the Green Ninja, Jay and the others devoted themselves to training. They were soon ordered back to Jamanakai Village by Wu however as Lloyd had unleashed the Hypnobrai tribe of Serpentine. This time Jay successfully mounted the Lightning Dragon and upon arriving at the village, met up with Nya. After discovering they would need the anti-venom from the General's staff to save the village, the Ninja split up and after a fight with the snakes, sent them retreating.
Home
With the threat of Lloyd and the Serpentine looming, Jay and the other Ninja resumed training with gusto. Jay was deflecting arrows with his Nunchucks when Zane suddenly whirled past him, breaking his concentration. After the other two Ninja were similarly interrupted, they questioned Master Wu about Zane's oddities, with Jay recalling a time that Zane laughed hysterically at a romantic moment in a movie he was watching with Jay and Nya.
The discussion was interrupted when the Mailman arrived with mail for the Ninja, including a letter from Jay's parents. Noticing that Zane had not received any mail, Jay asked the White Ninja why he never receives any letters from his parents, learning that Zane had been an orphan all his life.
Later that night, Jay joined his friends in laughing at Zane's pink apron before engaging in a food fight in an (unsuccessful) attempt to make his stoic comrade laugh. The next morning, he and the other Ninja were dragged to Wildwood Forest by Zane, who claimed that he had followed a bird to something important. Jay quipped that Zane might have seen a "cuckoo bird," but Zane missed the joke, commenting that cuckoos were non-indigenous to the area.
Nonetheless, the Ninja eventually came upon what Zane had found the night before: a massive arboreal fortress being built by the Hypnobrai for Lloyd. Realizing that Lloyd was trying to get a foothold in Ninjago, the Ninja decided to destroy the fortress, with Kai suggesting that they destroy all three ropes holding up the fort. Jay and Zane ascended the fortress by nimbly jumping up the side of an elevator, and each took position next to one of the ropes supporting the structure.
Once Cole and Kai were in position, Jay used his Spinjitzu to cut his rope, destabilizing the fortress. After Zane cut the second rope, Jay met up with Kai on the roof, planning to jump clear as Cole cut the final rope. Unfortunately, Cole instead opted to leap from his perch and attack his teammates—Zane realized that Cole had been hypnotized by one of the Hypnobrai. With time running out, Jay reluctantly used the Nunchucks of Lightning to electrocute his friend, hoping to literally shock him out of his trance, but the attack failed to break the spell.
Before Cole could bring the fortress down on himself and his team, Master Wu and Nya arrived on Flame's back, with the former playing a flute that breaks Cole's spell. Jay accompanied the others in jumping off the roof moments before the entire fortress collapsed, landing on the Fire Dragon's back as it flew to safety. When returning to the Monastery, they find the entire building demolished and burned to a crisp, causing the Ninja to turn on Zane and blame him for destroying their home. When they go to apologize, however, they find Zane leaving on his Dragon, Shard. Later that evening, Zane returns and explains he was following the falcon, which led him to Destiny's Bounty, the Ninja's new home.
Snakebit
The Ninja were awoken the next morning by Master Wu and Jay immediately went to brush his teeth only to discover that the faucet was filled with dirt. Due to their new home not being in the best shape, Wu ordered the Ninja to spend the morning cleaning it up. Jay used the Nunchucks of Lightning to get the ship's power working, then used Spinjitzu to clean off the deck.
With their hard work over, the Ninja celebrated by playing video games, but were interrupted by the arrival of Jay's parents; Ed and Enda. He reluctantly gave them a tour of the ship, but was constantly embarrassed by them in front of the Ninja. Towards the evening, he was finally able to get rid of them by ushering them back to the junkyard due to the Serpentine being about, but not before Edna told the other ninja of how he used to kiss his pillow.
The next day, Jay keeps his promise to his father and visits the junkyard with the other on foot, as the Ninja's Dragons migrated east to begin a transformation in their stage of life. When they arrive, the place is quiet, which worries Jay, since his parents are "never quiet." He finds Ed and Edna captive and beginning their transformation to snakes. While the Fangpyre fight the Ninja, Master explains the only way to change Jay's parents back is to get the staff from the anti-venom. After discovering their weapons have the ability to transform to vehicles, Jay uses his Storm Fighter plane to steal the Snake Staff from the Rattlecopter. Nya creates the anti-venom before she accidentally loses the staff, and Ed fixes the "defense system" Jay was working on earlier in the episode, allowing them to take flight and escape the Fangpyre.
Never Trust a Snake
Jay joined the other Ninja in asking Zane about what he saw in a dream about the Green Ninja, causing them to slack off on their training. As punishment, Master Wu tells the Ninja that they must train constantly until they answer a riddle: "What is the best way to defeat an enemy?" Jay immediately answers, "with your fists," which is incorrect, so the Ninja must train until they figure it out.
The moment Master Wu leaves them alone, however, Zane resumes telling everyone about his dream. Jay insists that he must be the Green Ninja because in Zane's dream, the Green Ninja had nunchucks, like Jay. While they're arguing, Master asks if they found the answer. Kai answers incorrectly with "train?" so they have to go back to training, but Jay says he can't focus unless he knows who the Green Ninja is.
The next day, the Ninja all agree that the answer to the riddle is "teamwork," only to find that they are incorrect again. When Nya reports that Lloyd and his new Serpentine minion—Pythor P. Chumsworth—are at Darkley's Boarding School for Bad Boys, Jay is reluctant to go, as the school is for the "crooked and misbehaved." After being persuaded by Cole, however, he comes up with a plan to use the anchor of the Destiny's Bounty to surprise the villains. Unfortunately, the impact pushes the Ninja to the bottom floor, forcing them to make their way up to the roof while avoiding Lloyd's booby traps.
Jay takes the elevator and nearly falls asleep due to the music. When he arrives at the top floor, Cole (still recovering from one of the traps) points him in the direction of Pythor. making Jay the only Ninja to reach the villains. Before he could engage Pythor and Lloyd, the scheming Anacondrai betrays the boy, taking his map and leaving him all alone with Jay. The Blue Ninja apprehends the would-be evil overlord as Master and Nya arrive on Destiny's Bounty along with the other Ninja. The Ninja try to think up a suitable punishment, but Master knows what to do.
Later that night, Jay along with the other Ninja are furious that Lloyd was read a bedtime story and not being punished and they had to spend all day training. Master reveals the answer to the riddle: To make the enemy your friend. This changes Jay's mind about Lloyd.
Can of Worms
Wanting to get some training with the Sparring Robot on difficulty level 2, Jay was told by Lloyd that Zane tried to repair it, making it stuck in level 9. He and the other Ninja scolded each other until it was revealed Lloyd was behind the rumors, with Master Wu requesting him to do so.
Over the speakers, Nya announced that the team is needed on the bridge. After arriving, Jay was able to figure where the Venomari and Constrictai Tombs were located.
Jay was assigned with Kai to search the Toxic Bogs for the Venomari Tomb. Having found it empty, they, along with Cole and Zane intending to warn them about the trap, were surrounded by a hoard of Venomari and Constrictai. They jumped on a log to escape, only to slowly float away while the log dissolves in Toxic. However, they were saved by the mysterious Samurai X, who knocked them out with sleeping gas.
Upon reaching the Serpentines' headquarters to prevent Pythor from uniting them, Jay and the Ninja started messing with them to catch them off guard. The Serpentine, however, were able to capture them, except for Zane, who eventually freed them.
The Snake King
Jay ate with his fellow Ninja in the wake of their failure to stop Pythor from unleashing all of the Serpentine tribes, discussing the loss of the Sacred Flute and the mysterious Samurai X. He was particularly enraged when the mysterious samurai repeatedly beat the Ninja to every crisis, and agreed to the bet that whoever caught the samurai would be worthy of being the Green Ninja.
Jay attempted to trick the samurai by disguising himself as a woman and tying himself to railroad tracks in the path of an oncoming train, only for Samurai X to redirect the train instead of grabbing him. Later, Jay accompanied his fellow Ninja in searching for Lloyd, who had gone missing. Their search led them to The Lost City of Ouroboros, where they discovered that Pythor had successfully united the Serpentine under his own leadership and captured Lloyd. Their rescue attempt was thwarted by a trap in the arena, and Jay found himself and his allies deprived of their Golden Weapons and forced to fight Samurai X in the Slither Pit. The enigmatic samurai managed to help the Ninja escape and retrieved the Golden Weapons, but his Samurai Mech crashed in the desert and separated Kai from the others. When Kai returned with the Golden Weapons, Jay asked about the samurai, but the Red Ninja claimed that Samurai X had simply given back the weapons and left without a word.
Tick Tock
With the Serpentine's threat growing greater by the day, the Ninja continued to push themselves further in their training. Jay once climbed atop a massive skyscraper in the middle of a raging thunderstorm, balancing himself atop a lightning rod with one hand and performing various acrobatics. He later bore witness to Zane breaking his old breath-holding record, sharing his teammates' shock when the White Ninja remained underwater for over ten minutes.
Once Bitten, Twice Shy
After listening to Nya's theories on how an increase in heart rate might be able to counter the bite of a Fangpyre, Jay asked her out on a date, to which she agreed. In his joy, Jay accidentally pricked himself on the fang of a Fangpyre skeleton, causing him to slowly transform into a snake. Nonetheless, he took Nya on a date, which ended up being at the Mega Monster Amusement Park when the Ninja discovered Pythor and the other Serpentine searching for the first Fangblade.
In the process, Jay learned that Nya was Samurai X and ended up trapped on a roller coaster ride meant to destroy him and his girlfriend. However, Nya was able to cure his Fangpyre infection with a kiss, and Jay unlocked his True Potential to save Nya and himself from the trap, although Pythor still escaped with the Fangblade.
The Royal Blacksmiths
Jay, along with the rest of the Ninja, are trying to think of ways to stop Pythor. Jay mentions he can't believe Nya was the Samurai all along, but Kai, who is still hotheaded about not unlocking his True Potential, scolded him. They eventually found out that one of the Fangblades was turned into the Blade Cup, which can only be won from the Ninjago Talent Show. They then agreed to win it, but without letting Cole's father know they're Ninja.
Later, when they reached Lou's house, Cole had the Ninja hide their weapons inside an instrument case, explaining that they can't let him know they're Ninja. After they were let in, Lou explained that the Blade Cup will be given to those who earned it.
The Ninja start training, but realized Lou is stricter than Wu. Inspired by Lou's pep-talk to earn it the right way, Jay suggests they win it rather than steal it, which was rejected by Cole. Later, the Ninja trained outside, unaware that Pythor and Skales are watching them.
At the Concert Hall, Jay accidentally bumped into Kai and demanded him to follow him. Cole, annoyed, told them to just stick to their plan and steal the trophy once it's been revealed. Jay watched as Lou, having heard this, told Cole that he couldn't be proud to have a son who wanted to steal. After trying to comfort Cole, they spotted the Treble Makers and wondered why they were there. After seeing Pythor, wearing a fake beard as a disguise, as a judge, the Ninja were surprised to hear Cole suggesting they win the trophy their way.
On stage, the Ninja dance to The Weekend Whip while a few Serpentine attacks them. Cole successfully performed the Triple Tiger Sashay, which surprised everyone. After winning the trophy, Cole allowed the team to celebrate without him, as his father wasn't there to watch him. This was proved false, as Lou said otherwise and said he's a hero.
Suddenly, Pythor attacked the group and crushed Lou and Cole. The Ninja noted that Cole unlocked his True Potential and that his relationship with is father must have been holding him back. When they got back to Lou's house, he put up a picture of the Ninja and said they're all part of the family now.
The Green Ninja
After training with Cole and Zane on the Bounty's deck, the Ninja found Kai in the Green Ninja gi trying to unlock his True Potential. Hearing Wu announce he's home, everyone but Kai went to greet him. Jay told his Master about Zane being a Nindroid, Nya being the Samurai, and Cole's past, much to his confusion. When Kai joined them after having changed back to his own gi, Garmadon emerged behind Wu, shocking the group. When Wu explained he's there for his son, Jay reluctantly agreed to let Garmadon stay at the Bounty. At the bridge, Jay informed Wu that Pythor has three of the four Fangblades, and how they discovered Zane is a robot.
During a montage, Jay and the rest of the team watched as Garmadon brushed his teeth with a nail file. While admiring Nya watch a romance movie, Garmadon changed the channel, annoying them both. When the Ninja are trying to sleep, they were kept awake by Garmadon's lightning.
The next day, Jay told Kai he's supposed to be in the bridge and that the Falcon found the Serpentine and Lloyd heading toward the Fire Temple. When Kai went after Garmadon (assuming he was trying to steal the Golden Weapons) Jay tried to break them up, but the door was locked, causing Cole to break it down with his True Potential.
The Bounty finally landed at the Temple's entrance, and the Ninja put their weapons away as the volcano is too unstable. After fighting off the Serpentine, Jay tried to convince Kai to leave the Fangblade and the Temple before it erupted, but failed and was forced to leave (leaving Lloyd behind in the process).
After the volcano erupted, Jay was surprised to find Lloyd and Kai, who unlocked his True Potential. After the latter explained his training was to protect the chosen one, Jay watched as the Golden Weapons reacted to Lloyd. Jay then asked about the Fangblade left in the Temple, which is now in Pythor's possession.
All of Nothing
The Ninja chased down Spitta to make him tell them where the last Fangblade was. At the Bounty, Nya calculated that by the time they get to the Fangblade's location, they would be too late. When Lloyd suggests they steal the other three Fangblades, the Ninja realized they don't know where they are and that Pythor could have some Serpentine guard them. With that, they decide to head toward the Serpentine base.
The next day, the Ninja are training while Wu tested them about the Serpentines' powers. Once they reached the fortress, Jay was confused as to why it isn't guarded, unlike what Zane predicted. After Cole discovered a hidden door, the Ninja, Wu, and Nya went in, only to find too many Serpentine to deal with.
Unfortunately, the Ninja have been spotted, and was forced to fight them, with Jay's armor protecting him from the Venomari Venom. After Cole went toward the Fangblades, he triggered a trap and the team is imprisoned in a Vengestone cage and their weapons taken away. Nya was able to tell Lloyd about their status via her now faulty Samurai Mech.
Waiting for Lloyd to save them, Jay and Cole passed the time by playing checkers. Just as Jay was about to be kinged, Kai took one of his pieces—a tube of hair oil—and was able to slip through the gaps between the bars. The rest of the Ninja helped by swinging the cage back and forth. However, they made too much noise and was caught by Pythor, who put cuffs on them to prevent them from escaping.
After Lloyd made his way to the fortress, Garmadon appeared with an army of Skulkin to help fight off the snakes. Lloyd freed the Ninja, and Cole took the Fangblades from Pythor. Not knowing where he went, the Ninja escaped back to the Bounty. There, they celebrated getting all four Fangblades back and Garmadon's help, unaware that Pythor made his way into the ship.
The Rise of the Great Devourer
As the Destiny's Bounty flew towards Torchfire Mountain, Jay ate a sandwich in the dining room and conversed with Kai and Nya about the Fangblades and Lloyd's destiny as the Green Ninja. Cole burst in during the conversation, rather ill from the turbulence of the ship, and Jay only provoked his nausea by offering him a bite of his sandwich.
The next morning, the Ninja were preparing to throw the Fangblades into Torchfire Mountain when Master Wu began speaking oddly, having foreseen his own death in the near future. Jay did not understand his mentor's words, but further discussion was halted when the ship suddenly jerked to one side. Jay joined his peers in forming a human chain to catch Master Wu before he fell into the volcano, but this allowed Pythor (who had snuck aboard the ship and sabotaged the engines) to retrieve the Fangblades and make his escape on a Rattlecopter.
After Nya saved the Ninja and Master Wu with her mech, Jay joined his comrades in pursuing the fleeing Serpentine. When the snakes transformed their getaway vehicle—a Tour Ninjago" bus—into a mobile fortress, Jay helped Nya draw its fire so Zane could disable the heavily-armed rear section. With the train's main weapons removed, Jay joined the others atop the next car, where they agreed to race each other to the front. In the resulting race, Jay opted to swing through a window and perform Spinjitzu immediately upon landing, allowing him to knock the Serpentine occupants out of the car before he could even register the effect of his attack.
Eventually, Jay reunited with his team at the front of the penultimate car, with only Pythor and the Fangblades ahead. Before anyone could move in, Master Wu dashed to the other side of the connector and disconnected the front car from the train, leaving his pupils stranded in the desert while he confronted Pythor himself. Jay waited on the remains of the train until Lloyd came by with the Destiny's Bounty and airlifted the vehicle to Ouroboros. Unfortunately, the Ninja arrived too late—Pythor had already revived the Great Devourer.
Day of the Great Devourer
After witnessing Wu getting eaten by the Great Devourer, the Ninja ran toward the Bounty. Even after throwing stuff off the ship, the Devourer grew bigger by consuming everything thrown off. They eventually fled the Bounty and watched as the Devourer swallowed it in one bite. Jay suggested they take refuge at the Serpentine underground base, but Kai motivated them to keep going. Jay sarcastically mentioned they use the Sacred Flute, which gave Kai an idea to build the Ultra Sonic Raider.
At Ed and Edna's Junkyard, Jay checked if his parents are home, but they're not. The Postman came by to give Ed and Edna their mail, but told them they were probably at the Take Back Ninjago Rally. The Ninja built the Raider just as the Devourer was going to attack them. They held the snake down and Kai noticed a weak spot on its forehead. After Jay took note about the spot, Nya pointed out that the Devourer is headed toward Ninjago, where everyone is.
Just as the Devourer was going to consume Jay's parents, he shocked it, making it attack other parts of the city. After Garmadon found them, he asked for the Golden Weapons to defeat the Devourer and tasked them with making the Devourer stay still. After doing so, Garmadon struck the snake on its forehead, killing it. However, Garmadon is gone, taking the Weapons with him. They found Wu, who survived, and went to greet him. The Ninja later promised to help Lloyd train for the Final Battle.
Legacy of the Green Ninja
Darkness Shall Rise
After the Great Devourer's defeat, the all the Ninja, except Kai, who's complaining about the problems the Devourer caused, are helping fix up Ninjago City. Later, Nya and Wu told them about a real estate agent named Patty Keys, who can provide them a new home and training equipment for Lloyd.
When Patty shows them to their new home, they were not impressed as everything is worn-down. When Jay hinted he wants another room, Patty shows them to another suite, which includes video games, a training course, and a place for the Dragon to rest, but they need to work in order to pay off the rent.
Jay worked as a pizza deliverer, which goes well until he wasn't paid by a customer. When he got home, he was too exhausted to play games, but delivered more pizzas to pay off the rent as soon as possible. Later, Jay has to go across town in five minutes. On the way, however, he saw someone getting mugged and decided to help. After helping and getting to his destination, Jay noted that it's vacant. Hearing Serpentine talking about robbing the bank, he decides to get closer but was captured by Acidicus.
After being tied up, Jay saw a map leading to the bank. With no way to escape his bonds, he hopped his way through the subway to warn the team. He eventually found the Ninja, but the train they're on is headed towards them and won't stop. He fell over trying to hop away, but the train was stopped just in time.
After learning Nya and Wu had to save Lloyd, they decided to move back into the apartment Patty originally offered them.
Pirates Vs. Ninja
Jay and the other Ninja began to train Lloyd in their apartment, though soon realized their conditions were unsuitable for the task. They set out into the city to search for a better place and soon came upon Grand Sensei Dareth's Mojo Dojo. There, the Ninja were each able to give Lloyd lessons as Jay instructed him how to be light on his feet.
Following their first session training Lloyd in the dojo, the Ninja exited to find the city under attack by Captain Soto's pirates. The Ninja quickly boarded a bus and raced towards the boat. After stopping by Wong's Costume to disguise themselves as pirates, Zane and the others boarded the ship and confronted Soto's crew. After a brief fight and with the help of the Ninja, the pirates were eventually subdued.
Double Trouble
As the Ninja are training Lloyd, Jay gives advice on how to control his powers. When he fails to do so, Lloyd blames him for pressuring him too much. Wu tries to cheer him up by telling him to be patient. Nya invites him to the auto body shop and hands Wu a letter saying there's going to be a ceremony in the Darkley School of Great Children. They head out via the Ultra Dragon.
After Lloyd's reckless flying, they reached Darkley's. Jay and the rest of the Ninja met Brad, who showed them to Principal Noble's office. After it's been revealed that it was actually Gene, the Ninja were knocked out by sandbags.
Waking up in a room of teachers held captive, Zane suggests they find secret passageways to escape. They did so, only to be greeted by the Bizarro Ninja Lord Garmadon created. They fought, but worried the battle may never end due to the fact that they were equally matched.
When the students, dressed in Ninja gi, charged at the Bizarro Ninja, they were able to defeat them. After a real ceremony, Jay rode the Ultra Sonic Raider back to the Dojo.
Ninjaball Run
When a wrecking ball disturbed Lloyd's training, the Ninja asked Dareth what was going on. He explained he fell behind on his payment and if they can't get $50,000 by the next day, they won't have a place to train the Green Ninja. Nya informed them about Ninjaball Run, a race that will grant the winner $100,000.
The next day, Lloyd entered the race with the Ultra Dragon and the Ninja took the Ultra Sonic Raider. Nya tried to tell them about a lever she installed, but due to the loud atmosphere, they can't hear what it does.
When the race began, the Raider's wheel has been sabotaged, and they are in last place. They eventually passed some competitors, and can't escape Garmadon on the Black Bounty. Lloyd unintentionally saved them, and he decided to help them find a shortcut in Birchwood Forest.
Shortly after entering the Glacier Barrens, the Raider is running out of fuel, and Jay's parents offered them their gas. Afraid of losing their place, they were forced to exchange fuel while driving. Garmadon sent the Serpentine to attack the Ninja, and they easily fend them off. However, they crashed, and Jay took a loose part of the jalopy and attached it to the front of the Raider.
At the final stretch of the race, Garmadon used his Mega Weapon to create a chasm too wide for the Raider to drive pass. Kai pulled on the lever to reveal wings. The others jumped on, and they crossed the finish line before Garmadon thanks to the jalopy's part. They took the Bounty back, and celebrated their victory.
Child's Play
Jay, along with the other Ninja are turned into kids by Lord Garmadon and are chased by the Grundle. He and his friends try to defeat the Grundle, but the beast is only defeated when Lloyd uses Tomorrow's Tea to undo the effects of the Mega Weapon, reducing the Grundle to a skeleton and aging the Ninja (including Lloyd) back to teenagers once again.
Wrong Place, Wrong Time
Lord Garmadon uses the Mega Weapon to go back in time and make it so that Lloyd would never become the Green Ninja. The Ninja later find out about his plan and jump into the portal Garmadon created with his Mega Weapon to stop him. The Ninja get back in time and fall through a portal. They find themselves in Ignacia, at the time Wu came to Kai's shop and even before Skulkins attacked the land. They catch old Wu and explained him about the situation. This time, skeletons didn't kidnap Nya and Kai from the past had no will to become a Ninja. Wu then leads him and Nya to the monastery. Jay, Zane and Cole decided to dress like skeletons and kidnap Nya so past Kai can get a reason to become the Ninja. They did that, and Garmadon took Nya to the Fire Temple. Jay, Cole and Zane took the past golden weapons to destroy the Mega Weapon and Jay, along with other Ninjas comes back safely.
The Stone Army
After waking up for sunrise exercises, Wu told the Ninja the Ultra Dragon made a mess that has to be cleaned up. When Lloyd told them they couldn't give him the chores, they played a wound of Rock, Paper, Clamp, with Lloyd losing. Cole told him he needs to be responsible with a Dragon, but the latter informed them that his mother abandoned them. Nya came and told them they were needed at the Museum.
Turns out, the Great Devourer's venom brought the Stone Warrior merchandise to life. The Ninja were tasked with keeping them under control, but accidentally wrecked the exhibit up. After finding Wu, the Ninja noticed he was talking with someone, who turned out to be Lloyd's mother, Misako, much to their surprise. He watches as Lloyd walks away from her when she wanted to explain why she was gone.
After finding Misako and Lloyd at the Bottomless Pit exhibit, Misako told them about the balance of light and darkness and the Overlord. A Giant Stone Warrior approached them, and with Kai not being able to defeat it and Misako saying it was made from an indestructible material, the Ninja were forced to run instead. Lloyd, told them to distract him long enough so that he can set up a trap. They did so, but eventually had to run away.
The Day Ninjago Stood Still
Jay helped train Lloyd to fight without using his eyes in Dareth's dojo, but they were soon interrupted by a series of earthquakes. They halted their training to tune into the news and learned that the aftershocks were getting worse. Kai immediately blamed Garmadon, though Misako pointed out that the Dark Lord would never do anything to harm his son.
The Ninja began to patrol the city for danger and even save a woman who was trapped by the collapsing street. The city soon falls under attack by the Stone Army and Master Wu orders the Ninja to send everyone to the NGTV office tower where they can be evacuated by the Destiny's Bounty. The citizens all climb to the roof while the Ninja hold off the Stone Warriors using the Ultra Sonic Raider and the Ultra Dragon. Jay continues to help hold off the Stone Army.
The Last Voyage
The Ninja sail to the Dark Island on the flightless Destiny's Bounty. At the docks Edna asks him if he has any extra underwear, to which an embarrased Jay says yes. Along the way, they run into a storm and the ship-eating Starteeth. When the storm passes the ship, which now is missing a rudder and and has a hole in the side, the ship runs ashore on an island with a prison tower. When the Ninja get to the top, Dr. Julien greets them and takes them in. Later, the Ninja sail further to the island of Darkness.
Island of Darkness
The Ninja finally arrive on the Island of Darkness, where the Stone Army is preparing for the final battle. The Ninja learn that the Temple of Light is where they can receive their elemental powers. In order to do this, the Ninja must use a medallion to find the temple. Later Jay was able to find the Temple of Light by aligning three lights with the holes in the medallion—the temple is at the top of the island's highest mountain.
With their new vehicles, the Ninja head for the Temple of Light, barely keeping ahead of the Stone Army. Inside the Temple, they find pictures on the walls depicting their journey from the past until the present. Further in is a great bell, hanging above a strange design on the floor bearing the Ninja's symbols. Realizing that it's the Instrument of Peace, Lloyd strikes it, causing a light to shine on him and beams of energy to reflect off crystals in the walls. Soon, the entire room is crisscrossed with beams, and one hits a pillar, making it glow brightly. At the foot of the pillar, Jay's armor transforms, and an Elemental Blade with the power of Lightning appears in his hand as well as the other Ninjas. As their swords manifest blades representing their respective elements, Lloyd rises into the air. The Ninja use their swords to send their elemental powers to Lloyd. The Stone Army finally marches into the Temple, but the Ninja are more than ready for them—using their new elemental powers, they easily trounce the warriors. Jay electrocutes a whole line of enemies with a single touch, Lloyd summons the power of the Golden Dragon, creating a brilliant light that frightens the remaining stone soldiers into retreat
The Last Hope
At the beach, Dr. Julien repairs the Falcon, while the Ninja celebrate their restored powers by shooting down coconuts. The party is interrupted by Master Wu, who chastises the Ninja for their unseemly mirth; they may have the power to defeat the Stone Army, but the Celestial Clock is still counting down to the final battle between light and darkness. At that, Misako reveals a way to at least delay the battle: if the Helmet of Shadows is returned to its pedestal, the countdown might stop long enough for them to gain an advantage. Risking everything, the Ninja disguise themselves as Stone Warriors and escort Misako to Lord Garmadon's camp. As General Kozu takes Misako to his master's tent, the disguised Ninja are put to work carrying Dark Matter to the superweapon. The weapon is surrounded by a wooden wall, but the Ninja notice one protruding detail—a very large cannon—and ponder what Garmadon plans to attack with it. Later the Ninja are, forcing them to fight their way back down to the entrance as Misako rejoins them.
The Ninja make their escape with Misako and Nya in the power drill, but the Stone Army pursues them until the Overlord reminds Lord Garmadon that the Ninja could turn the army against him if they don the Helmet. After a frantic chase that ends in the Power Drill being disabled momentarily, Garmadon goes for the kill, only for Lloyd to blast it with his powers. Lord Garmadon emerges from the wreckage, weakened and vulnerable; from the Power Drill, the Ninja encourage Lloyd to finish him off. Despite everything at stake, the Green Ninja is unable to strike the fatal blow, forcing him to jump aboard the Power Drill as the Ninja make their escape from the advancing Stone Army.
At the Celestial Clock, the Ninja meet with Master Wu and desperately look for the Helmet's pedestal with minutes to spare. As the Stone Army arrives, the Ninja find the pedestal and replace the Helmet, but it's one second too late; the countdown has ended and the final battle is upon them. As the clock fires a mighty energy flare inland, the Stone Army captures Nya and the Ninja are sent down into a crevasse. Surviving the fall, the Ninja head off to prepare for the final battle. Surviving the fall, the Ninja head off to prepare for the final battle, with Jay angered at Nya's capture.
Return of the Overlord
Jay and the others intend to start the final battle and attack the Stone Army base, only to find it empty. They see the Garmatron's tracks and follow them. As they run, the Ninja reflect on all of their adventures, but the jovial mood is broken when they sense an evil presence nearby. Suddenly, a crimson Spinjitzu tornado hits Cole and Lloyd, and stops in front of the group to reveal Nya who has been turned evil by Lord Garmadon, and the Ninja buy time for Lloyd, Master Wu, and Misako to stop The Overlord and Garmadon. Later the Ninja have a rough time against Nya, until Zane realizes that they can use their elemental powers on the environment instead of their opponent. He uses his Elemental Blade to break the chain of Nya's weapon; Jay creates an electric barrier to deflect thrown needles; Cole blinds Nya with a cloud of dust; Kai cuts down a nearby tree so its leaves surround his corrupted sister. Finally, Zane freezes the tree, leaving Nya trapped within a dome of ice—wryly commenting that "this club just became boys only," Kai leads the others down the Garmatron's trail.
Ninja rush up to their allies and start to fight the stone army. Meanwhile the battle continues on the beach and Lloyd is defeated. Fed up with the interference, the Overlord creates a portal for his army, declaring that they will go to Ninjago City personally to finish the job leaving the heroes trapped on the Island of Darkness.
Rise of the Spinjitzu Master
Hitching a ride on Kai's Fire Robot, the Ninja returned to the Temple of Light, where they activated a hidden mechanism that revealed the Golden Mech. When Lloyd sat in the cockpit, his powers as the Chosen One restored the ancient machine to fighting form. With the Ultra Dragon's arrival to the Island of Darkness, the group was able to return to Ninjago City, only to find it infected with Dark Matter and ruled by the Overlord, now restored to his monstrous true form. Despite their fighting prowess, the heroes were almost overwhelmed by the Stone Army, only to be saved when Dareth donned the Helmet of Shadows and took command of the ancient soldiers.
Jay and the other Ninja proceeded to ascend the tower but only to be victim of the Overlord's corruption. Lloyd was forced to limp up to the top of the tower alone, where the Overlord was waiting. In the aftermath of the Overlord's defeat, all of his creations and corruption vanished. Jay reunited with his allies in the crater left by the Garmatron's disappearance.
Rebooted
The Surge
Following the battle with the Overlord, the Ninja now teach at Master Wu's Academy—which has replaced Darkley's School for Bad Boys—training a new generation of Ninja. Later they are invited by Cyrus Borg for a field trip to Borg Industries' Borg Tower.
As the Ninja arrive in the office of Cyrus Borg, the Ninja were all very happy to meet him. Cyrus shows them to a gift he wanted to give them: an automated statue of himself. It looked like a regular statue, but Cyrus tells Kai that he should protect "them" with his life and to not let anyone know he had them. Walking into the elevator with their gift, they accidentally drop the statue, yet they discover it is hollow and is filled with new suits as well as the Techno Blades. Suddenly a robotic security voice in the elevator says that they should drop the blades. The Ninja refuse, and the elevator drops toward the ground at high speed. The Ninja luckily escape into an elevator going up right next to it, and manage to get their new outfits on for battle in their escape from Borg Tower.
When they get down of the tower, Master Wu takes the Techno Blades and says that he wants Jay and Cole on the ground. Then Jay manages to hack a Security Tank with his Techno Blade, making it the Thunder Raider. In the moment they almost get destructed, Lloyd comes on the Golden Dragon, defeating the robots. As the Ninjas get back into the vehicles and get on the road outside of the city, Overlord spots that Wu is getting away with the Techno Blades so he sends two copters which capture him on the building roof. However before that happened, Wu quickly dropped Techno Blades into Kai's Fighter so the Ninjas could safely get them out of the city, while Wu gets captured by Overlord's forces.
The Art of the Silent Fist
After escaping from New Ninjago City, the Ninjas are hides their vehicles. Misako then greets them and shows them to the Monastery, but Zane offers stay behind with the Techno Blades, as Garmadon (whom is now "Master Garmadon,") forbids any weapons in his monastery. As night falls, Garmadon arrives and teaches the Ninja and his students about "the art of the silent fist." While everyone inside is practicing the technique, Zane catches P.I.X.A.L. and tie her up, then returns to the Monastery as the Ninja come out to see what is going on. Zane then uses his Techno Blade to hack P.I.X.A.L.'s systems, freeing her from the Overlord's control. Grateful to Zane for saving her, P.I.X.A.L. tells the Ninja of Master Wu. Suddenly, P.I.X.A.L. realizes she did not come alone and Nindroids surround the place. Ninjas successfully defeat the Nindroids by trapping them into mill wheel which then roll out. However, General Cryptor destroys Ninja's vehicles. After that, the Ninjas decides to split. Jay, Zane, Cole, Kai, and Nya gets an idea to shut down the power in the city to stop virus controlling machines in the land. As night falls, they arrive to the station, but with high guard of Nindroids. They manage to get inside but can't find the way to break the power charge. When Cryptor sends Nindroids inside, Kai remembers Garmadon's lesson of fighting without fighting so they decide to lure Nindroids to destroy the charge which then explodes and all the power disappears, including P.I.X.A.L. who gets shut down.
Blackout
The Ninja have gone to Ed & Edna's Scrap N Junk to look for parts that would enable Zane's hover-copter to run on solar power. While Ed, Jay, Cole, and Kai search through the junk piles, Nya transfers half of Zane's power source to P.I.X.A.L.. The operation is a success and the android is re-activated. However the moment quickly goes sour when P.I.X.A.L. claims that Nya and Cole are a better couple then Nya and Jay. Jay overhears this as he comes in and he attacks Cole.
Unbeknownst to the Ninja, Techno Wu arrives via hover-copter and powers General Cryptor, along with a few Nindroid Warriors, using electrocobrai. After activating a few Nindroids, Min-Droid sneaks and gets access to Ed & Edna's crane. The Ninja are still trying to break the battle against the two Ninja, but are failing. The tiny droid uses the crane and launches the truck at a garbage pile. Kai realizes and quickly informs his friends; the Ninja perform Spinjitzu and get out of the fallen vehicle, while Ed and Edna escape using bubble jet-packs. Then, Cryptor attacks him and P.I.X.A.L, but Zane uses his Techno Blade as a shield. Jay and Cole sees that their friend is in a difficult problem, and decide to help. Just as they run to Zane, their former master, Wu, traps the two in a pit. Nya managed to get by the controls of the pit, but she has a new problem to face: there are two wires, colored black and blue, and Nya has to cut one. If she destroys the wrong one, Jay and Cole will be crushed. Nya cuts both of the wires and frees Jay and Cole, and they assist Kai. However, Wu traps the Ninja in a corner, but Zane and P.I.X.A.L. come with a magnified vehicle and pick up Wu since he is now part metal. The Ninja are excited, but quickly ends when the Stranger frees Wu and flies away with their via hover-copter. However, the Stranger leaves a scale behind. Nya decides to give Lloyd and Garmadon a message.
The Curse of the Golden Master
The Hover-copter was eventually converted to solar power, the Ninja returned to New Ninjago City with Nya and P.I.X.A.L. There, they reunited with Borg and explained their suspicions as to who stole the hard-drive containing the Overlord.
They eventually came across the Stone Army Tomb, only to find the seal had been opened. Upon confronting Skales, they learned that the Serpentine had reformed and the Snake King even had a son. The Ninja and Nya were lead to a campfire where Acidicus told them of the Curse of the Golden Master, and how they believed it was referring to Lloyd. While the Ninja discussed the curse, Nya expressed her confusion that if the Serpentine didn't take the hard-drive, who was the culprit.
Both questions had to be put on hold though, as Nindroids suddenly attacked the place, and Kai ordered the other Ninja and Nya to protect the Serpentine. The Ninja find out that the Electrocobrai are their power source. Skales tells them at the Curse of the Golden Master is upon them, and says that they would not be able to assist the Ninja because they're choosing to stay out of the conflict. The Ninja then return to the surface.
Enter the Digiverse
In the top of the Borg Tower, Borg prepares the device that will lead the Ninja to the Digiverse, a digital world where they will be able to gain access to the Tower's central computer and fight the Overlord directly. When Jay points out that the hard drive is still missing, Borg explains the device will "download" the Ninja themselves, along with the Techno-Blades, into the computer where the Overlord dwells. He also explains that this is the only method to succeed, as it will be a matter of time before the digital Overlord fully drains Lloyd's power. Although apprehensive, the Ninjas are "downloaded" successfully, and they wake up in the Digiverse. In no time, they begin mastering the advantages of the digital world. the Ninjas begin their trek down toward the Tower's central computer—ironically below the Tower, where the Overlord had been defeated years before. When the Overlord realizes they are close to him, he attempts to immobilize them, but fails due to P.I.X.A.L. electronically interfering from outside. He then turns the digitized New Ninjago City upside down, but the Ninja keep moving with their digitized vehicles. Together they get to the top—that is, the bottom—of the tower and insert the Techno-Blades . . . only to find the Overlord severed the circuit to the motherboard.
The Ninja are severely beaten by the Overlord as he consumes more of Lloyd's golden power, proclaiming his becoming a true "golden master" of the real world and the digital world. Strengthened by Lloyd's proclamations that the Ninja always have each other's strengths to fight together, ninjas fights off the Overlord's influence and turns gold and, using Lloyd's shared power, reroute the circuit to the motherboard and completely destroy the Overlord virus from the system, initiating a reboot.
Codename: Arcturus
At the Temple of Light, Lloyd gives up his Golden Power to restore the Ninjas' elemental powers. Meanwhile, at Borg Tower, Master Wu spots General Cryptor aboard a train heading for Ouroborus. He tries to send Jay and Cole to investigate, but they are fighting over Nya once more at the movie theater. As night falls, Nya, Jay and Cole get out of the cinema and then Jay and Cole ask her did she decide which of them she will pick. She said that she will pick Jole, a robot created by her that is mixture of Jay and Cole—a decision that is rendered moot when it freaks out and runs away. When they see light coming from Borg Tower, they get up to Borg's office where they find Garmadon, Wu, Lloyd, and Zane who tell them that the Overlord is alive and is holding Kai hostage. They realize how the name Arcturus is actually a clue about the Overlord's new plan, although P.I.X.A.L. is unable to find anything related, since she has every point in time of Ninjago's history in her database. Zane and Garmadon remember how they and the others went back in time and destroyed Garmadon's Mega Weapon—an event that P.I.X.A.L, Lloyd, and everyone else never knew about because the past and present had been altered.
By the time Zane, Cole, Jay, and Lloyd get to Ouroborus, they don't find anything new around until a huge door below them opens and they fall into an underground base where they find a huge rocket called "Arcturus." They realize that the rocket will lead Pythor and his Nindroid minions to space and reach the Golden Weapons from the star where the Mega Weapon was destroyed. Lloyd tries to stop him from lifting the rocket but Overborg stops him. With help from a freed Kai, the other Ninjas hold off the Nindroids with their new elemental powers. Pythor initiates the countdown for the rocket to launch into space, so Lloyd leads the Ninja into it just in time.
The Void
Shortly after the rocket entered space, Jay and the other Ninja came into contact with Wu, Nya, Garmadon, and P.I.X.A.L. who had returned to Borg Tower and recovered the rocket's blueprints. After Zane secured the other Ninja spacesuits, Jay and the other Ninja made their way towards the cockpit to take command of the vessel. However before they could reach it, Cryptor dispatched several Nindroids to stop them while he piloted the rocket into the tail of the comet. As the ninja fought with the Nindroids, Jay assumed the identity of Fritz Donnagon and lead the charge, even saving Cole when he fell off the rocket.
When Jay and the other Ninja awoke after the landing, they found themselves on the comet not too far from where Arcturus had landed, though Cryptor had taken the launch key. The Ninja discovered lunar rovers in the cargo hold and they set out crammed in one to find where the Nindroids had gone. They soon arrived in a large cave where the Golden Weapons had landed, though before they could reach the launch key, the Ninja fell under attack by a swarm of alien bugs. The Nindroids used their to their advantage to escape, but Jay and the others pursued, only to arrive at the launch site to find Arcturus destroyed by the bugs, thus stranding them on the comet.
The Titanium Ninja
In space, the Ninja despair after repeated failed attempts to escape. However, Lloyd refuses to give up, suggesting that they use their elemental powers and everything around them to restart the ship. Heartened by Lloyd's words, the Ninja repair the ship and use Zane as a power source. Though Zane gets overheated by the strain, they manage to fly back to the Earth—to land safely, the Ninjas uses a new technique: Elemental Shields.
P.I.X.A.L. uses a motorcycle to catch up with her friends, using her power to land them on their vehicles. As the Ninja reunite with their allies, Cyrus tells them that they should head for the Temple of Fortitude, a place where the Overlord and the First Spinjitzu Master battled long ago. He claims there's a shield at the place, so the Nindroids won't harm them, and there is something he wants to give them that may help them save the world.
The Ninja begin travelling to the temple, but pause when they see the Golden Master's path of destruction. Lloyd reminds his friends that the only way to save Ninjago is to reach the Temple of Fortitude. but the Overlord sees them and uses a massive Spinjitzu tornado against them. The Ninja swiftly run back, rendezvousing with Cyrus, Wu, and Garmadon. There Cyrus gives them the ultimate weapon—a pill. Borg then explains that it was no ordinary pill, it could make anyone shrink. Garmadon and Wu decides to would hit the pill straight into the Overlord's mouth. Borg gives the Ninja armor which protects them from some attacks from the Overlord.
The Ninja go into Ninjago City, when an item hurls at them but are protected since they have on the armor. Wu hits the pill, which heads straight to the Overlord's mouth, but Pythor sacrifices himself and swallows the pill instead. As a result, Pythor shrinks down to the size of a worm. The Golden Master is outraged that the Ninja try to shrink him. He obtains the Ninja with his Golden Power only to miss Zane. The Ninja of Ice tells his friends to support him one last time, and the Ninja bounce him. Although, during the process, he landed and touched the Golden Master's gold. He refused to let go, admitting the fact that Ninja never quit, which frees his friends. He remembers his past, and freezes the Overlord which also killed him and the Golden Master. The Ninja are disappointed that Zane has passed, and proceed to his funeral.
Borg makes a speech on how he thought technology was the best way to destroy problems, but instead cost more. He now names Zane the Titanium Ninja. He later passed the microphone to Kai. The Red Ninja claims no one knew what powered Zane, and he thought it was brotherhood, because that's how Zane powered him. When he finished the speech, snow began to appear.
The Tournament of Elements
The Invitation
After Zane's sacrifice, the team broke up. Jay now hosts his own T.V. show to find a new hero for Ninjago. He introduces the player as Cathy, a returning contestant and asks why she came back after losing last time she competes. She states that a Ninja never quit and starts jumping through obstacles. However, she fails but is proud to have gotten farther than the previous time. After the game is over, Jay goes to his dressing room, where Lloyd surprises him and tells him to rejoin the team. Jay declines, due to his hatred against Cole for Nya's feelings towards him and Lloyd disappears, while telling him to visit him if he changes his mind. He later reunites with Kai, Cole, and Lloyd. Lloyd informs the Ninja his new plan: hiring a new Ninja. The others completely dislike the idea, saying Zane is not replaceable. They quickly get interrupted by Eyezor and his gang.
The Ninja go to the back of the shop where they lose sight of Eyezor's gang but see a drawn picture of Zane attached to a shrine with an invitation to a Tournament of Elements. They discover from the invitation that Zane is still alive and to find him they must enter the tournament to do so. With other options, they decide to accept and are walking onto the ship when Garmadon comes and tries to stop them, warning them that Master Chen, who invited them, is a dangerous man. Lloyd retorts by saying that they have to find Zane. Against the better judgment of Clouse, Chen's second-in-command, Garmadon accompanies the Ninja on board, where they meet the other Elemental Masters.
The Ninja learn from Garmadon that the fighters on board are descended from the original Elemental Masters.
Only One Can Remain
The ninja are guided to their rooms with Jay being amazed by the technology inside. Soon, he takes a bath when Bolobo enters his room, trying to find a Jadeblade. The Blue Ninja puts on a towel and knocks him to the floor, only to find a Jadeblade in a light. Bolobo takes it, prompting Jay to turn on Starfarer which amuses the Master of Nature, allowing Jay to whack him with his towel, while commenting on his room.
The ninja all win a jadeblade as they watch as Karlof, who lost his fight with Kai, is eliminated from the tournament.
Later at lunch, the ninja converse about investigating the island before Jay rudely turns away Paleman for attempting to join their table. After this treatment was pointed out to him by Cole, Jay remarked the island is getting to him and tells them he'll see them tonight.
Later that night, everyone arrives, but as Jay comes by, Skylor comes out of her room, forcing Kai to push the Master of Lightning off his balcony. After the Orange Ninja returns into her quarters, Kai helps Jay up and into the Master of Fire's room, describing the difficulty of sneaking out. When Cole discovers a hidden room under the Master of Fire's bed. The Ninja enter the tunnels where they find two holes peeping into Skylor's room, which Jay looks through first. While watching Skylor train for a few moments, Jay and Kai see Skylor pull out a flame on her hand, which would mean that she is also a holder of fire, like Kai. After telling Lloyd and Cole, Lloyd points out that, if the current elemental holders are related to the original ancestors, it would've also meant that Skylor and Kai was related.
This is soon brushed aside, as they continue making their way through the tunnel. After travelling further into the tunnel, they come across a squad of cultists who they subdue and take their clothes.
Disguising themselves as cultists, they infiltrate the ceremony of the Anacondrai Cultists, as they see Chen's plan unfold when he steals Karlof's element. Startled by this display, the ninja realize what Chen's plan is, as Cole noted that Chen used Ice, which meant he already stole Zane's power. As they talk amongst themselves, their chocolate tattoo melts and the cultists realize that they are "impostors," Chen signals his warriors to kidnap the intruders forcing them to flee. The Ninja lose the cultists, but are trailed by a large Anacondrai Serpent. They barely make it out, and promise to stay within the rules until Zane is found.
Unknown to the ninja in the hidden room, Clouse held up a piece of cloth from Jay's gi that got caught in the mouth of his serpent, revealing the fact he knows the Ninja spied in the plans of Chen.
Versus
Despite seeing the truth of the Tournament, he decided to enjoy his next day off, which disgusted Cole and getting them into another argument. Although he states none of the Ninja are competing for the day, Chen immediately announces Kai as one of the competing masters. After the Ninja of Fire defeats Ash, the Ninja and Garmadon cheer for him. Later, Clouse arranges for Jay and Cole to fight each other later that evening to which Kai suggests enlisting Neuro for aid. After they succeed in turning Neuro to their side, they attempt to get him to find a way to stop the fight but this fails. The battle begins where neither Ninja hold back expressing their pent up aggression towards one another until Cole states he doesn't want Jay eliminated and that Chen is their enemy.
Upon hearing this, the blue ninja admits what happened between him and Nya was his fault and agrees to fight without using their powers. To this end, Chen decides for the both of them to be eliminated. Jay tells Cole to take the Jadeblade as he considers himself lucky to still be in the tournament, but Cole throws it to Jay, telling him to win for him, that he should have let him have Nya and that he should have backed out before being eliminated, renewing their friendship and ending their rivalry.
Ninja Roll
Jay watches Skylor fight Jacob Pevsner with Lloyd and Garmadon just before Kai arrives though steps on the fighter's feet in the process. Jay is concerned that the other competitors will gun for them so long as they're a team, though Lloyd says they are a team, even with Cole and Zane missing.
Jay fills Garmadon in on Kai's crush on Skylor until they found out they might be related. Garmadon explains that Skylor's element isn't Fire—it's Amber, meaning she can absorb another element, which immediately brings Kai's feelings back. Jacob soon has the advantage using blow darts, though Skylor tricks him into firing into paper, where the sound of the air throws him off long enough for her to break the last vase and take the Jadeblade. After Jacob is eliminated, Chen announces he initially wanted to give everyone jewels for their work in the Tournament, but, due to Jay's fight with Cole yesterday, he rejects the idea and takes away everyone's private suites, forcing them to sleep in the chow house. As Jay and Kai berate each other while the other competitors leave, Garmadon warns them that if they don't make friends with the others, they'll try to eliminate them by any means necessary.
While the competitors rest, the remaining three Ninja discuss a plan, but quickly jump back to their beds just as Clouse arrives. He orders Master Chen's servants to add roller-skates to everyone's feet, making the contestants curious, while Jay is excited to skate, stating that he's skating champion.
Before the event, the ninja realized Garmadon was right in considering the way they treated their opponents as a majority of the contestants joined Chamille's team in the Thunderblade race, resulting in them being outnumbered. During the race, Jay decides to make an opening by electrocuting Neuro, which works until Kai bumps into Lloyd.
As the race goes on, Chamille is still ahead of Lloyd by one point, Jay then whips Lloyd only to discover it's Chamille in disguise. Jay tries to help Lloyd once Chamille has him ambushed and succeed in making him drop his Jadeblade. When Paleman then takes it, Jay manages to take it back and knocks him off the track. Everyone does whatever they can to stop the Ninja (with only Kai taking the hits), with Chen even releasing a buggy to extend Chamille's lead.
Lloyd is soon ambushed by Paleman, Shade and even Neuro, and when Jay tries to help, Turner accelerates him around the track and into the Green Ninja, though it helps his back. Skylor comes up to Kai, saying he's convincing and Lloyd will soon be eliminated.
With the score now 8-5, Kai decides to help, despite not keeping balanced, and uses his powers to hit Chamille and making her drop her Blade, allowing Jay to take it. Jay approaches Kai after he is brushed off by Skylor and informs him of Lloyd's progress, though Kai now realizes Garmadon was right about distrusting the others. He then states if everyone knew about Chen's true intentions, they'd help: Chamille then takes back her Jadeblade.
After Kai decides to reveal the real nature of the Tournament to Skylor: upon mentioning the spell, which causes Paleman becomes interested. Jay and Lloyd do the same to Turner, who doubts it but Neuro confirms it after he stops Tox from attacking them. Jay is surprised the Master of Mind had chosen that moment to help, to which he explains he wanted to be on the winning team. Chamille attacks Kai and he lands near the buggy, allowing him and Skylor to take it. They drive up to Lloyd and let him take it, where it transforms into his color. While the others keep Shade and Tox from attacking the Green Ninja, Chen goes all out on his traps, all of which fail. The score becomes tied and Lloyd tries to convince Chamille to join them, though she pulls him out of the buggy, leaving them to go head on in a sword fight.
Chen becomes worried of Lloyd winning and orders Clouse to use his Magic, but he's stopped by Garmadon. The scorekeeper then tries to rig Lloyd's score, but Skylor, having obtained Gravis' Gravity, has him float helplessly. The two racers soon cross the finish line just as time runs out, with the final score being 13 each. However, Chamille is revealed to have dropped her Jadeblade, making Lloyd the winner.
Skylor then drops the score keeper, jokingly changing Lloyd's score to 106, and having Garmadon remark that his son broke Chen's record. Chen, however refuses to have the event count, claiming Lloyd cheated and is disqualified, though Turner stands up for the Green Ninja and states Chen cheated, where the Master claims what his rules says, goes. Paleman, Kai, and Jay protest if Lloyd's out, then so are they whereas Skylor states if everyone is eliminated, there is no Tournament. With that along with Clouse confirming it, Chen is forced to comply and eliminates Chamille.
As everyone cheers for Lloyd, Skylor warns Kai that because of this, Chen will do anything to eliminate the Ninja. Kai then states that as long as everyone sticks together, there's always hope.
Spy for a Spy
With alliance on their side, the Ninja are confident things are going their way until Chen announces to all that he will give the winner his staff which causes the alliance to break up.
Jay is soon pestered by a Kabuki and it's revealed to be Nya in disguise, who is proud that Cole and Jay renewed their friendship before telling them that a spy was hidden among them which how Chen knew of their alliance. The Ninja then have Nya search for the spell Clouse intends to use. Things looking better; the Ninja receive a fortune cookie from Skylor which tells them that Cole and Zane will be breaking out. Relieved that Cole found their friend, they decide to search for their mysterious spy.
Later, Jay and the rest of the competitors met up in Kai's room to figure out who was the spy amongst their alliance. Jay checked the back of Neuro to prove the lack of a Cultist. When Shade attempted to escape, Jay tried to stop him but was incapacitated by a picture falling on him. He was later helped by Griffin Turner who removed the painting that had fallen on him.
Spellbound
For the next event in the tournament, Jay (his leg now in a cast) and the other fighters boarded a blimp and were taken high above the island. There, he and Griffin Turner argued over who would be eliminated first in the tournament. Before long he and the others were dropped out of the blimp by Chen with the promise of being advanced to the final round if he were to find Nya first. Jay was successful in grabbing one of the parachutes and deployed it, though he landed in a tree on the island. Shortly after arriving, Chen announced through the loudspeakers that he had left items throughout the island to help in the search. Jay muttered to himself the he would never trust a treat from Chen, but soon stumbled on a mech. Tired of walking due to his broken leg, Jay decided to take his chances and use the mech.
This decision would eventually prove consequential, as it had a tracker inside and Jay soon encountered Clouse who informed the master of lightning that his time in the tournament had come to an end. Though Jay manged to fight off the sorcerers' initial attacks, Clouse soon created a mech of his own and they squared off. During the mech fight, Nya arrived on the scene and tried to tell Jay what the spell was. However due to Clouses continued attacks, Jay ordered her to find the others just before Clouse damaged the mech enough to trigger an explosion which Jay nervously laughed at as they were captured in it. Despite this, Jay was shown unharmed but was captured by Clouse thrown in the cage with the other captured elemental masters. Jay then watched as Chen threw a recently captured Kai in the cage before telling his friend that Lloyd would come to save them something an overhearing Chen stated he was hoping for.
The Forgotten Element
After his capture, he and the other captured Elemental Masters were put in Vengestone shackles as they were brought before Chen. Despite being led to have his power taken away with the others, Jay decided to rely on positive thinking as he told an irritated Kai that he believed Lloyd would swoop in and save them at the last second. When he stated this belief to Chen, he waited for this to happen but got bored and took the masters' powers, much to Jay's disbelief. He was then taken to the factory with everyone except Kai, who was released on Skylor's wishes.
After being told to get to work, the Master of Lightning soon reunited with his friends Cole and Zane, telling the latter that he looked amazing in his new form. After being informed of the construction of the Roto Jet, Jay broke from his positive belief and questioned the construction of the jet being underground, something Cole agreed with. The Master of Earth then asked him about Kai's current whereabouts, to which he replied the Master of Fire was getting special treatment.
Later, Jay is contributing to the completion of the Roto Jet when Zugu discovers the ruse and Cole begins an assault on the cultists while everyone else pushed the jet. They save Nya and Garmadon from Clouse's Serpent and soon burst into the ceremony room, narrowly saving Lloyd and Skylor from the corrupted Kai. The ninja and the Elemental Masters fend off the cultists until Kai destroys the crystal of the Staff of Elements, effectively restoring everyone's elemental powers and over power the cultists.
Reunited, the Ninja use Spinjitzu capturing the remainder of the Cultists, except for Chen, Clouse and their top men, who captured Skylor. The Elemental Masters seize control of the island, in the midst of celebrating, Jay laughs with the other Masters when Zane plays his humor switch.
The Day of the Dragon
Jay had the other fighters sink the ferry so Chen and his forces would have no means of escaping the island. He met up with his friends where they assured Kai they will find Skylor. Jay and the others are told by Griffin Turner that Chen had found a way to complete his spell by using Skylor's powers as the way. The Ninja go off to pursue Chen and save Skylor but Zane gets separated from them much to Jay's worry but the latter tells him to go off without him.
When Chen's army transform into Anacondrai, Jay and the others battle them but are overwhelmed and forced to retreat. Jay then sees Garmadon transformed into Anacondrai and attempts to attack him only for Lloyd to stop him and explain what happen as Jay lists all the forms Garmadon took and tells Garmadon to pick a body and sticking it with it.
When Chen's army manage to escape, Jay ironically complains about having no way to follow them before seeing that Zane had manage to summon a Titanium Dragon being amazed by it and asking Zane how he did it as the latter told he faced his fear. He soon witnesses Kai and Skylor arrive on an Elemental Fire Dragon, supporting Zane's words. Encouraged by his friends, Jay summons an Elemental Lightning Dragon and he and the others chase after Chen's army on their Dragons.
The Greatest Fear of All
Flying back to Ninjago on his Dragon, Jay carries Nya to the city and explains to Kai that mastering the ability to summon a dragon took time. They arrive in Ninjago only to find Chen hasn't attack before deciding to head for the Samurai X Cave while having their allies watch over the city. Once at the cave, they reunite with Wu and Misako before deducing Chen's next move and after Jay points they know so little about the Anacondrai they decide to go to Kryptarium Prison and visit Pythor.
Though Pythor at first refuses to help them, he is persuaded after seeing Garmadon as an Anacondrai. The prison is soon attacked by the Anacondrai Cultists, Jay, Kai, and Cole go off to fight them as the others stay behind with Pythor.
As Cole complained about the Cultists having weapons, Jay remarked everything was a weapon in prison which he showed by using a toothbrush against a Cultist. Zane joined the fight as Jay told Wu and the others (who realized Chen's goals) to run after the prison was put on lockdown however, the inmates got loose beginning an all-out brawl. Jay remarked since they already fought most of the prisoners they should leave which his friends agree with. Cole then uses his strength to break through the walls as Jay complains that when people talk about breaking out they do so "quietly" not literally as the prisoners pursue them. The Ninja make it to the courtyard as the Anacondrai Cultists make off with Pythor, Wu forbids Cole from breaking the walls as they couldn't let the prisoners escape. In response, Zane creates an ice trail which the ninja use to escape as Kai uses fire to destroy it preventing the prisoners from following them allowing the Warden and guards to arrest them.
The ninja returned to the Samurai X cave where Nya explains that Chen shipped twenty noodle trucks which they speculate can hold several Anacondrai. The ninja contact their allies for aid but to their surprise the trucks separate which Jay questions on they should be heading for the city. Misako states there were many villages in the directions the trucks went off to as Lloyd makes the decision to have everyone split up to defend the villages. Jay complains at first since they just got back but Garmadon tells him they if they don't act Ninjago will be in danger something Jay realizes and moves out with his friends.
Using his dragon, Jay pursues a noodle truck determined to not allow it to reach a village. After forcing the truck to make a halt in an icy region, Jay subdues the driver by tying him up before he prepares to deal with the Anacondrai. However, upon opening it he discovers it is empty and sadly realizes that Chen deceived them in his goal of separating the elemental masters. Like many others, he lost his dragon out of fear while Chen and his army invaded villages without problems.
The Corridor of Elders
Having realized Chen's plan and being stranded, Jay is contacted by Nya of Chen's actions but can't understand it due to the bad reception (caused by Chen taking over the airwaves). He soon decides to take the noodle truck back to the cave after getting mental message from Lloyd through Neuro.
Once at the cave, he regroups with his allies where she informs them that Chen has taken over the entire eastern coast. Wu points out that the Corridor of Elders will be the best place to make their final stand, and the elemental masters agree. The Ninja journey all over Ninjago to rally support from the citizens, with Jay going to the junkyard to get his parents and the aid of others.
The Ninja, Elemental Masters, citizens, and Serpentine get to the Corridor and start the ultimate battle against Anacondrai. Pythor escapes Chen's camp riding a rat and carrying Chen's spell book. He gets to the battle and tells Lloyd to take him to his father because he knows the way to end the battle. Later, Lloyd opens the portal to the cursed realm and unleashes spirits of Arcturus and his troops who quickly curse Chen and his soldiers turning them into ghosts. They all get sucked into the portal, which then explodes after closing off, ending the war.
The ninja and the elemental masters then celebrate their victory, with Jay and Kai being hugged by Karlof as they all promise to offer in the future as they part ways.
On the top of the corridor, the ninja, Wu, Misako, and Dareth sit around a fire on a broken statue, watching construction workers building statue of Garmadon in the corridor. Lloyd tells that today they will say goodbye to a legend and burns the book in the fire.
Possession
Winds of Change
Jay and the Ninja used their Elemental Dragons to capture a Fangfish that had been terrorizing a local village. Upon returning successful to Wu's new tea shop Steep Wisdom, Jay and the others were sent by their Master into Ninjago City to advertise the new store, yet without using their powers. While they obeyed their master at first, after failing to attract anyone Jay decided to use his elemental powers to project giant teapots on all the nearby electric billboards.
Unfortunately, Morro possessed Lloyd's body and the other Ninja lost their elemental abilities. They returned to Wu for answers just as the tea shop fell under attack by the Master of Wind. Jay attempted to use Spinjitzu to fend him off, but in the end the Ninja were forced to retreat with Wu and Nya in the Destiny's Bounty.
Ghost Story
Morro soon caught up to them using his Elemental Dragon and Jay mounted one of the cannons in an attempt to fend him off. The ghost boarded the ship however and while Wu made an imprint of the staff's secret message, the masters of earth and lightning tried to fend him off. They were defeated with ease however, and turned their attention to helping Nya stabilize the ship as it crashed in the Forest of Tranquility.
The Ninja made camp and Wu told them of his past with Morro. The next morning Misako arrived and discovered that the first symbol means Airjitzu, a martial art created by Master Yang. The Ninja mount wallipers and the Blue Ninja followed Kai towards Stiix where Ronin was keeping the scroll.
Unfortunately, their head start was lost when Kai lead them away from Stiix rather than towards it. After Zane pointed this out, Jay and Cole elected to follow Zane instead and they soon came across train tracks leading to Stiix.
After nightfall, they came to a train station and stopped, intending to rest. However, they were soon beset by Wrayth on the Chain Cycle and engulfed in a frenzied battle against the ghost menace. Incidentally, he defeated himself when his chain hooked on a nearby water tower and poured its contents onto himself. The Ninja were left stunned by this, but realizing that a passing train was headed to Stiix, quickly ran after it.
Stiix and Stones
The Ninja eventually arrived in Stiix and confronted Ronin in his shop. The thief demanded a high price for the scrolls, but due to Kai's horrible negotiating skills, it was raised even higher. To earn money, the Ninja were hired to build a dock and Jay helped lay down the planks. Unfortunately, a fly damaged the Titanium Ninja's language database and they ended up accidentally destroying the bridge. With Zane unable to speak, Jay took charge and decided that they should simply steal the scrolls.
Through his leadership, the Ninja successfully entered Ronin's shop (though broke a skylight in the process), but were unable to find the scroll before Morro and the Soul Archer secretly arrived (keeping Ronin hostage). The Soul Archer possessed an organ, grabbing hold of Jay with it, but after a bit of chaos the other ninja managed to find a jug of water to release him. The shop was immediately flooded with Ghost Warriors, leaving the ninja unable to defend themselves, up until Ronin showed them the Aeroblades. When Jay received his, it glowed yellow.
After fending off all of the ghosts but Morro, Ronin confronted him, but in the struggle, the hidden scroll was revealed. Ronin quickly grabbed it and flew off in R.E.X., but Morro knocked him down, and he was forced to flee from Morro and the Ninja on foot. After Morro caught up and snatched the scroll, the Ninja gave chase to him, but were slowly picked off one by one (Jay first, by falling through a roof). After they met up later, after the chase had ended, Jay admitted that he didn't want to be leader any more.
The Temple on Haunted Hill
Jay went with the other Ninja to Yang's Haunted Temple to get the Scroll of Airjitzu, they were put in a test to face their fear; when they did it, it was almost sunrise. They ran out of the building, Jay, Kai, and Zane were safe, Cole got the scroll but was sadly turned into a ghost.
Peak-a-Boo
Jay was practicing Airjitzu alongside Kai and Zane, although unable to grab the flag, he swipes a bragging Ronin's apple, later when Misako deciphered the next clue to the Tomb of the First Spinjitzu Master. He used his mech to get to the Wailing Alps, but it was eventually destroyed by an avalanche, they managed to get to the Hanging Temple, there they fought the Ghost Warriors, when they escaped, they climbed the mountain. When they thought that they will lost the Blind Man's Eye, they used Airjitzu to get to the top and get to the eye of the storm to find the Sword of Sanctuary.
Kingdom Come
Upon reaching the gates of Cloud Kingdom, Jay and the other Ninja were greeted by Fenwick. They were then shown inside the writing hall where the Ninja learned that the citizens of Cloud Kingdom were the writers of destiny. Jay noticed that one of the writers was dictating Dareth's destiny but accidentally dropped ink on the parchment causing the Brown Ninja's destiny to be altered.
Fenwick proceeded to inform the Ninja that Morro sought the Realm Crystal hidden in the tomb to unleash the Preeminent, before ushering them into a building filled with toys to meet the "master writer." Jay quickly became distracted by a pinball machine, only to shortly discover that they had been locked away with Nimbus, a terrifying creature. With Cole's ghost abilities, the Ninja managed to escaped and discovered that Fenwick was actually working for Morro.
The Ninja soon ran into Nobu who informed them where the Sword of Sanctuary was kept, though the Ninja arrived just after Morro claimed the sword. With it in hand, the ghost was able to escape from Cloud Kingdom though after an intense chase down the Wailing Alps, the Ninja emerged victor with the sword in possession.
The Crooked Path
Jay helped the rest of the Ninja to set up traps for the Ghosts in Steep Wisdom. Eventually, the Postman went to give them their mail, but the Ninja, mistaking them for a Ghost, soaked him with water balloons. The Postman scolded them and said they're going out of business, but Jay said he's the one going out of business. Cole suggested they don't let Ronin know to keep him from leaving so they could still get his help.
Later, Misako called the Ninja to explain to them about the third clue. They were told that the tomb has three tests to keep the Crystal from ending up in the wrong hands. The tomb is in an unknown location, but Misako said the reflection of the sword on the map behind the Scroll of Airjitzu would lead them to it. They eventually found Ronin in possession of the Sword of Sanctuary and tried to stop him, but they fell into their own water traps. After being freed, they tried to go after him, but he wasn't in R.E.X..
Later, they got a message from "Ronin" telling them the tomb is in the Caves of Despair. Because most of the caves were unexplored, they headed out and found the skull symbol at the entrance. They found lanterns and although they thought that was one of the three tests, they continued their journey after realizing they were regular lanterns. When Jay smelled something foul, he asked what it was, to Zane responded with Kethanol. They were forced to run away when Cole caused the Kethanol geyser to make a bigger explosion. Landing on minecarts, the Ninja ride throughout the cave, with Jay defeating Ghoultar with his Aeroblade. Before they fall into a pit of lava, R.E.X. came to save them, and they a message from Ronin saying he'll let them lend R.E.X. to travel underwater, the real location of the tomb.
Grave Danger
Jay goes with the other Ninja to the Tomb of the First Spinjitzu Master. In his reflection in the maze he seemingly sees himself with an eyepatch and a pirate beard. He also sees Nya in the reflection, indicating that he will end up with her in the future (which is not true in the DC Comics films).
After finding the remains of the First Spinjitzu Master, they bow to the latter as Kai picks up the Realm Crystal. Morro then arrives while holding a weaken Lloyd hostage and demands for the crystal. The ninja are at a loss as they want to protect their friend but also stop their enemy before they find that their powers are returning since Lloyd is free of Morro's possession.
Curseworld, Part I
Jay and the other Ninja returned to Steep Wisdom only to discover that Wu had sold his business and used the money to pay Cyrus Borg to build them some new vehicles. The inventor himself appeared and much to the Blue Ninja's dismay, commented that Jay appeared shorter. He was then introduced to his new vehicle—the Jay Walker One—and eagerly drove it around as the others discussed the best strategy.
Jay arrived at Stiix on a ferry and disguised as a dock worker, distracted several ghosts for Nya to sneak by. Once the Ninja's presence in the city had been revealed, Jay boarded the Jay Walker One and drove around town, capturing ghosts as he went.
Curseworld, Part II
With the Preeminent released, Jay expressed his disgust. When Cole used his Blaster Bike against the Preeminent, it only made her madder, prompting them to fight back harder.
The Ninja, after failing to get closer to the Preeminent, were forced to retreat to the ship. Surprised to see Lloyd come back, they were commanded to break the support beams to drop the Preeminent into the sea. They did, but the Ghosts surrounded her with houses so that she can walk on water. Next, the Ninja went closer to the Preeminent to easily defeat her. However, the Ninja have to go back to the ship to protect the people. They watched Nya destroy the beast with her newfound True Potential.
Skybound
Infamous
Jay is revealed to have told Zane about what he saw in his reflection in the Tomb and is told by him to tell Cole. However, he refuses since they have finally become friends again.
When Clouse was spotted in Stiix, the Ninja went their, disguised, to try and search, only to find no sign of him and while at a bar, discover someone is framing them for crimes they didn't commit. When Misako was arrested, they had to split up, with Jay being the only one objecting.
Public Enemy Number One
Jay walks into a bar and tries to get some Ninja Chips, but ends up short circuiting the vending machine and left before the bartender could recognise him.
Later, he and Cole investigate Mega Monster Amusement Park, but they are spotted by Ronin, who was hired to arrest them. After a fight on the rollercoaster, Ronin turned it off as Jay was still on it, ending up falling into a sack, laid by Ronin and is taken to Kryptarium with the other Ninja.
Enkrypted
The Ninja are led by Warden Noble into their cells. Along the way, they met The Mechanic, who wanted Zane for his spare parts. They spent some time in the cell until visiting hours. Dareth told them he sent in a cake with tools they can use to escape, but unfortunately, Cole ate it, along with the tools. When Dareth was unable to further assist the Ninja, he left.
During lunch hours, they were visited by Captain Soto. A fight broke out, and Soto told them he trapped Nadakhan using the venom of a Tiger Widow. The guards stopped them before he could tell them the location of the map to Tiger Widow Island. Instead, he promised to let them know if they could free him.
While the Ninja were stuck in the hole, Lloyd picked his cuff's lock with a plastic fork and broke the others free. Jay was ordered to disable the security cameras. Once they, and Soto, are freed, they were told the map to Tiger Widow Island is in a lantern located in Misfortune's Keep.
Misfortune Rising
In an effort to learn the whereabouts of Nadakhan's pirate ship, Misfortune's Keep, Jay and Nya disguised themselves as police officers and infiltrated the Ninjago City Police Station. During their lunch break, Jay attempted to buy Nya lunch, but realized he was broke, forcing her to cover for him. As they ate, she reaffirmed her stance that they were only friends and that's all they will ever be.
While alone, Jay was confronted by Nadakhan who convinced him into wishing he was never born in a junkyard. He was then instantly visited by the Postman who delivered him a letter that informed him that his father had passed away. In shock, Jay flew his elemental dragon to the junkyard, where Ed and Edna revealed that he was adopted.
Jay went to his real father's home, discovering him to be none other than Cliff Gordon, the actor who played Fritz Donnegan and the author of "Cliff Gordon's Guide to Wooing Women." It was there that he was confronted by Nadakhan who encouraged him to make his second wish. Though Jay was adamant about making another wish, he accidentally let slip that he wished to be left alone, prompting Nya to arrive. In an effort to impress her, Jay used the advice of his father's book and convinced her that the house was his secret hideout.
The two then regrouped with the rest of the Ninja at Yang Tavern where they witnessed via the news Misfortune's Keep attack Ninjago City. Deciding it was their duty to protect the innocent, the Ninja came out of hiding to defend the city. In order to stay together, Jay paired up with Kai but was quickly separated due to an explosive barrel, causing Kai to be whisked away by Nadakhan.
On a Wish and a Prayer
Taking the others to his father's home, Cole immediately confronted Jay on how he acquired the villa as he spent his money on junk food and video games. Jay told him about his encounters with Nadakhan as well as the wishes he made, having him keep it secret on the grounds that the team won't suffer the same fate as Kai.
After everyone else pinpointed the location of Tiger Widow Island, Jay chartered his father's yacht so as to sail to the island. Along the way, he read his father's guide again to act sensitive to Nya. The team soon got caught in a lightning storm and Jay had to act as a lightning rod.
The team was soon shipwrecked on Tiger Widow Island and discovered Zane had been captured by Nadakhan. Cole, angered by this, outed Jay for making his wishes and forcing him to reveal what he saw in the tomb. Nya then nominated him to get the Tiger Widow venom. All the while, Jay suffered from their antics.
Jay did so, using the guide to get it. However, the Sky Pirates attacked and Nadakhan captured him, leaving the others stranded on the island.
My Dinner With Nadakhan
On Misfortune's Keep, Jay, chained to a Vengestone ball, mops the deck while Nadakhan throws water all over the deck to annoy Jay, but still refuses to wish his third wish. Angerd, Nadakhan orders him to sweep the bottom of the ship while in midair. Jay is thinking of writing a message to his friends. He fakes a back injury so that Clancee could get Nadakhan and writes the letter on the back of some blueprints, then pretends he is going to escape while being chased by Nadakhan and Nadakhan's Crew. After he successfully sends it, Nadakhan forces him to play Scrap and Tap, a game where Jay has to defeat Nadakhan's Crew, leaving him injured by the Sky Pirates, Clancee offering him an eyepatch which he puts over swollen his left eye.
That night, Flintlocke escorts him to the main cabin to dine with Nadakhan on the Djinn's request. Nadakhan talks about Nya and says when he marries Nya he will have infinite wishes. Jay tries to stop Nadakhan but fails. Jay talks to Flintlocke to go against him saying that Nadakhan will get infinite wishes but Flintlocke does not believe Jay. Ronin and Police Commissioner find Jay's letter and The Ninja, Ronin, and Police Commissioner are off to save him.
Wishmasters
Working nonstop on cleaning the Misfortune's Keep, Jay is left drained of all his energy and unable to even stand up. When the Ninja began their assault, Cole found him in Nadakhan's quarters and they made up. Lloyd and Nya were soon captured by the Sky Pirates and Jay and Cole were locked up with the former. They were soon meant to walk the plank until, Cole, Lloyd and Nya began using their wishes to battle the Sky Pirates despite Jay's constant objections to nobody listening to his. Lloyd soon discovered that Jay's last wish would be what saved everyone and helped him and Nya escape while he and Cole were sucked into the Djinn Blade by Clancee on Nadakhan's orders. Unable to summon his dragon, Nya grabbed him and they were soon able to create an elemental hybrid and escape.
The Last Resort
After both Cole and Lloyd are trapped and captured in Nadakhan's Djinn Blade, Nya and Jay are put under protection from the Ninjago City Police Department and sent away to the old lab of Zane's father, Dr. Julien. There, they met Echo Zane and Nya confronts Jay about his feelings towards her. After Nadakhan has discovered where they are hiding, Jay helps Nya and Echo Zane to booby-trap the lab in preparation for his arrival. When the Sky Pirates attack, Jay gets into a fist to fist fight with Doubloon on top of the roof, while Nya fights Dogshank inside the tower.
Operation Land Ho!
After Nya sacrificed herself by pushing Jay through the portal opened up by the Traveler's Tea, he lands back in his parents' junk yard, exhausted and injured. After he woke up, he told his parents about everything that's been happening lately with the Sky Pirates, while eating some chicken soup. Jay explains how he believes himself to be in for it against the Sky Pirates and doesn't believe he can stop them and save the Ninja and Nya. In response to this, his dad gets angry with him, explaining that the world's in danger and all he's doing is sitting round sipping chicken soup, laughing it off and tells Jay to scrap together some friends for help. After this, Jay sets off on his journey to stop Nadakhan, waving to his parents and flying off on his dragon.
He then goes off to find various allies, including Ronin, Skylor, Echo Zane, Captain Soto and Dareth. Once the team has been assembled, Jay briefs them on the whole situation and they begin to detect two nearby Sky Pirates on the roof opposite them. When they're seen, Jay pretends to speak gibberish, while Echo Zane, tries to pinpoint their exact location. After their location is found out, Jay and the others chase after them in the skies of Ninjago.
The Way Back
With Nya dying in his arms, the heartbroken Jay uses his last wish to be that Nya had taken his hand and nobody found the teapot that released Nadakhan. The weakened and overhearing Nadakhan grants the wish, and Jay's wish undoes the recent events that occurred since Nadakhan's release. Clouse is spotted by the Stiix citizens and chased away before he could even release Nadakhan, while the Ninja are taken back to the billboard where Nya takes Jay's hand and they kiss.
Day of the Departed
Having claimed the Ultra Stealth Raider jet, Jay raced with his teammates to get to the Ninjago Museum of History in time to get Day of the Departed lanterns. After viewing the new Hall of Villainy exhibit, Jay parted ways from his teammates to spend the holiday with his parents Ed and Edna. Unfortunately, their holiday was interrupted when Samukai, returned from the Departed Realm due to the magic of Master Yang and the Yin-Yang Eclipse, attacked the junkyard in order to dispatch Jay using his Departed Blade. Jay was left on the ropes due to a pair of Skulkin holding his parents hostage, but was able to fight and finish off Samukai due to the unexpected intervention of Ronin.
Meeting up with his teammates (minus Cole) Jay learned that they had suffered similar attacks as Wu appears and tells them of Yang's plans of distracting them as Morro appears confirming this. Jay is angered to see Morro and readies for a fight questioning if any other ghosts would appear but Wu tells them Morro is there to help and the latter tells that Yang tricked Cole to open the Rift to Return to Ninjago. Jay questioned how Cole got tricked but Zane points he was there as the Ninja realized to their horror that they had forgotten about Cole due to the latter's increased rate of fading. With this news, the Ninja swiftly headed off to find Cole while Morro returned to the Departed Realm.
The Ninja flew the Destiny Bounty to Temple of Airjitzu to find Cole as he fought to prevent Yang's escape through the Rift of Return, but were unable to reach him due to the wind generated by this event. Fortunately, their arrival gave Cole the strength to overcome his doubts and allow him to defeat Yang, who was then left in a state of bemoaning. Jay was confused when Cole started to talk to Yang before encouraging the latter to head through the rift. After Yang was redeemed by Cole's words of encouragement, he allowed Cole to make his way through the rift just before it closed as the Ninja were caught in its shockwave.
They have a hard landing near the Temple of Airjitzu, before wondering if Cole made it in time. Fearing the worst, Jay stated he'd give anything to have him back just as an overhearing Cole asks about this before emerging from behind a rock human once more. The Ninja celebrate their friends return and their families and make the Temple of Airjitzu, now cleansed of evil magic, their new base though Jay had expressed fears about it continuing to be haunted.
Later that night, the ninja with their families and friends gathered at the temple and listen to Cole's story. Jay was annoyed with Cole telling the same story asking if he was going to do that every time the holiday came as Cole states he'll stop if Jay admits his fear as he reluctantly does so stating there are no more ghosts which Cole "confirms." (Cole looks to a window and winks at Yang, who winks back.) Those gathered then released the lanterns in celebration of those who had gone before them.
The Hands of Time
The Hands of Time
Jay and the Ninja are helping Dr. Saunders clean up the museum. After a discussion with Lloyd, Jay drops a mannequin head when he received a vision, making him a little suspicious about something. Cole finds a painting of the battle with Wu, and Garmadon fighting the Time Twins and tells Lloyd to check out his father. He notes that they are Ninjago's two greatest Elemental Masters, and wonders if he'll ever live up to their legacy. Zane tells them that the painting dates back about 40 years ago, during the Serpentine Wars and Lloyd asks Dr. Saunders what it is. He says that it has no historical significance, and he tells them that "in legend" the Time Twins could manipulate Time.
During Wu's battle with Acronix, a Time Blade falls from the sky causing a temporal anomaly which causes time to skip an entire minute. Lloyd and the others are walking out of the Museum when the Time Blade causes them to be displaced In the Destiny's Bounty 2.0. Zane finds out that there was an energy displacement caused by temporal energy. They also find out that the displacement came from Wu's old monastery and Lloyd suggests that they check it out, and then remembers that Wu went there—so they go there.
When they arrive, they see Acronix alone. Jay goes to fight him, and Zane tells them that it's Acronix from the painting. Lloyd points out that he should be older because the painting took place 40 years ago. The other Ninja go to help Jay and Kai accidentally sets the monastery on fire again. Ordered by Lloyd to fight, Jay, Cole, and Kai help him battle Acronix while Zane and Nya put out the flames.
Jay and the Ninja push Acronix back with their powers so that he apparently falls off the edge, but he actually just uses the Time Blade to move forward in time and escape.
Thinking they defeated him, they find Master Wu (who was hanging on a tree branch) and help him back up.
The Hatching
The Ninja asked Wu about their fight with Acronix. Afterwards, they left him so he could rest. They discussed the painting they saw on the museum and how it relates to Wu's flashback.
He later helps Nya pack away her old Samurai X suit. He comforts her and holds her hands. They attempt to share a kiss, but are interrupted by Kai who awkwardly enters the room and covers his eyes.
After a while, the Ninja watched a news channel reporting a Vermillion Warrior wreaking havoc at the BorgStore. They decided to attack it one-on-one, but failed, noticing the Warrior could regenerate. Coming to the conclusion that the Vermillion might try to kidnap Cyrus, the Ninja tried to help him. However, they found Zane unconscious and Cyrus Borg missing.
A Time of Traitors
After failing to figure out what the Vermillion helmet does, they went to see Wu for answers. He was unable to answer, however, so Cole, Jay, and Nya went to reboot Zane in the Samurai X Cave while Lloyd stays with Wu and Kai goes to the museum.
They discovered a video feed and slowed it down to reveal Zane being hit by something. After slowing down the video more, they discovered Acronix and Dr. Saunders working together. They rushed to the museum to stop Kai, but Jay and Cole stayed behind to battle with the Vermillion Warriors. However, the Army left, leaving them wondering where they went.
They went back to the Cave, and found Zane rebooting.
Scavengers
"My vision is right. There is a better place. A scrapyard. Like the one that belongs...to my parents!"
―Jay in Scavengers
As Jay trains with Cole, they wonder why the Time Twins would kidnap Ninjago's citizens. They told Kai that they could fight the Vermillion, but Lloyd told them until Wu heals, he would be their substitute Master. However, when Lloyd suggests they make a plan, they reluctantly agreed.
When Ronin and Dareth came to tell them the Vermillion are stealing metal, the Ninja left, only for Jay to receive another vision.
After a brief fight, the power went out and the Ninja met Lloyd at the power source. They created a magnet to attract the snakes' armor, rendering them vulnerable. The power went back on, and they heard the Vermillion are attacking Mega Monster Amusement Park. They left for the park, and Jay, who receives another vision of his family, headed to the junkyard to defend his parents against the snakes.
A Line in the Sand
Upon hearing the Vermillion Warriors were taking metal, Jay heads for his parents' scrap yard since it has a lot of metal. After managing to shock most of them, he finds out that his Ninja team is in trouble and his mother ends up kidnapped. With his ride scrapped by the Warriors, Ed gives him an early birthday present, a regular motorbike, but it falls apart, Jay modifies it, making it the Desert Lightning. They then proceed to use lightning speed to defeat the Vermillion Warriors and to bypass the effects of the Slow-Mo Time Blade and rescue his mother. Then, he gets jolted out of the desert, quickly telling the others to grab his father as he left with his mother.
The Attack
After messing around with the Slow-Mo Time Blade, Jay, Cole, and Zane notes how Kai and Nya are acting strangely. He then gets an idea to run at each other and use the Blade to stop them from colliding.
Lloyd told them they were supposed to hide the Blade, but they disrespected him. Wu told them the same thing Lloyd did, but they obeyed him instead.
A moment later, they were attacked by Vermillion. They were easily defeated, but it regenerated into Buffmillion, which Nya and Kai were able to defeat.
When Lloyd went down with his Dragon and was unable to summon it again, the Ninja watched as Samurai X saved him. They tried to find out who the Samurai was, but to no avail.
Lloyd and Jay confronted Acronix just as he was about to help his brother fight Kai. They eventually got both the Blades, but it was stolen by Machia when they least expected.
They mourned over their defeat and blamed their overconfidence, and Jay receives two more visions, making him feel uncomfortable and worried.
Secrets Discovered
Lloyd tells the team that if they can find the location of the Time Blade, they would be able to know the headquarters of the Vermillion Army. Misako then explains Wu was hit with the Time Punch. They left to go to the museum.
Cole accidentally made a hole in the wall with his Earth punch, revealing a secret room. Cole found a door, which lead to a sewer system.
After riding on the Destiny's Shadow, Jay and Cole attacked Skales and Skales Jr. but was stopped by Lloyd. They told them that the Vermillion are strong in numbers, and they are located in a swamp. Skales gave them a map and they drove off.
The Ninja found their way to the swamp and noted how many eggs and armor they have.
Pause and Effect
Lloyd explained that Cole and Jay will rescue the workers. Cole freaked out over a slug, much to the amusement of Jay and Lloyd. They used a grappling hook and found the workers. They decided to rescue them by Airjitzuing their way up to the skylights.
Since Karlof is too heavy to hold, Cole suggested they make a ladder instead. He then asks his father where the armor design came from. Lou answered it came from a blacksmith.
When Jay caused the ladder to collapse, the sound alerted the Vermillion. They were eventually outnumbered, but Zane and Lloyd tried to help them.
Out of the Fire and Into the Boiling Sea
When the Ninja are being pursued by the Vermillion, they took cover in an Ice dome made by Zane. When the latter decided to save Borg, Jay and the others went with him. After hiding from the Army, they tried on disguises to sneak into the Dome.
Once they met Cyrus Borg, he explains he was forced to build the apparatus for the Iron Doom, allowing the Time Twins to travel through time. They were told he added a code for self-destruct, but had forgotten it. Cyrus told them if he saw the panel, it would probably jog his memory back. They were about to take him, but the Vermillion stopped them. Cyrus was able to convince the Vermillion he just wanted to see if the apparatus is properly installed, but Jay blew their cover. Samurai X came and ran over several Vermillion with the Samurai VXL. Cole helped fight back the snakes as Samurai X brings Cyrus to the panel.
As they fought, Zane figured out the password and Machia's ship arrives. Cole tries to fight back the Vermilion, but Acronix froze Zane, Samurai X, and Cyrus. When they were kicked off the platform, the Ninja caught them.
Lost in Time
There is nothing the team can do but wait for Kai, Nya, and Wu's return. Jay receives five visions, making him feel nervous and unsure. Eventually, they start to notice the city has no technology and that Zane has gone back to his original state.
When Ninjago went back to normal, Jay hugged the vigilante and before asking the latter's identity, he receives a vision of P.I.X.A.L., finally knowing the Samurai X's identity but kept it as a secret from his friends.
When Kai and Nya came back without Wu, they are left without a Master. However, Zane spoke up and said Lloyd will be their new Master. Jay told his friends about his visions that haunted him earlier as his two tears drop from his eyes. He listened in worry as Lloyd made his decisions of burying the Time Blade and deciding to search for their lost master Wu and figuring out what's wrong with Jay.
Endless Griefs
One year has passed since Krux, Acronix, and Master Wu were all lost in time. Jay and the others deal with a group called the Sons of Garmadon who want to resurrect the Overlord while figuring out why Jay's visions are haunting him.
The Mask of Deception
In hopes to find Wu, Cole and Jay went to an ancient temple. When they failed, another vision haunts Jay, leaving him timid. Cole gets frustrated, causing all the monks to break their vow of silence. They were called back to the team and they left the monks behind.
The Ninja regrouped, and Lloyd showed them the Sons of Garmadon logo and said they stole a mask. Hutchins informed them of the Oni Masks and that the Emperor of Ninjago will have a speech. The Ninja agreed to defend the mask during his speech.
During the speech, firecrackers went off, causing the audience to panic. The Royal Family is grateful they tried to save them and they were invited inside the palace.
The Royal Family informed the Ninja as long as they have the Oni Mask, their lives are in danger. The Ninja accepted the challenge to keep them safe and were given a tour with Hutchins.
When Hutchins showed them the Oni Mask of Deception, the Ninja agreed to protect it. Jay, Cole, and Zane kept an eye on the buffet table.
The Runaway Princess
"I don't get it. Why did the Princess slapped me?"
―Jay after getting a rude slap from Harumi in "The Runaway Princess"
While training, the Ninja noticed Jay has been very quiet ever since his visions began haunting him.
When the palace exploded, the Ninja fought the Sons of Garmadon. Later, Lloyd and Master Garmadon picked them up on the Destiny's Bounty and informed them the Emperor, Empress, and Hutchins didn't survive. Jay and the others were surprised to see Garmadon again, with the Ninja now having two masters on their side.
The Oni and the Dragon
When Lloyd and Garmadon came back from Mistaké's shop, they watched Cole karaoke at Laughy's on television, much to Jay's amusement but stopped when another vision haunts him. Cole was attacked by the Sons of Garmadon and when Zane didn't help, the Ninja went to help him. While they were chasing Mr. E, Lloyd realized Zane was trying to gain their trust.
Once Horrorstrucked, Twice Emotional
Jay tells Lloyd Zane was last seen at Central Station. When Lloyd was unable to find him or Cole, who was with the baby in the forest, Jay and Kai checked the other stations.
After the Ninja found Zane shut off at the bottom of a cliff, they were about to take him back to the Bounty, but Jay noticed a bunch of dynamite sticks planted at the junkyard revealing to be his home, much to his horror and the visions that haunted him last year. When he and his fellow Ninja arrived, his home was blown to smithereens, almost sending the Ninja flying. When the smoke clears, Kai, Nya, Lloyd and Garmadon are relieved. However, as Jay regains conscious, he noticed a pair of broken glasses and a button from an overall, meaning that his parents Ed and Edna have died from immolating in an explosion. Garmadon and Lloyd realized about Mistaké's story about the story she reminded them earlier. Garmadon, Lloyd, Nya and Kai mourned over their failure as Jay screams "NO!" in failure, ultimately broke down and started crying in his Endless Griefs due to the sadness of his fellow Ninja and the worries of Garmadon. Unbeknownst to them, Harumi was seen at the top of the cliff while looking through a pair of binoculars, before smiling sinisterly, meaning that she is Quiet One and the one who killed Jay's parents and destroyed his home before saying her line: "Enjoy your life of sadness, Blue Boy. Once the Overlord is resurrected, your life is next.".
Dead Man's Squall
Jay is still grieving as Garmadon comforts him. After P.I.X.A.L. reveals that she's the Samurai X, Lloyd noticed Jay has lost all of his anxieties and his light-heartiness. After waking up, Garmadon states that he and Jay have to find the final Oni Mask as the Blue Ninja sadly walks with him.
The Quiet One
While the ninja are fixing the Destiny's Bounty, they talk about Jay's history with them and how lighthearted he used to be, much to Nya's newly gained anxiety.
Tears of the Blue Ninja
When the dangerous monster attacked, the Ninja fight back with Spinjitzu. Garmadon noticed Jay grieving, and decides to use Spinjitzu to help his son and his friends.
Dread on Arrival
After Harumi and the Sons of Garmadon were arrested, the ninjas decided to gently leave Jay alone, who is grieving even more due to Dareth who misbelieves it was Jay's fault for not noticing his home in flames causing Nya to beat up Dareth.
Nonelectrical
At the beginning of the episode, Garmadon, Misako and P.I.X.A.L. noticed Jay in a depressing way. Garmadon informs him that the little toddler is Master Wu after he was touched by the Reversal Blade before disappearing in time. This made Jay smile a little bit, making it the first time his smile has appeared on his face since "Once Horrorstrucked, Twice Emotional".
When the Overlord returns to Ninjago, he tries to fight back, but his grief and emotional state made him timid and scared leading him into defeat and the loss of his powers.
Big Trouble, Little Ninjago, Fearful Jay
In the beginning of the episode, Jay, who was sobbing silently, is in a coma and is suffering from his visions, now nightmares, after the battle with the resurrected Overlord. Later, he slowly woke up, after Lloyd realized that Jay's powers are gone. He thanked his friends and his girlfriend for taking him to Mistaké and healing him. After the Overlord and Harumi took over Ninjago, the Ninjas have been seemingly killed by the Colossus, Lloyd is enraged and is angered by the taunts Harumi insulted on Jay for killing the former master of lightning's family, causing the green ninja to scream in a greater fury, swearing that he'll get revenge for killing his friends. After teleported by the Traveller's Tea, Nya, Kai, Cole, Zane and young Wu have been stranded in the Realm of Oni and Dragons and Jay had been seperated from them as more of his tears trinckled down his face.
Hunted
Blue Ninja's Blues
"Journal Entry 1: "Back where it all began". After Nya used the Traveler's Tea, I was separated from my fellow Ninjas. I woke up, pondering to myself, "Where am I?". Suddenly, I hear a roar, when I looked up at the sky, dragons are flying in a wild desert realm. Then I just realized that Nya used the Traveler's Tea which had sent us to the Realm of Oni and Dragons."
―Jay narrating during the first scene of him in "Blue Ninja's Blues".
Iron and Stone
"Journal Entry 2: "A search for a sheltered place". It's been five hours since I got separated from my friends and my girlfriend. I walked around grieving endlessly, then I found a cave in a short distance. It may be abandoned, but I ran there to seek shelter."
―Jay narrating in "Iron and Stone".
Operation Free Ninjago City!
"Journal Entry 3: "A Radio unexpectedly in a cave". It's been almost a day since we're separated. I found a radio in the cave. I don't know how it got here, but maybe I can use it to listen what Master Lloyd and the others are up to."
―Jay narrating in "Operation Free Ninjago City!".
Empress Harumi's Destruction
"Journal Entry 4: "First you lose your family, now you lose your left eye". I was listening to Lloyd after he and the Resistance hijack Ninjago City's TV station to broadcast a signal of hope. But, I lost the signal, because the cave, that I thought was abandoned, was home to a monster never before seen in Ninjago. Then it tried to kill me. I managed to escape, but the monster destroyed my left eye. Now more scared, timid, frightened, and horrified, I escaped from the monster, as my left eyelid drops tears of blood, attracting two Dragon Hunters. So I went into hiding."
―Jay narrating in "Empress Harumi's Destruction".
Jay's grief and emotional state made him lost the courage and martial arts, and the result of losing his left eye, leaving him more scared and sad.
Search for Jay, Part I
"Journal Entry 5: "From Visions to Nightmares". After hiding from the Dragon Hunters, I was haunted by my nightmares, but this time, by Empress Harumi and the Overlord. Now without my nunchucks, I wait for my friends and Nya to find me."
―Jay narrating in "Search for Jay, Part I".
Search for Jay, Part II
When Wu rapidly grew to a teenager, Zane states that Jay is 20 years old, suddenly Jay and the other Ninjas have been kidnapped by a mysterious figure who had taken them to the mountain surrounded by lightning clouds.
Jay's Revenge
Lightning Reunion
As he was brought to the mountain, the mysterious figure is revealed to be Jay's real mother, Jennifer Gordon, who has been stranded in the Realm of Oni and Dragons for 20 years.
Reach for the Thunderstorm
Unlike getting advice from his friends and master, Jay understands his mother's advice and information. He told her that he has lost his elemental powers to Harumi, she understood what he said and is glad to be reunited with him.
New Lessons for a Former Master of Lightning
When Jennifer told Jay, the other ninja and teenager Wu that the only way to stop the Iron Baron is to be a dragon hunter, Jay understands of what his mother says. He looks and smiles at the ninja and says that he has faith.
Blue Destiny
After getting back to Ninjago, Jay fought against Harumi who is fueled by darkness from the Overlord while his friends succeeded in stopping the Colossus from destroying the city. After the blast from Harumi's power injured the Blue Ninja, who remains motionless and silent from falling off of Harumi Tower. While his fellow Ninjas were terrified after seeing his motionless body, his Mother comes to defend his son. She told Harumi that Jay has never killed her birth family. His friends and his girlfriend have treated with respect, proclaiming him to have been her favorite pupil, which wakes Jay up from his wounded daze. Fuelled by anger, vengeance and justice, Jay charges up with incredible energy and boldly proclaims to Harumi. "This is my power. And I'm not using it to hide in fear and sadness anymore. I'm using it to protect my friends!" Harumi powers up her destruction orbs and the two opponents prepare to meet in full-on battle. Harumi attacks the Ninja, but Jay avoids them and bounces off the buildings to strike Harumi with an increasingly rapid barrage of body-slams, Harumi is left powerless. As she continues to taunt him about his adoptive parents's deaths, Jay ultimately chooses to create a lightning bolt shaped spear and thrusting it straight into her heart by force, killing Harumi meaning the ninjas have won, also leaving Jay damaged and needs to recover after the final battle. The ninjas clean up the museum and Jay thanks his friends for helping him. When Garmadon, Jennifer and Wu (who is now an old man again) alert the ninjas that something appeared in the middle of Ninjago City, the ninjas approached the portal leading to another universe and Ninjago is now in peace, and won't need the old team of ninjas. The ninjas jump into the portal leaving Ninjago as the citizens cheer for the new team of ninjas.
Bionicle 3: Web of Shadows
In "Bionicle 3: Web of Shadows", he and the rest of the ninjas were stranded on Metru Nui. In the end he and the rest of the ninjas fight against Roodaka and Sidorak. After Sidorak's death, he alongside the ninjas became supercharged and killed Roodaka with their overpowering elements, however the blast also killed the ninjas themselves and they vanished, never to be seen on Metru Nui again.
DC Comics
LEGO DC Comics Super Heroes: Justice League: Rise of the Spinjitzu Ninjas of Ninjago!
After unlocking new superpowers, Jay (now known as Bluelectro) and the ninjas joined the Justice League and are introduced to the League. Bluelectro introduce himself to Batman and anticipated the Dark Knight's history. Batman fought against by throwing batarangs at him but missed and got zapped. Batman is very impressed by Bluelectro's skills. Later after splitting up to stop criminals, Bluelectro explains his emotional side about the death of his adoptive parents Ed and Edna. Batman tells him to stuff his emotions down deep and feel nothing. During the battle against Joker, Harley Quinn, Penguin, Scarecrow, Catwoman, Bane, Man-Bat, Poison Ivy and Deathstroke, Bluelectro gets hit by Fear gas, but is immune to it and single handedly defeats the criminals with his spinjitzu and sends them flying back to Arkham Asylum.
LEGO DC Comics Super Heroes: Justice League: Return of Ninjago City
After rescuing the League, Batman shows him the Batcave and all of his vehicles and gadgets. Bluelectro is impressed with the cave. Batman congratulates the lightning ninja, gave him his own cape and Utility Belt, making him Batman's sidekick.
As the ninjas and the League head back to the Hall of Justice, after the heroes show the ninjas their home and their friends, Bluelectro noticed Lois Lane reporting an unknown place called Ninjago City has appeared between Metropolis and Gotham City. With the ninjas excited to see their old friends and families again, they decided to bring the Justice League with them for a tour.
Bluelectro is a member of the Bat-family which primarily consists of Batman, Robin, Red Robin, Nightwing, Red Hood, Alfred Pennyworth, Batgirl, and Commissioner Gordon.
LEGO DC Shazam!: Magic and Monsters
During his search for the Justice League, he overheard Mister Mind's voice and hides in the vent he was crawling in. While spying on the villainous caterpillar, he was enraged at Doctor Sivana's chemical that de-aged the Justice League into kids, except for his fellow ninjas. He, Aquos, Flamenado and Energon managed to save the de-aged Superman, Wonder Woman, Flash and Green Lantern Jessica Cruz.
In the end, the Ninjas, with help from the Justice League and Shazam, they managed to defeat Black Adam, reverting the villain to a mortal man. He, along with the League and his fellow ninjas are glad to see Billy reunited with Mary Batson and his Uncle Dudley.
Appearance
From Season 8 until the end of Season 9, Jay had curly, dark-brown hair, generally wearing blue clothing to represent his elemental color. He had brown eyebrows, a jabbed in of his left eye with blood tears and light freckles.
In Season 1, Season 10, Season 12, and the DC Comics films, Jay has short, straight, reddish-brown hair, with a notch on his right eyebrow. In addition, he was not shown to have freckles.
For casual attire, since "The Royal Blacksmiths," Jay wore a blue jacket with a white stripe over a white t-shirt and blue pants. He wore a blue beanie over his hair in Season 6. In the DC Comics films, he wore the same casual attire and has a blue lightning bolt tattoo on his left cheek. However, he didn't wore his eyepatch over his left eyelid, he only had to wear a pair of blue sunglasses with black shades to hide the blooded tears of his left eyelid.
From "My Dinner With Nadakhan" to "Wishmasters", Jay wore a dark blue eye patch over his left eye. Briefly in "The Way Back," during a battle with the Sky Pirates, he wears a similar second eyepatch over the same eye that is black instead of dark blue. Throughout Season 10 and the DC films, Jay continues to wear his eye patch similar to the one in "Skybound".
In the flashback of the second Season 10 episode "Reach for the Thunderstorm", Jay was an infant wrapped up in a blue blanket with a single tooth in his mouth.
In the flashback of the first Season 10 episode "Lightning Reunion", Jay resembles his child appearance from "Child's Play", but he wears a dark blue long sleeve shirt with a Cyrus Borg design on it. He wears light blue shorts and cyan shoes.
In the DC Comics films, Jay wore his Destiny Robes, an earth blue cape and his very own utility belt around his waist.
Age
Like the majority of his fellow Ninja, Jay is currently in his late teens. However, the Ninja do not officially have specific ages, as they are meant to be perpetually in their teenage years for the duration of the show. However, in "Search for Jay, Part II," Zane states that he is twenty years old making him the first ninja to be a young adult.
Potential Estimations: During the events of the pilot and Season 1, he was at least 16 years of age. As the most recent events take place 3–4 years after the events of Season 2, he was around 19. In the Season 9 finale however, he is currently 20 years old.
Personality
Jay is the most light-hearted of all the Ninja. He is always telling jokes, most of which are only funny to himself. He usually does this to cover up fear or anxiety, as revealed in Season 6. He enjoys boasting about his abilities, much to the annoyance of the others, but he proves to be a good friend and a skilled fighter. He is also somewhat high-strung, typically being the first to panic in dire situations, from Season 1 until Season 8 Episode 78. In Season 12, he is shown to be light-hearted and high-strung.
Jay also has a crush on Nya, and often stumbles on his words around her, although they both eventually reveal their feelings for each other at the end of Season 6. They are currently in a relationship.
He is fond of those he is loyal to, as shown in Season 7 when he fought against the Hands of Time to protect his adoptive parents.
Jay is fond of inventing, technology, and the color blue. Technologically, Jay is one of the smartest out of all the six Ninja, possibly second to Zane, because he was raised by adoptive parents who happen to be mechanics, until they died in "Once Horrorstrucked, Twice Emotional."
Throughout Season 7, Jay gets really quiet when his visions haunted him, making his friends and himself worried.
Jay despite his light-heartiness, is fully over emotional when he failed to protect his adoptive parents and his home from the Sons of Garmadon. He is full of sorrows, much to the amusement of Dareth who makes fun of him and his family. The other Ninjas quickly realized he had lost his sanity. In this state, he is constantly "grieving" over his adoptive parents' deaths even saying that he has never "found" it when he's still crying.
All of his lighthearted attitude is completely absent after losing his entire foster family and home to the Sons of Garmadon and Empress Harumi.
He suffers from his own grieves, or as ancient Ninjago history calls it "Endless Griefs".
When fighting against the Overlord and Harumi, Jay became timid and upset which lead him to the loss of his martial arts and elemental powers.
In the flashback of "Lightning Reunion", he is shown to be an extremely light-hearted kid when watching a Fritz Donnegan movie and always idolizing his idol Cyrus Borg. Every time his foster mother or father come home, he gets excited and hugs them.
After being stranded in The Realm of Oni and Dragon and seperated from his friends and girlfriend, Jay had a more emotional side. However, he has apparently stopped grieving when approaching his real mother. Since then, he felt more calmer than before when listening to his mother's lessons and is happy to see her again for twenty years. As he grew more confident and mature, his sorrows turn to vengeance when he and the other ninjas along with Wu returned to Ninjago to fight against Empress Harumi.
After returning to Ninjago to fight Empress Harumi, Jay's sorrows turn to anger in a calm exterior and (unlike Lord Garmadon) is shown to have a dark side to kill those who threatened his friends and killed his adoptive parents, after killing the villains he defeated, his anger returns to a more relaxed and sensitive calming way.
In the DC Comics films, Bluelectro is a young adult who acts like he's still in his teens but has a mature behavior, like Batman. He gets emotional when going to fight crime but gets cheered up quickly when listening to Batman's speech. He doesn't show fear and shows great courage and bravery when doused by Scarecrow's Fear Gas.
In Season 11, he shows respect and loyalty to his fellow ninjas and Justice Leaguers. He is shown to be quite mature and confident in his journey. However, as shown in "Astrid and the Endless Griefs", he is shown to have a deep strong hatred towards others, like Astrid, who mentioned the word "Adopt" during his meditation time.
Relationships
Family
Cliff Gordon
"My father wasn't just a fan of Fritz Donnegan. . .he was Fritz Donnegan!"
―Jay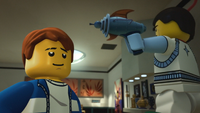 Jay was a big fan of Cliff Gordon ever since he was kid. In Season 6, Jay had learned that he was really adopted and that Cliff is his real father, which left him very shocked and excited at the thought.
In "The Way Back", Jay reveals that he believes that Cliff being his father was just a lie Nadakhan told him and that Ed and Edna are his real parents.
After Nadakhan was defeated, all of the wishes have been undone and Jay has not received his inheritance yet.
In "Reach for the Thunderstorm", it has been revealed that Cliff was his real father the entire time.
Jennifer Gordon
"You have a heart of a Lightning Ninja, and a soul of a Spinjitzu Master. Only you can restore the Lightning Element and peace to Ninjago. That is who you are, son."
―Jennifer in "Reach for the Thunderstorm"
Jennifer Gordon is Jay's real mother.
In "Lightning Reunion" and "Reach for the Thunderstorm", they had shared a mother and son bond after reuniting with each other after 20 years.
In "Blue Destiny", before Jay leaves Ninjago, he and his mother shared one last emotional goodbye hug after the final battle against Empress Harumi.
In "LEGO DC Comics Super Heroes: Justice League: Return of Ninjago City", he was happily reunited with his mother as they shared a reunion.
Diseased
Ed & Edna Walker
"That's no mountain. Those sticks look like dynamite sticks. That lit fuse. (Looks through binoculars.) Scrap. No sign at the entrance. Wait. No entrance? If that sign is not at the entrance, then that means... (gasps in horror and tears.) THAT'S MY HOME!!"
―Jay after noticing that his home was about to be destroyed in "Once Horrorstrucked, Twice Emotional"
Ed and Edna are Jay's adoptive parents. Jay is very close to his adoptive parents and has inherited their habit of inventing things. Although he gets annoyed when his mother tells his friends about their Junkyard, he cares about her very much. Their bond grew stronger at the end of "Snakebit" when Jay invited both his parents to the Destiny's Bounty whenever they want to visit. In Season 6, when Jay made a wish to Nadakhan he received a letter saying his father passed away and he has inherited his fortune. Immediately, Jay rushed to his parent's home where he called out for his father only for Ed to come out alive and well. Jay was relieved at the news but questioned the contents of the letter; Ed and his wife decided it was time to tell Jay the truth and inform him that he was adopted. In Season 8, they had been killed by the Sons of Garmadon leaving Jay saddened and emotional into thinking that he has no family. In "Lightning Reunion", he had a vision of himself and Edna watching Fritz Donnegan on TV much to Edna's delight. When Ed came back, he excitedly hugged his foster father (father when he was young). In "Blue Destiny", he shared one last emotional goodbye to his foster parents for good, letting their spirits disappear in sparkles, leaving Jay's mother as his own family. In "LEGO DC Comics Super Heroes: Justice League: Return of Ninjago City", he found his book of memories in the Ninjago Museum while giving the Justice League a tour of Ninjago City.
Love Interest
"Aquos, you make me so happy everyday. When we're not together, I miss you so much that it feels like part of me is missing. Will you be my Yang?"
―Bluelectro proposing to Aquos in "LEGO DC Comics Super Heroes: Justice League: Return of Ninjago City
Nya is Jay's girlfriend. In the beginning, they barely spoke to one another but Jay started to develop feelings for Nya while she did not return his feelings at first. Though they grew closer and starting dating being shown happy with each other. The two reached a rough patch in Season 3, when Nya started developing affections for Cole causing a rivalry between them which continued in season 4 where all three make up.
In Season 5, Jay discovers from a reflection of his "future" that he will get back with Nya inspiring him to pursue her again.
In Season 6, Jay goes through with his attempts using his wishes to try and impress her but in the course of the conflict with Nadakhan, Nya makes it clear to him that they are just friends, much to his dismay.
However, in the Season 6 finale when Nya nearly dies, Jay uses his last wish from Nadakhan to undo the recent events done by the Djinn, which brings her back to life. Nya and Jay reconcile their relationship, sharing a kiss and start to date once more. In later seasons, they are still together and are happy together.
In Season 8, she was saddened when Jay's parents had been killed by the Sons of Garmadon.
In "Nonelectrical", he was defeated and almost killed by the Overlord while Nya watches in horror.
In Season 9, they had been separated after Nya used the Travellers Tea to escape the Colossus.
After the two reunite in "Search for Jay, Part II", she and her friends are shocked and terrified when they discovered that Jay lost his left eye.
In "Blue Destiny" of the Season 10 finale, she was excited to see Jay had regained his elemental powers and defeated Empress Harumi, then the two kiss in embrace.
In "LEGO DC Comics Super Heroes: Justice League: Return of Ninjago City," Bluelectro attempts to ask Aquos to be his Yang. He finally pops the question before fighting the Legion of Doom. Aquos accepts, and gives her half of the medallion. During the celebration at the end, after the battle against the Legion of Doom, Aquos leans on Bluelectro, and they hold hands.
Friends
Jay is one of Master Wu's students along with the other Ninja. When Jay and the others trained to become Ninja, they showed that they really cared about Wu and glad to have him as their master.
Like the other Ninja, Jay respect Wu who in turn views him as he expressed concern for the latter when he was attacked by Acronix and began to rapidly age due to the affects of the time blade. Along with the ninja, Jay wanted to find his master after he was lost in time with the Time Twins.
In Season 8, Jay and the others were still searching for Wu before dealing with the Sons of Garmadon. They find an infant, whom they take in for some time. It is unknown how Jay is the first one who already knew that the baby is in fact their master de-aged because of the Time Blades.
During Season 9, they are stranded in the Realm of Oni and Dragons and Jay was seperated from Wu and the other ninjas. When reunited, he watched Wu grew rapidly to a teenager.
In the Season 10 finale, after the final battle, Jay was amazed and both relieved after Wu told him to rest and recover.
Master Garmadon
In Season 8, Jay was shocked to see Garmadon alive and purified of evil.
In "Dead Man's Squall", Garmadon comforts Jay who was grieving over the loss of his parents. And at the end, Garmadon informs the Blue Ninja to come and help him find the final Oni Mask.
In "Big Trouble, Little Ninjago, Fearful Jay", Jay was separated from Garmadon after Nya used the Travellers Tea.
In the 10th Season finale, Jay was reunited with Garmadon and happily fought off against the Sons of Garmadon with his aid.
"I was upset about losing Nya, but I take blame for that. I was more upset about losing you. We used to be good friends.
The best! Right? We should've been honest with each other instead of bottling this up.
Agreed. But how are we supposed to stop fighting? We can't both win.
Well, maybe we can draw it out till they call it a tie. Quick, attack me. But not hard. I got your back.
And I've got yours."
―Jay & Cole in "Versus".
They are good friends until Season 3 when Nya started developing feelings for Cole which initiated a rivalry between the two which continued in season 4. The two reconcile their friendship during their fight on Chen's Island and Cole even sacrificed himself so that Jay could win the battle.
In Season 6, it is mentioned "On a Wish and a Prayer," that in spite of the previous rift between them that Cole considers Jay to be his best friend.
In "Day of the Departed," when Cole was feared lost after facing Yang, Jay broke down and stated he'd give up anything to have Cole back which the latter overheard before revealing himself. Jay and the others were relieved that Cole was safe and human again.
In Season 8, Cole had been in the forest with the baby while his friends are in Deadman's Squall. At the end of the episode, he learned from Lloyd that Jay's parents are dead.
During Season 9, Cole had been separated from Jay. After reuniting with his best friend in the Season finale, Cole expresses sadness (nearly crying) when he saw Jay's left eye cut out.
In the Season 10 finale, Cole was happy to see Jay defeated Empress Harumi and regained his powers as a result.
"There's only one thing to do before we get back to Ninjago. We're going to find Jay."
―Kai in Search For Jay, Part I
They have not interacted a lot in the series but they care deeply about each other and have gotten closer as the series goes on.
At first, Kai didn't like the thought of Jay dating his sister due to his overprotective nature but soon came around to the idea.
In later seasons, they get along even if their personalities contrast with the others.
During Season 8, he felt really sorry for Jay when his parents had been killed by the Sons of Garmadon.
In Season 9, his temper had cooled down when searching for Jay. After reuniting with him, his face was horrified when he saw Jay's left eye cut out.
In the 10th Season finale, Kai was happy to see Jay defeated Empress Harumi and regained his powers as a result.
Like all the other ninja he thought Zane was weird but when finding out that Zane was Nindroid, he and the others supported and accepted their friend. They grew close throughout the series, with Jay being distraught by Zane's death after he sacrificed himself to defeat the Overlord.
In Season 4, Jay was looking at his portrait of his friends in sadness and reflecting on his time together with Zane. When Lloyd suggested replacing Zane, Jay heavily protested against the decision to do so but was shocked to learn that his friend was still alive and traveled to Chen's Island to find him. While imprisoned by Chen, Jay was reunited with Zane and was elated to see his friend again and complimented his new form.
As the series goes on they still get along, in season 5 where Jay tried to fix Zane's malfunctioning voice and modifying it for comical purposes.
Halfway through Season 8 in "Deadman's Squall, after Zane is rebooted, he saw Jay crying in tears, as the Nindroid didn't know why Jay is sad.
In Season 10, Zane's friendship with Jay had became very strong when the blue ninja got his courage back.
"Jay, Empress Harumi is at the top of Borg Tower. You are the only ninja to defeat her. She killed your foster parents, now it's time to put all that in the past. If Harumi continues to taunt you, ignore her. The citizens of Ninjago City are depending on you."
―Lloyd wishing Jay good luck in "Blue Destiny".
Lloyd and Jay are good friends. They don't talk much, but as the series go on, they grew closer.
In Season 3, Lloyd introduced Jay to Fritz Donnegan and got him hooked on the character.
In season four, Jay denied Lloyd's offer to go back to the team but still went along with meeting him. Jay had faith in Lloyd as he believed the latter would save him and the others from Chen after they were captured. In Season five, when Lloyd got possessed by Morro, Jay and the other ninja will do everything they can to get their friend back.
In Season 7, Jay listened to Lloyd's plan after Wu is lost in time with the Time Twins.
In Season 8, Lloyd and Garmadon hear about the history of The Realm of Oni and Dragons and Jay's from Mistaké. When Mistaké tells Lloyd that the Oni Masks can bring the Overlord back to destroy Jay, Lloyd and Garmadon promise each other that they will never tell Jay.
In "Once Horrorstrucked, Twice Emotional", Lloyd was saddened after witnessing the tragic death of Jay's parents.
During Season 9, they are mostly separated since Jay was in the Realm of Oni and Dragons and Lloyd was in Ninjago.
In "Empress Harumi's Destruction", Jay hears Lloyd's voice on a dragon hunter's radio.
As of the 10th season finale in "Blue Destiny", Jay was reunited with his friend and Lloyd fought off the Sons of Garmadon. Lloyd was happy to see Jay defeated Empress Harumi and regained his powers as a result.
Justice League
Bluelectro and Batman are partners in crime fighting. The Dark Knight disbelief him as an assassin, but changed when the blue ninja dodged the batarangs.
In "LEGO DC Comics Super Heroes: Justice League: Rise of the Spinjitzu Ninjas of Ninjago!", Bluelectro explained his emotional side to Batman who encourages the blue ninja.
In "LEGO DC Comics Super Heroes: Justice League: Return of Ninjago City", Batman made Bluelectro his new sidekick and a member of the Bat family.
Later in Ninjago City, he introduced him to his mother Jennifer, who was inspired by the Dark Knight. During his talk with Jennifer, she mentioned that he and Batman have a brotherly relationship to which he accepted. Before the battle against the Legion of Doom, Bluelectro shares his elemental powers with Batman allowing him to use Spinjitzu and Lightning Elemental Powers.
In "LEGO DC Comics Super Heroes: The Flash", Batman calls Bluelectro his number one sidekick from Ninjago.
Batman's Team
In "LEGO DC Comics Super Heroes: Justice League: Rise of the Spinjitzu Ninjas of Ninjago!", Bluelectro first met Nightwing in Gotham City. During the battle against the criminals, who escaped from Arkham Asylum, Nightwing mistakenly calls him Thunder Man to which the blue ninja correctly pronounced his own name to him, causing the latter to stress out.
In "LEGO DC Batman: Family Matters", he protected her and Batgirl from Scarecrow, despite the female caped crusader calling him rookie, they are good friends.
Mystery Incorporated
He and the other ninjas first met Fred and the Scooby Gang when in Metropolis.
Bluelectro also saw them again in Gotham City while fighting crime.
He and his friends saw them again at the cafeteria which they quickly became friends.
Jay has no romantic interest in Daphne, they became good friends.
In "LEGO DC Comics Super Heroes: Justice League: Return of Ninjago City", he met her, Velma and Fred after arriving in Ninjago City.
Velma and Jay are good friends and had no romantic interests in each other, like Cole and Nya.
"Hey, aren't you the same guy from Metropolis?"
―Bluelectro meeting Shaggy again in Gotham City
Bluelectro saw Shaggy and the Scooby Gang running away. Shaggy gets scared and freaks out before running off, confusing the Blue Ninja. When watching the blue ninja, he mistook him for a pirate.
In "LEGO DC Comics Super Heroes: Justice League: Return of Ninjago City", Shaggy and Scooby met Bluelectro and Flamenado, who was helping Bluelectro asking Aquos to be his Yang, after the two ran away from Bouldergeist.
Jay and the other ninjas saw Scooby and the Gang in Metropolis.
When in Gotham, Scooby thanks Bluelectro for saving him and stopping the criminals.
Dragon Riders
Astrid Hofferson
In "Return to the Archipelago", he doesn't know what's going on.
At the end of "Living on the Edge, Ninjago-Style!", after gaining the Ninjas' trust, Astrid still doesn't trust Bluelectro, thinking that he's 16.
In "Astrid and the Endless Griefs", after Astrid insults the Blue Spinjitzu Ninja and saying the word "adopt", Bluelectro electrifies Astrid, temporally blinding her and giving her one of his fears in his Endless Griefs. After Astrid apologizes, he accepts it. After defeating Nadakhan, Bluelectro thanks her for letting him ride on Stormfly, starting their friendship. Before their friendship, Bluelectro's dark side is so dangerous, his anger scares Astrid into fear and sadness, just like how he used to be in "Endless Griefs".
Hiccup Horrendous Haddock III
Snotlout Jorgenson
Fishlegs Ingerman
Tuffnut Thorston
Ruffnut Thorston
Enemies
Nadakhan
"Blah, blah, blah. You think I'm thick enough to fall for that trick? No way! I'd rather be eaten by a spider than listen to your beguiling voice."
―Jay to Nadakhan
Nadakhan was one of Jay's adversaries and archenemies.
Before meeting him, Nadakhan impersonated Jay and the other Ninja by framing them for crimes they didn't commit and was pleased to hear they were locked away in Kryptarium Prison. He gained a vendetta against them when learning of the destruction of his world, which occurred because of the Ninjas' victory over The Preeminent and the destruction the Cursed Realm (the twin realm of his).
After the Ninja escaped, Nadakhan played on Jay's love for Nya by telling him of his true heritage and having his crew torture him once he was captured. He even revealed his endgame to Jay about marrying Nya. However, none of his tactics worked with him being unable to get him to break. Jay soon rallied the Ninja Replacements to defeat Nadakhan.
After Nadakhan was poisoned, Jay couldn't be relieved since Dilara (who possessed Nya) took the shot as well. With Nya dying in Jay's arms, Jay used his final wish to undo Nya's death and that Clouse hadn't freed the Djinn. Because his wish wasn't selfish, the weakened Nadakhan granted it. By doing this, Jay re-imprisoned Nadakhan in his teapot. Jay along with Nya and Wu are the only ones to recall Nadakhan.
Empress Harumi
"You made me suffer in my Endless Griefs, you killed my foster parents, you resurrected the Overlord, you took away my powers, you took over Ninjago, and now you leave me no other choice. I will avenge the death of my foster parents, and my birth father."
―Jay before challenging Empress Harumi one last time in "Blue Destiny"
Empress Harumi was one of Jay's most worst enemies known in Ninjago.
In "The Runaway Princess", he and the other ninjas first met her, the Emperor and Empress in the Royal Palace. Jay tried to offer a handshake, but only for the princess to slap his face and tell him to get lost.
In "Once Horrorstrucked, Twice Emotional", Harumi saw the explosion and Jay crying in his tears of Endless Griefs as she smiles sinisterly.
In "The Quiet One", it has been revealed that Harumi is the one who killed Jay's parents and destroyed his home, as the Blue Ninja hides behind Master Garmadon.
In "Big Trouble, Little Ninjago, Fearful Jay", Harumi, now possessed by the Overlord, attempts to kill Jay, who lost his powers, to make the other ninjas suffer Endless Griefs like him.
In "Blue Destiny" of the 10th season finale, Jay battled Harumi to save Ninjago. After many failed attempts to make Harumi lose her powers, he was knocked off of the tower and is seemingly dead after falling a hundred stories high. However, he survived the fall after his Mother's speech allowed him to unlock his True Potential, recovering his elemental powers, and absorbing all of the lightning from every electronics and machinery (except for Zane and P.I.X.A.L.), to defeat the Sons of Garmadon and destroy Killow and Ultra Violet. After Harumi's powers disappeared, Jay kills Harumi, finally avenging his foster family.
Weapons and Lightning Abilities
Jay can harness the power of Lightning to create a Spinjitzu tornado of pure electricity. His Electrokinesis lightning powers were enhanced further by the Justice Nunchucks of Lightning, and later by his Elemental Blade. In close-range combat, he favors nunchucks, but has used katanas and various improvised weapons on occasion. In Season 10, before getting his powers back, he gained lightning supersonic speed and can zoom past the Iron Baron. In "Blue Destiny", he can channel his emotions into elemental powers that his fellow ninjas have. With sadness, he can use Hydrokinesis like Nya. With anger, he can use Pyrokinesis like Kai. With depression, he can use Cryokinesis like Zane. With both calm and intelligence, he can use Geokinesis like Cole. With a mellowed heart, he can use Ergokinesis like Lloyd, however he lost access to five elements after falling from the Borg Tower. After regaining his lightning elemental powers, he can create a lightning bolt shaped spear and pushes it deep into his opponents' hearts killing them as lightning strikes them in extreme pain. In the DC films, he can ride a lightning bolt shaped hover board, endure strong electricity, travel through electrical lines, teleport and his weapons are thunder bolt shaped batarangs called thunderangs.
General Abilities
Jay has an eye for machines and gadgets, being in charge of repairing and maintaining the various technology at the Ninja's disposal. He was responsible for restoring the Destiny's Bounty to a functional state and equipping it with the modifications needed to make it fly. Over time, his inventing side was less emphasized, due to Nya and Dr. Julien taking up the role of gadgeteer, but Jay's skill with technology should not be underestimated. Until he loses his sanity in "Nonelectrical." In Season 12, he is shown to still have his ability to invent stuff.
He has a mojo of playing video games as seen in "Rise of the Snakes", "Only One Can Remain", "Kingdom Come" and "The Hatching" (mentioned only). However, in Season 8, he appears to have lost all of his gaming mojo after the deaths of Ed and Edna Walker.
In the end of "Living on the Edge Ninjago-Style!", he got his mojo back when he and Aquos are at Benny's Arcade Emporium playing "Dancy Pants".
In "Living on the Edge Ninjago-Style!", he is shown to be a brilliant electric guitarist as shown playing the chorus of "The Weekend Whip".
In "Energon vs. Eli Shane", he is shown to be able to speak perfectly in Japanese during his visit on Caldera Cay.
In "Grave Danger" and "4th Time's a Charm", he is said to have a love for skiing, while in the Tomb of the First Spinjitzu Master in Season 5 and chasing down Cortex in the 11th Dimension in Season 12.
Weaknesses
Unlike his fellow ninjas and aside from Nya, Jay has one weakness and one of his worst fears known in Ninjago, his own griefs or as ancient Ninjago history calls it "Endless Griefs".
Ninjago.com Descriptions
Rebooted
Jay is the ninja of Lightning, a talented inventor with a crazy sense of humor and a huge crush on Nya.
He loves all the new technology around today, although his efforts to take it apart and figure it out have led to more than a few explosions.
He even has a Cyrus Borg poster on the wall of his room.
Although the ninja have been through many fearsome fights, Jay is still the same fast-talking adventurer he has always been.(Even Nindroids cannot get this ninja down.)But he can sometimes make his teammates crazy!
When Jay uses his electrical powers to his fullest, he creates 1.21 gigawatts.
Jay once invented a Spinjitzu powered slingshot … but it backfired.
Sometimes Jay wakes up in his sleep because he accidentally zaps himself.
Jay's favourite dancing style is electric boogie.
Jay and Nya once went dancing on a date, but it spun out of control.
Pilot (2016 Museum Description)
Son of TV actor Cliff Gordon, the Lightning Ninja is swift in every way. Fast-talking and quick-witted, the problem is that he speaks and acts first, only thinking later. This also means he has a tendency to panic and be overdramatic. While Jay thinks he's a wise-cracking comedian, he's often unintentionally funny and too easy to tease, but this naivety makes him lovable. He's also a genius when it comes to turning scrap into machines, just like his foster parents, Ed and Edna.
Jay is captivated by Kai's sister, Nya, and struggles with his feelings, especially when her overprotective big brother is around. He learns that he can apply his ninja training directly into combat. Inevitably, it is the Ninja of Lightning who is the first to master the art of Spinjitzu.
Season 1: Rise of the Snakes (2016 Museum Description)
The chattiest of the group becomes tongue-tied when his crush on Nya begins to crush him! Can he go from funny-man to Romeo and capture her heart? Instead, Jay learns that instead of trying to impress people by being someone you're not, it's best to just be yourself.
Season 2: Legacy of the Green Ninja (2016 Museum Description)
Jay's relationship with Nya continues to bloom, only for the samurai to fall into Lord Garmadon's hands, pitting them against each other in the final battle of good versus evil.
Season 3: Rebooted (2016 Museum Description)
When a matchmaking console reveals to Nya that Cole is her perfect match, it jeopardizes her relationship with Jay. The Ninja of Lightning is extremely upset about this since he has had a crush on Nya for a long time and he feels like Cole is sneaking in at the last minute. In addition, deep down he is distressed that this new rivalry with Cole will permanently damage their friendship.
Season 4: The Tournament of Elements (2016 Museum Description)
Jay is still not over his feud with Cole regarding whom Nya likes best. At first, this proves to be an impediment to the ninja's efforts on Chen's Island, as the two are constantly butting heads. But when they are pitted against each other in combat by Chen, Jay realizes that his long-standing friendship with Cole and the welfare of the team are what matter. Jay emerges from all of this a more mature and grounded character.
Season 5: Possession (2016 Museum Description)
Jay is a big fan of fantasy adventure stories and games, so even when things look bleak, he's quite enjoying this quest filled with magical relics, mysterious riddles and dangerous temple traps. Best of all is the chance to learn the lost martial art of "Airjitzu" which allows the user to take flight!
Season 6: Skybound (2016 Museum Description)
Jay wants things with Nya to be different, so he makes some thoughtless wishes that cause a great deal of pain. Realizing the difference between what he wants and what the team needs, he refuses to make his final wish and is able to free the others from the Djinn Blade. It's only when Nya is dying that he wishes that the Teapot of Tyrahn had never been found. The world resets, with the teapot lost and all of the events caused by Nadakhan's reappearance erased from history. Only Jay and Nya remember anything.
Season 7: The Hands of Time (2016 Museum Description)
While cleaning up the museum, Jay receives a vision. As the Vermillion scurry through town in search of metal, Jay realizes where NINJAGO® Island's largest supply resides: His parents' scrapyard! Without telling the others, Jay breaks off and goes it alone to save Ed and Edna just in the nick of time. For Jay, the battle with the Hands of Time has become personal – and he's out for revenge.
Season 8: Endless Griefs (2016 Museum Description)
The Lightning Ninja has changed. The Jay everyone knows is no more. After a tragic loss of his home and his parents Ed and Edna, the Blue Ninja is extremely emotional and goes it alone with Lloyd's father Garmadon. When the Overlord returns, his elemental powers are gone and is defeated at the hands of Empress Harumi.
Season 9: Hunted (2016 Museum Description)
Stranded in the Realm of Oni and Dragons and seperated from his friends, Jay still grieves over the loss of his parents. After reuniting with his fellow Ninja, he was kidnapped by a mysterious stranger along with his friends.
Season 10: Jay's Revenge (2016 Museum Description)
Realizing how he became adopted without him and the others knowing, Jay trains with his mother and has learned new lessons. For the Iron Baron and Empress Harumi, Jay's training has just begun and is full of vengeance, - he is out for revenge once more and will not stop until the Iron Baron in the Realm of Oni and Dragons, the Sons of Garmadon, Empress Harumi and all the evil in Ninjago and the world are destroyed once and for all!
Season 11: Journey to the Archipelago (2018 LEGO DC Description)
Jay, now Bluelectro, is ready for any adventure and battle in the Archipelago with the Justice League and the Dragon Riders. Astrid, on the other hand, doesn't trust the Blue Ninja, and is unaware that he has both a dark history and a dark side. Little does she know that she has pushed the Lightning Warrior too far. Saying the "A" word adopt, has triggered his strong hatred towards her and temporarily blinded her!
Season 12: Quantum Masks and the Quantum Rifts
Years ago before the Day of the Departed, Hands of Time, Endless Griefs and the Justice League, Jay's happy that his romantic relationship with Nya is rekindled. With the Teapot of Tyrhan banished forever, he and his fellow ninjas are going to save not just Ninjago, but the entire Multiverse with help from their new friends Crash Bandicoot, Coco Bandicoot, Aku Aku and the Quantum Masks!
LEGO.com Description

This is a description taken from LEGO.com. Do not modify it.
---
Originally from Ninjago, Jason Jay Gordon receives his eyepatch after losing his left eye in the Realm of Oni and Dragons. Now on Earth, going with the name Bluelectro, the Lightning Spinjitzu Ninja of Ninjago fights crime in Gotham City with his partner Batman.
Partner: Batman, Robin, Nightwing and Batgirl
Powers: Spinjitzu, Lightning Elemental Powers, Electrokinesis and Highly trained martial artist
Weapons: Thunderangs
Base: The BatCave, Hall of Justice
Arch-Enemies: The Joker, Harley Quinn, Penguin, Bane, Man-Bat, Catwoman, Poison Ivy, Deathstroke and Scarecrow
Costume: Destiny Robe, Blue Cape and Utility Belt
Cool Fact: When he gets hit by Scarecrow's Fear Gas, he fears nothing since his emotions are stuffed down deep!
Gallery of Variants
Original
DX
Microfigure
Kendo
ZX
NRG
Elemental Robes
Techno Robe
Techno Robes (Armor)
Tournament
Zukin
Deepstone
Airjitzu
Skybound
Skybound (Eyepatch)
DotD
HoT
Endless Griefs
Hunted
Jay's Revenge
Dragon Masters
Spinjitzu Ninja
Spinjitzu Ninja (Caped Crusader)
Nonphysical
Black Gi
Glider
Pajamas
Girl Disguise
Fancy
Snake
Civilian
Quartet
Pirate Disguise
Child
Beachwear
Corrupted
Professor
Golden
Stone Warrior
Space Suit
TV Host
Bathrobe
Cultist Disguise
Prisoner
Parka
Police Disguise
Vermilion Disguise
Beau-Tea Effects
One Eyed
Seven Year Old
Newborn
Lightning Warrior
Civilian (Sunglasses/Tattoo)
Spinjitzu Ninja (Caped Crusader/One Eyed)
Quotes
Bluelectro
"Just about a week ago, my parents had been killed by the Sons of Garmadon. My nightmares have gotten hold of me and lead me to defeat by the Overlord who was resurrected from the three Oni Masks. Now, without my powers and my courage, I'm just a powerless blue ninja. After Nya used the Travellers Tea, I had been separated from my friends and my girlfriend, while Lloyd is back in Ninjago fighting against Empress Harumi. I may be emotional. But, I know what happens if you were being followed by a familiar someone who shares the history of how it's going to change me from a emotional, sad, upset and scared ninja, to a mature, courageous, brave, powerful and strong hero who will save Ninjago and restore the elemental power of lightning back to life to end Empress Harumi's destruction."
―Jay narrating in Ninjago: Masters of Spinjitzu Episode 91: Lightning Reunion
"Should I know you?"
―Jay in Ninjago: Masters of Spinjitzu Episode 91: Lightning Reunion
"You can't just say something like that and run off! You're my MOTHER?! I mean, what the -- do you grasp how INSANE it sounds?!"
―Jay in Ninjago: Masters of Spinjitzu Episode 91: Lightning Reunion
"I have questions! Why would you say that?! My parents Ed and Edna are dead! They have been killed by the Sons of... Garmadon."
―Jay in Ninjago: Masters of Spinjitzu Episode 91: Lightning Reunion
"This is where you've been for twenty years?"
―Jay talking to his mother in Ninjago: Masters of Spinjitzu Episode 91: Lightning Reunion
"I got my left eye cut out by a dragon. I guess I know why some people only have one eye."
―Jay in Ninjago: Masters of Spinjitzu Episode 91: Lightning Reunion
"Looks peaceful, doesn't it? I have never seen another Master with the Element like mine before. You sure are very kind to her. Nya has the Elemental Power of Water like her mother."
―Jay talking to a water dragon in Ninjago: Masters of Spinjitzu Episode 91: Lightning Reunion
"Wow! Fritz Donnegan is so cool! Isn't Fritz Donnegan the coolest super hero ever, Mom?"
―Young Jay talking to Edna about watching Fritz Donnegan in Ninjago: Masters of Spinjitzu Episode 91: Lightning Reunion
"Dad! Mom and I were watching TV and guess who I saw? Fritz Donnegan! The greatest hero in Ninjago! He is brave, fearless and he is so cool! He even has his own catchphrase! Fear isn't a word where I come from! That was the coolest thing I have ever heard!"
―Young Jay talking to Ed about Fritz Donnegan in Ninjago: Masters of Spinjitzu Episode 91: Lightning Reunion
"Yeah, you're right! You always cheer me up, Dad! And you're totally awesome at it!"
―Young Jay talking to Ed in Ninjago: Masters of Spinjitzu Episode 91: Lightning Reunion
"It's good to be seeing you again, Mom. I've never felt better ever since."
―Jay happily reunited with his real mother in Ninjago: Masters of Spinjitzu Episode 91: Lightning Reunion
"Mom, you're married to my late father, Cliff Gordon? Then that means my last name must be Gordon."
―Jay after hearing his mother's story about his past in Ninjago: Masters of Spinjitzu Episode 92: Reach for the Thunderstorm
"Wow, Mom. You sure know how to take care of yourself."
―Jay in Ninjago: Masters of Spinjitzu Episode 92: Reach for the Thunderstorm
"Kai and Nya are siblings and the children of Ray and Maya, Cole's my best friend, Zane's the titanium ninja and a Nindroid and Lloyd is the son of Master Garmadon and the nephew of Master Wu. Mom, you're going to be so happy when we get back to Ninjago."
―Jay in Ninjago: Masters of Spinjitzu Episode 93: New Lessons for a former Master of Lightning
"Watch out, Empress Harumi. I'm coming back to get my revenge!"
―Jay before returning to Ninjago in Ninjago: Masters of Spinjitzu Episode 93: New Lessons for a former Master of Lightning
"There's only one thing that is bound to happen, there is no Empress Harumi!"
―Jay before killing Empress Harumi in Ninjago: Masters of Spinjitzu Episode 94: Blue Destiny
"Empress Harumi's history! And I've got my powers back!"
―Jay to his friends after defeating Empress Harumi in Ninjago: Masters of Spinjitzu Episode 94 Blue Destiny
"Yeah, you're right, Master Wu. I better get lots of rest after that battle against Harumi."
―Jay still exhausted after the final battle in Ninjago: Masters of Spinjitzu Episode 94: Blue Destiny
"Yeah, I've finally avenged my adoptive parents' deaths and got my powers back. If it weren't for you five, I would still be mourning over the loss of my adoptive parents and I would never have found my real mother. Thank all of you. For everything."
―Jay thanking his friends in Ninjago: Masters of Spinjitzu Episode 94: Blue Destiny
"Then... where are we?"
―Bluelectro in LEGO DC Comics Super Heroes: Justice League: Mi Amore Hofferson
"That guy wearing a mask must be Batman."
―Bluelectro in LEGO DC Comics Super Heroes: Justice League: Rise of the Spinjitzu Ninjas of Ninjago!
"Mom, it's great to finally see you again!"
―Bluelectro reuniting with his mother again in LEGO DC Comics Super Heroes: Justice League: Return of Ninjago City
Cast
"Well, after all that light-heartiness behavior, it's very sad to see Jay's parents die in a burning junkyard when it was destroyed by the explosives that were set off by the Sons of Garmadon, which was their goal to make Jay the most emotional and scared member of the team. I believe that the fans are very upset about that. It's very tragic, horrifying and sad for him to fight against the Sons of Garmadon and he keeps getting tragic visions which happens to be his nightmares. He used to be the lovable fast-talking adventurer, but now he's nothing but a poor sad teenager with very sad nightmares."
―Michael Adamthwaite
"After seeing his real mother for 20 years, Jason has become a man who is now a proud mature blue ninja. In Season 7, his real mother the previous master of lightning is unnamed. But in Season 9, her name is actually Jennifer Gordon. Jay didn't know he was abandoned by the Master of Lightning herself who left him in Ed and Edna's care while she escaped from a murderer and she was transported to the Realm of Oni and Dragons, where she survived for 20 years, which is kinda sound like Valka's story with Hiccup, I don't think the Ninjago fans would love the How to Train Your Dragon films."
―Cate Blanchett
"It's very good for Jay to be reunited with his real mother and is really weird that he's the only one understanding his mother's words of wisdom, strength and courage, he has all that in his heart and he is likely the most calming ninja in the team unlike Zane and Lloyd."
―Samuel Vincent
"When it comes to feeling emotional when going to fight crime, I believe that he is the only one who can understand Batman's words of wisdom and courage. Bluelectro is the most calming ninja in the league, despite his modern-day Ninja behavior. After getting infected by Scarecrow's Fear Gas, he suddenly became a brave and courageous fighter and he can easily anticipate the villains' every move, like how he anticipated Batman's history"
―America Ferrera
"What's the point of the character [Jay/Bluelectro] with the same identity as my real name? I don't appreciate how Bluelectro's real name is being used. If you're last name is Gordon, you're gonna understand how he became adopted before he joined the league."
―Jay Baruchel
"Despite being an ally of Batman and the Justice League, Bluelectro doesn't know what Shaggy just said before running off, confusing the Blue Ninja. It's very brave for the Lightning Spinjitzu Ninja to protect Gotham from evil, which is a reference of how he ultimately brought Ninjago to peace after defeating and sealing Harumi's fate, he's very loyal to his friends and the Justice League."
―Matthew Lillard
"Bluelectro is like a ninja version of Bruce Wayne when his adoptive parents died in an explosion which was set off by the Sons of Garmadon. He shares the same story with Batman. They're like very experienced martial artists, they both anticipate what they said and they protect Gotham as the two most calm, focused and serious members of the league."
―Troy Baker
Notes
Jay only has four Character Cards, as his DX card was never made.

Therefore, Jay is the only Ninja without his actual golden weapon on a character card.

Jay was the second Ninja to find his true potential, the first being Zane in "Tick Tock."
He only has three spinners (not counting Lloyd), whereas all the other Ninja have at least four.

Therefore, Jay is the only Ninja without his Spinjitzu Master Minifigure and spinner.

He was the first of the Ninja to learn Spinjitzu, the second to unlock his True Potential, the third to find his Golden Weapon and summon his Elemental Dragon, and the last to find his Obsidian Nunchucks.
Jay's first name may be a pun on the bird Blue Jay, since his elemental color is blue. His full name, Jay Walker, may be a pun on the term "jaywalk." This would later be somewhat averted upon the revelation that his birth name is Jay Gordon.
Jay's inventions are said to fill entire warehouses, some of which he cannot remember the names or functions of. Some of his inventions are:

A blanket that can keep you cold on warm nights.
A parchment that can be written on or stretched into a waterproof tent.
A device that cores apples off of the tree before they are picked.
Extendable stilts. This invention apparently malfunctioned on its first use, repeatedly bouncing Jay up and down between six feet and sixty feet. After a hundred bounces in the span of two minutes, Jay was dizzy for a month.

Jay's elemental symbol is the Chinese character "羊", meaning "sheep."
It is revealed in "On a Wish and a Prayer" that Cole is Jay's best friend.
In "Misfortune Rising," he was revealed to be an adopted child. His true father was Cliff Gordon, the actor who played his hero, Fritz Donnegan. This also means his real mother was the Previous Master of Lightning, a fact that was later confirmed in "Lost in Time." In Season 10, he knows after listening to his mother's history.
He is the only Ninjago character to appear in every episode of the series. This is because, in Skybound, he was the only Ninja to be trapped in the Djinn Blade for less than one episode (Nya was never trapped in the Djinn Blade at all, but she is absent in "Only One Can Remain").
Jay and the other Ninja (except Nya) can only harness their elemental powers by being dependent on Lloyd. This may be because Lloyd shares his Golden Power with them. However, as of Season 8, this is no longer the case. His, along with the other Ninjas' powers, can operate independently of Lloyd's.
Jay is the second person to kiss Nya, the first being Bizzaro Jay.
In a Wu's Teas episode, "Secret Teas," Jay turned into an octopus—his signature animal.
When Jay went to the Tournament of Elements, he wore his ZX suit. This might imply it is his favorite suit.

Funnily enough, in an interview with Michael Adamthwaite, the voice actor of Jay, it turns out that his favorite Ninja suit is the ZX suit as well.

Also in the interview it was stated that Jay was originally called Ren.

Before he was given an actual name, "Poe" was used as a stand-in.
In "The Green Ninja", Jay seems to use the element of Wind, even though his element is Lightning.

According to Tommy Andreasen, this was a mistake.

In Season 8, Jay has lost the notch in his right eyebrow, gained freckles, and his hair is now a dark brown instead of a light brown.
Jay is one of the five current Elemental Masters to have a last name, the others being Lloyd, Griffin, Jacob, and Skylor.
Jay's original minifigure hair design doesn't match the show like the rest of the Ninja. His hair color looks reddish brown in the show while his minifigure hair is orange brown.
Not counting the episodes where he cried, Jay is the only ninja to cry in the season 8 and 9 episodes more than his fellow ninjas.
He is the third Ninja to seemingly die, the first being Zane and the second being Nya.
He gained his eyepatch when Dogshank punched him, resulting in him having one temporarily blinded eye.

However, in Season 9, he lost his left eye after a monster pulled it out of his face, resulting in him to be the only ninja to have one eye.

Throughout Season 10, he gained his eyepatch from his real mother, resulting in him having his right eye.

In Season 8, 9 and 10, Jay is the show's main focus.
Unlike Kai and Nya, Jay is the first to lose his family and home until the events of Season 10.
He is the first and only Ninja to be a grown orphan in Season 8, until Season 10.
Unlike 7 Seasons, he is the first ninja to be the calmest. While his anxious and lighthearted personality was passed onto his girlfriend Nya.
At the end of "Once Horrorstrucked, Twice Emotional", Jay's horrified and heartbroken personality is almost similar to Sonic the Hedgehog from Sonic Underground. Sonic's foster parents were arrested, and roboticized and their home was destroyed. But Jay's foster parents were killed after his home was destroyed in flames by the Sons of Garmadon lead by Empress Harumi.
He is the first ninja to be defeated at the hold of grief.
He is the first and only ninja with a name of his weakness, called "Endless Griefs".
Unlike the other Ninjas, Jay is the only ninja with the most tragic visions in Season 8.
He is the first and only ninja to find one of the elemental masters who happens to be his real mother.
He is the first to defeat the female antagonist and avenge his adoptive parents' deaths.
He is the only Ninja to be the main focus in five seasons, from Season 1 to Season 10, while Kai is the main focus in 3 Seasons, Nya and Zane in 2 Seasons, Cole in 1 Season and the movie special Day of the Departed, and Lloyd in 1 Season.
In Season 1 and Season 2, his age is 16, after 3-4 years, he's now 19. In Season 9 he is now currently 20 years old.
When reunited with his real mother in "Lightning Reunion," he is shocked to see her again, which is a reference to how Hiccup is reunited with his mother for 20 years in "How to Train Your Dragon 2."
Jay can be compared to Dan Kuso from Bakugan Mechtanium Surge. They're both protagonists in the shows they appeared in. In Mechtanium Surge Act 1, Dan and Drago were haunted by visions of Mag Mel and Razenoid. In Season 7: The Hands of Time and Season 8: Endless Griefs, Jay was haunted by visions that made him feared and emotional. Unlike Dan, who got disqualified from Bakugan Interspace after he and Drago lose control of their powers and mistaken Anubias and Horridian for Mag Mel and Razenoid, Jay never lost control of his powers, but instead his personality changes to trauma and worries after another vision haunts him.
Not counting the mini-movies, Jay is the only Ninja to appear in every episode.

However, he is seen in one scene in the first five Season 9 episodes.

Jay is the fourth character to announce the title cards at the beginning of each episode. The first is Wu in seven seasons, second is Lloyd in Season 8, and third is Garmadon in Season 9.
Jay is the only ninja to be the main focus in the Master of Lightning Arc, making the three seasons in this Arc to have the darkest tones.
He is the third Ninja to seemingly die, the first being Zane and the second being Nya.
Unlike his fellow ninjas, Jay is the first ninja to kill the female antagonist onscreen.
When facing against Empress Harumi for the last time, his dark side is very similar to Dark Jak in the Jak and Daxter franchise.
Jay can be compared to Slade Wilson, both loose one of their eyes to different encounters. Slade lost his right eye after his ex-wife Adelaide shot him in an attempt to kill him. Jay, however, was jabbed in the left eye by a monster in "Empress Harumi's Destruction".
Jay is the only ninja to have two themes.

His first theme during his emotional state is similar to Astrid's Theme from "How to Train Your Dragon".
His second theme during his final battle against Empress Harumi is the similarity of Sonic's fight against Dr. Robotnik in the Sonic the Hedgehog Movie released in 2020.

In the 7 Seasons, he gets anxious and over dramatic, until his emotional state struck in "Once Horrorstrucked, Twice Emotional."

In Season 10, he never panic and freaked out when approaching his real mother.

This also happened when facing Gotham's criminals in "LEGO DC Comics Super Heroes: Justice League: Rise of the Spinjitzu Ninjas of Ninjago!."

In 2017, The Fold made a music video of the Pirate Whip, which shows Jay's calming sensitivity.
In "Ninjago: Masters of Spinjitzu Season 11", whenever he speaks japanese, the English subtitles are shown on the screen.
His name in "LEGO DC Comics Super Heroes: Justice League: Rise of the Spinjitzu Ninjas of Ninjago!" is a portmanteau of blue and electro.
In the 10th Season, he is the only ninja with three voice actors. The first is Kelly Metzger, second is Joanne Vannicola and finally is Michael Adamthwaite.
Appearances
2011
2012
2013
2014
2015
2016
70642 Killow vs. Samurai X
70643 Temple of Resurrection
70652 Stormbringer
70658 The Birth of the Lightning Warrior
2017
70668 Supersonic Thunder Sky Fighter (Caped Crusader)
70670 Batman's Bat-Cave (Duel-Faced Eyepatch)
Pilot Episodes
1. "Way of the Ninja"
2. "The Golden Weapon"
3. "King of Shadows"
4. "Weapons of Destiny"
Mini-Movies
1. "Secrets of the Blacksmith"
2. "Flight of the Dragon Ninja"
3. "The New Masters of Spinjitzu"
6. "Battle Between Brothers"
Season 1: Rise of the Snakes
1. "Rise of the Snakes"
2. "Home"
3. "Snakebit"
4. "Never Trust a Snake"
5. "Can of Worms"
6. "The Snake King"
7. "Tick Tock"
8. "Once Bitten, Twice Shy"
9. "The Royal Blacksmiths"
10. "The Green Ninja"
11. "All of Nothing"
12. "The Rise of the Great Devourer"
13. "Day of the Great Devourer"
Season 2: Legacy of the Green Ninja
14. "Darkness Shall Rise"
15. "Pirates Vs. Ninja"
16. "Double Trouble"
17. "Ninjaball Run"
18. "Child's Play"
19. "Wrong Place, Wrong Time"
20. "The Stone Army"
21. "The Day Ninjago Stood Still"
22. "The Last Voyage"
23. "Island of Darkness"
24. "The Last Hope"
25. "Return of the Overlord"
26. "Rise of the Spinjitzu Master"
Season 3: Rebooted
27. "The Surge"
28. "The Art of the Silent Fist"
29. "Blackout"
30. "The Curse of the Golden Master"
31. "Enter the Digiverse"
32. "Codename: Arcturus"
33. "The Void"
34. "The Titanium Ninja"
Season 4: The Tournament of Elements
35. "The Invitation"
36. "Only One Can Remain"
37. "Versus"
38. "Ninja Roll"
39. "Spy for a Spy"
40. "Spellbound"
41. "The Forgotten Element"
42. "The Day of the Dragon"
43. "The Greatest Fear of All"
44. "The Corridor of Elders"
Season 5: Possession
45. "Winds of Change"
46. "Ghost Story"
47. "Stiix and Stones"
48. "The Temple on Haunted Hill"
49. "Peak-a-Boo"
50. "Kingdom Come"
51. "The Crooked Path"
52. "Grave Danger"
53. "Curseworld, Part I"
54. "Curseworld, Part II"
Season 6: Skybound
55. "Infamous"
56. "Public Enemy Number One"
57. "Enkrypted"
58. "Misfortune Rising"
59. "On a Wish and a Prayer"
60. "My Dinner With Nadakhan"
61. "Wishmasters"
62. "The Last Resort"
63. "Operation Land Ho!"
64. "The Way Back"
Day of the Departed
Season 7: The Hands of Time
65. "The Hands of Time"
66. "The Hatching"
67. "A Time of Traitors"
68. "Scavengers"
69. "A Line in the Sand"
70. "The Attack"
71. "Secrets Discovered"
72. "Pause and Effect"
73. "Out of the Fire and Into the Boiling Sea"
74. "Lost in Time"
4D Movie
Season 8: Endless Griefs
75. "The Mask of Deception"
76. "The Runaway Princess"
77. "The Oni and the Dragon"
78. "Once Horrorstrucked, Twice Emotional"
79. "Dead Man's Squall"
80. "The Quiet One"
81. "Tears of the Blue Ninja"
82. "Dread on Arrival"
83. "Nonelectrical"
84. "Big Trouble, Little Ninjago, Fearful Jay"
Season 9: Hunted
85. "Blue Ninja's Blues"
86. "Iron and Stone"
87. "Operation Free Ninjago City!"
88. "Empress Harumi's Destruction"
89. "Search for Jay, Part I"
90. "Search for Jay, Part II"
Season 10: Jay's Revenge
91. "Lightning Reunion"
92. "Reach for the Thunderstorm"
93. "New Lessons for a Former Master of Lightning"
94. "Blue Destiny"
Season 11: Journey to the Archipelago
95. "Return to the Archipelago"
96. "Living on the Edge Ninjago-Style!"
97. "Mystery Incorporated VS. Loki Day Torture"
98. "Energon VS. Eli Shane"
99. "Astrid and the Endless Griefs"
100. "A Ghost of a Chance"
101. "Big Man on Berk"
102. "Dehydrated"
103. "Cold Shoulder"
104. "Loyal Order of Ingerman"
105. "Family Matters"
106. "An Electrifying Reunion"
107. "Tired Out Ninjas"
108. "Guardians of Vanaheim"
109. "King of Dragons, Part 1"
110. "King of Dragons, Part 2"
Season 12: Quantum Masks and the Quantum Rifts
111. "Rude Awakening"
112. "Rawk-It Head"
113. "Hook, Line and Sinker"
114. "Double Ninja, Double Power"
115. "Time is Mask"
116. "4th Time's a Charm"
117. "Dino-Might"
118. "Six Ninja a Day Keeps the Doctors Away"
119. "Snack Time"
120. "Undo the Greatest Failure"
121. "A Water Ninja Never Quits!"
Bionicle
DC Comics
Community content is available under
CC-BY-SA
unless otherwise noted.