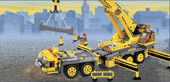 Custom in Progress!
This custom is not yet finished and is being modified by its creator, Omega X.23, and may undergo critical changes while this message remains in place.
Customs Article


This article describes a custom creation, custom theme, or other fan material, made by a Brickipedia contributor. It has never been, is not, and will not be officially released.
Custom: Ghosts
Related themes:
Creator:

The Custom Ghosts are Custom: Monster Fighters minifigures created by Omega X.23.
Description
In the second wave the Ghosts have different color schemes. There are the leader ghost, the most powerful of them all, in black, the second in command, in green, the third in command, in blue, and the most common of all, the classic glow in the dark ghost in white. The ghosts are redesigned in the second wave with transparent legs to make them more realistic.
Notes
Currently none.
Community content is available under
CC-BY-SA
unless otherwise noted.