Customs Article


This article describes a custom creation, custom theme, or other fan material, made by a Brickipedia contributor. It has never been, is not, and will not be officially released.
LEGO Dautoville V
Subthemes:
Creator:
'

This theme is the continuation of Dautoville (I, II, III, IV).
Introduction
Dautoville, a city east of Bricksburg, east of Kyoto city and well on in the world LEGO ! After Emmet is stopped Lord Business, the LEGO Duplo has to unload(land) and threat quite public-spirited to die. It is the panic and Secretary Cop (Bad/Good Cop) makes to Dautoville with Robot SWAT to prepare the defences.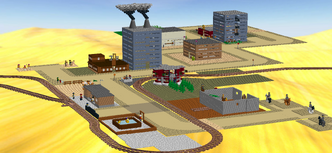 Secretary Cop chooses 3 nobody to cross the machine of time and prevent the lego DUPLO from destroying Dautoville of 1836...
Minifigures
Civil
DUPLO army
Exclusive
Sets
0027 The swimming pool of the Wild West

0028 The city hall

0029 The monastery