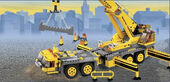 Custom in Progress!
This custom is not yet finished and is being modified by its creator, The O'mighty Dodo King, and may undergo critical changes while this message remains in place.
LEGO Gotham: The Videogame
LEGO Theme:
Price:

$59.99

Developer(s):
Date Released:

April 25, 2019

Rating:

RP

Platforms:

Windows PC
Xbox One
PlayStation 4
Wii U
Nintendo Switch
PlayStation Vita
Nintendo 3DS
Mobile

'
LEGO Gotham: The Videogame is a videogame based on Fox's hit television show, Gotham. The game includes [ ] levels, over 100 characters and multiple hub worlds such as the massive of Gotham City.
Characters
Playable Characters
| Character | Weapons | Abilities | Image |
| --- | --- | --- | --- |